Lemurs are the most endangered mammal on the planet. Learn what we are doing to change that. Delve deeper into the Duke Lemur Center and join us for our  "Evening with the Experts" seminar series. Each session will highlight one of the many components of the DLC's important work. All proceeds will benefit the work being done here at the DLC.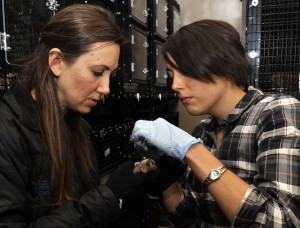 Next seminar:  Evening with the Experts – The Curious Case of the Cold Mouse Lemur, Researcher – Sheena Faherty
When:  Thursday, April 30th 2015 6:30pm  RESERVATIONS REQUIRED – 919-401-7240 or janice.kalin@duke.edu
Where: Duke Lemur Center, Lemur Landing  (3705 Erwin Rd, Durham, NC 27705)
Cost: $20 tax deductible donation, $10 for Duke employees, university students, and DLC staff and volunteers OR watch from home: $10 live Google hangout link
Details:  We know in other rodent and marsupial species that what an animal eats before the hibernation season influences how long and how well an animal can "chill out" (i.e. torpor) during the winter. But no one has ever tested this in the only group of primates that can hibernate over winter. This talk will dissect such questions as: Does diet have any influence over amount of time engaged in torpor bouts? Is body weight a significant indicator of occurrence of torpor? What factor is most likely to induce torpor bouts in mouse lemurs?