COVID-19 update
Effective March 2020, the DLC is temporarily closed to all visitors due to COVID-19. We have recently launched virtual (online) educational content and invite you to please explore these options instead. Virtual tours are a wonderful way to learn about lemurs AND to support the DLC while our tour path is closed and we can't rely on our usual tour income, which supplies almost 21% of our annual operating budget.
To learn more about the DLC's response to COVID-19 and the most up-to-date information on our reopening, please visit our coronavirus response FAQ.
---
Archived information (below)
Please note that the tour information below does not apply during the Center's closure due to COVID-19. Until further notice, we regret that we are closed to all visitors and are unable to host onsite tours and events. 
Reservations essential
Thanks so much for your interest in touring the Duke Lemur Center! Please note that you must have a reservation in order to see the lemurs, and that you will not be able to see the lemurs unless you schedule one of our many tour options below. To determine which tour works best for you, please see the tour descriptions for pricing, age restrictions (if any), and other details.
How to schedule
For Public Guided General Tours, Self-Guided General Tours, and Little Lemurs Children's Tours taking place on or after May 1, 2020 — We're transitioning to online ticket sales! Check availability and purchase tickets online via the Duke Box Office.
All other tour types, including Private General Tours and all Premium Tours, are scheduled using our reservation request form.  
About our tours
You can feel good about the tours you join and the products you buy in our gift shop! All tour revenue and merchandise purchases fund the Education Department and help pay for lemur care, housing, veterinary supplies, and conservation initiatives.
The DLC offers ten distinct tour types, catering to a variety of of ages, interest levels, and budgets — something for everyone! Additional details and instructions for making your reservation are listed below under each tour type. Please take a few minutes to review your options and determine the best tour experience for your group before making your reservation.
We are open year-round! The DLC Gift Shop and Tour Department are open seven days a week from 9:00 a.m. 'til 4:00 p.m., except on rare occasions when we are closed for holidays, staff development, or inventory. We do not offer tours on Tuesdays.
No one, on any tour, is permitted any physical contact with our lemurs. As cuddly as they may appear, our lemurs are wild animals. For the safety of our animals and our guests, no visitors are allowed any physical contact with the animals. However, we do welcome flash-free photography – the lemurs can be quite photogenic!
General tours
Premium tours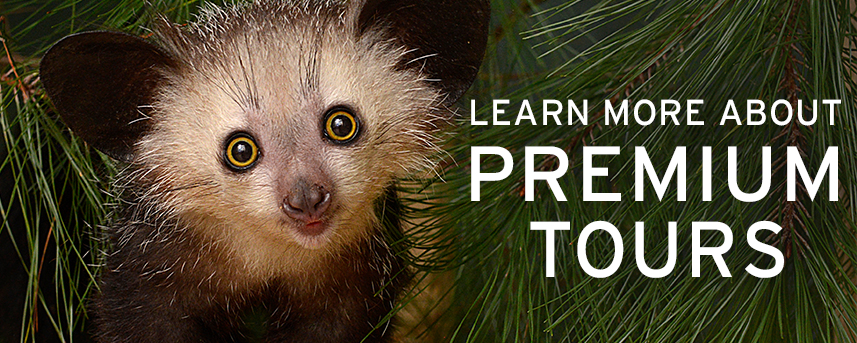 Field trips and more
Visitor FAQ
Questions?
If you're hoping to reserve space at Lemurpalooza, our twice-annual Adopt a Lemur event, please visit the Lemurpalooza webpage or email the Adopt a Lemur Program Coordinator, Susan, at susan.fitzgerald1@duke.edu.
If you have other questions, please call the Lemur Landing front desk at (919) 401-7240. We'll be happy to help!