Thanks for your interest in visiting the Lemur Center! Since lemurs are not naturally adapted to cold weather climates, our on-site tours are seasonally dependent. We will not be offering our general tour this winter and we can only consistently offer the Walking with Lemurs Premium Tour through the end of September. While Walking with Lemurs tours may be offered occasionally, we typically are only able to give about 24-48 hours' notice when we are able to open up tours during the off-season.  We look forward to reopening for tours in Spring 2022, and we appreciate your understanding as we keep our lemurs happy and healthy.
---
Reservations Essential
Any guests must have a prepaid tour reservation in order to visit the Lemur Center. In order to keep the endangered primates that call the DLC home safe and healthy, we regret that we cannot accommodate any walk-in visitors in any capacity. Please continue reading below to learn more about each tour type and how to reserve your space. Full registration information is available in the links to each specific tour type below.
---

General Tour
The General Tour offers an overview of the Duke Lemur Center, its three-fold mission, and its residents—and allows guests to see approximately 17 of the amazing lemurs that call the DLC home! We are now offering two varieties of this tour: (1) self-guided or (2) private group. Both options include loads of interaction and Q&A time with our trained educators, so whether you're a returning lemur fan or a brand-new visitor, we'll make your tour experience educational and unforgettable. Click here to learn more!
---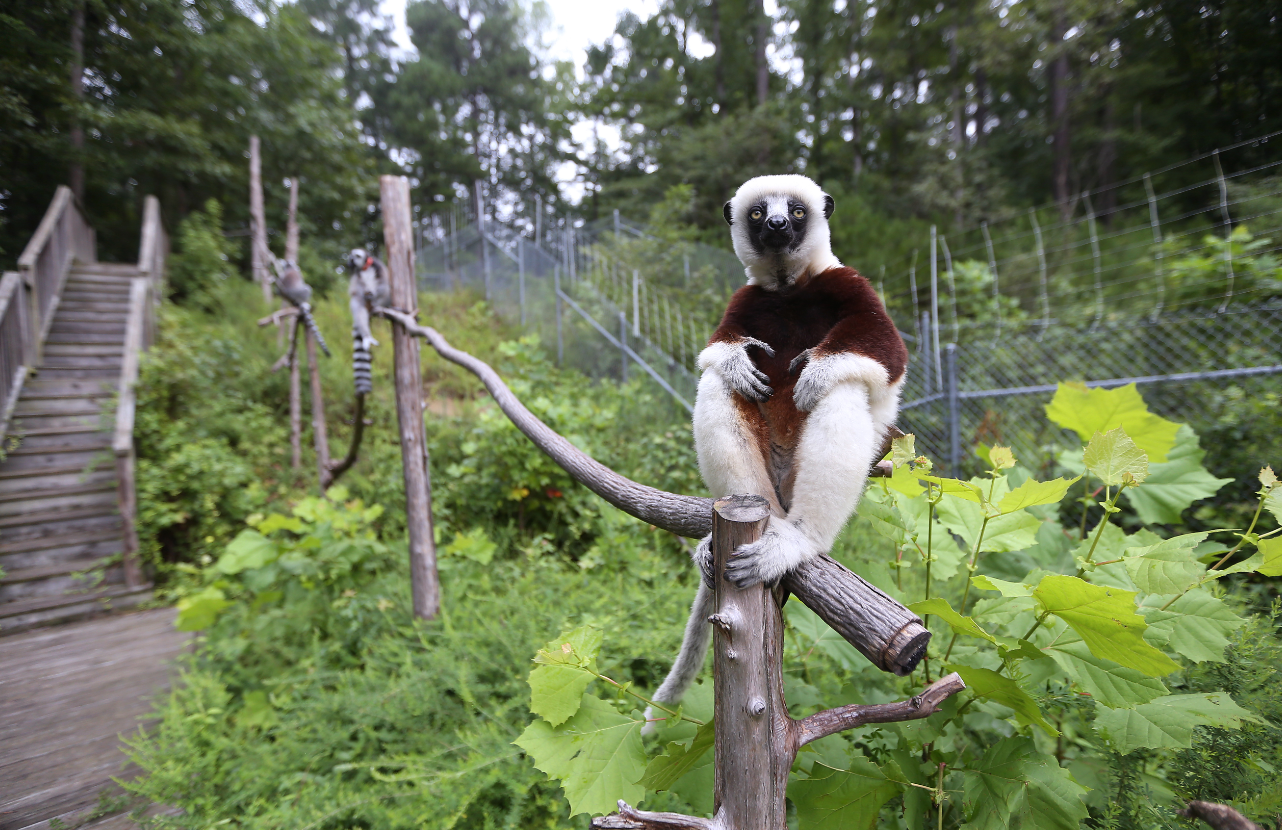 Walking with Lemurs Premium Tour
Have you ever wondered what it would be like to walk in the wilds of Madagascar, watching in awe as lemurs leap through the trees around you? No need to travel halfway around the world—the DLC's Walking with Lemurs Premium Tour is a once-in-a-lifetime opportunity to have that unforgettable experience right here in the forests of Duke University! Click here to learn more!
---

Safety Protocols for All Tours
All guests must wear a mask at all times while onsite (snugly covering nose, mouth, and chin) – this includes the parking area, the gift shop, the restrooms, and the tour path areas. The only exceptions are babies being held, staying in a carrier, or riding in a stroller. We cannot make any other exceptions to our mask requirements for any reasons. Disposable masks will be provided to anyone arriving without their own mask.
If you or any person in your group are experiencing any symptoms of COVID-19, please notify us immediately and we will work with you to reschedule or cancel your tour. COVID-related symptoms include any of the following: temperature over 100°F, atypical headache, shortness of breath/difficulty breathing, cough, sore throat, muscle or body aches, runny nose (aside from typical seasonal allergies), change in taste or smell, nausea, vomiting, or diarrhea.
If you need to cancel your tour due to illness and are not able to reschedule, we will refund your tour registration fee. This applies to guests who have received vaccinations as well as those who have not.