Please contact Mary Paisley at (919) 401-7252 or mary.paisley@duke.edu for more details about these special needs and unique gift opportunities. She would love to talk with you!
New x-ray system needed – $100,000
The Duke Lemur Center has a new and "highest priority" major gift opportunity within our veterinary department. This is a $100,000 need/opportunity, and we would be thrilled to recognize the donor with a special plaque on or beside the machine during its lifetime.
Here is a note from our senior veterinarian, Bobby Schopler:
The veterinary team at the Duke Lemur Center is seeking a donation to make possible the purchase of some very important pieces of equipment for the veterinary department that will provide a more advanced technology to support the care of the lemurs at the Duke Lemur Center.
Our current x-ray machine is very old and could stop working at any time — leaving us without one of the most important diagnostic tools in veterinary medicine. A new unit will allow us to image with less radiation and less anesthesia time. The new system would be DR (Digital Radiology) – which means:
* Instantaneous images (no waiting for an image to develop as we do now – currently takes about 2 minutes per image)
* The detail of DR digital imaging is tremendous and we will be able to magnify images without losing detail, thus improving our diagnostic capabilities
* The images are easy to look at, send off for second opinions, store digitally, and refer to remotely
Some of our animals are so small that we will be able to take x-rays of their hands using the dental x-ray equipment (mouse lemurs and fat tailed dwarf lemurs). Most of the animals we x-ray are larger and require a standing table machine. All this adds up to an improved quality of care for the lemurs, and better health long term.
Thank you for your help!
Ultimately, this opportunity will provide not only vastly better tools for the vet team and improved care of our lemurs, but also improved efficiency that will impact other areas of our work, including an enhanced capacity for analysis within non-invasive research projects. If you are interested in more information, please call Mary Paisley at mary.paisley@duke.edu or 919.401.7252.
General Operations special giving opportunities
Technician (Animal Care and Vet Staff) Professional Development - $5,000
A gift of $5,000 will enable us to send eligible Primate Technicians and/or Veterinary Technicians to professional development opportunities such as conferences and training opportunities with the Association of Zoos and Aquariums (AZA).
Sponsor a Natural Habitat Enclosure (NHE) - $10,000+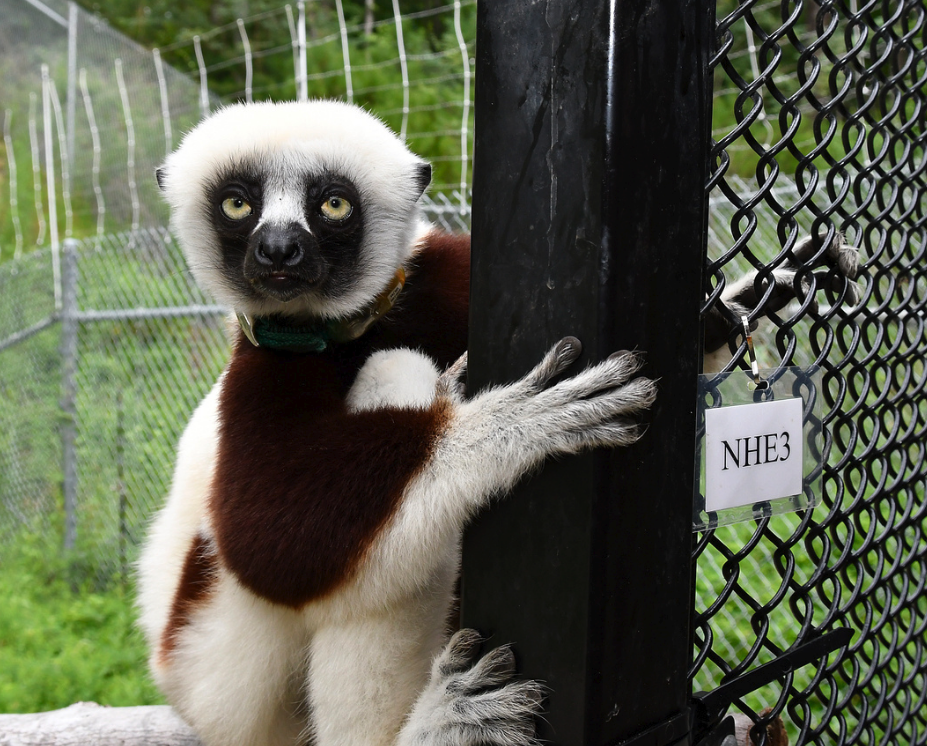 A gift of $10,000-$15,000 will sponsor the expenses required to maintain a Natural Habitat Enclosure for one year. A 5-year commitment ($50,000 total gift) at this level will allow the enclosure to be recognized by the donor's name for the duration of their gift.
Bobcat and Mule (Off-Road Vehicle) - $12,000+
$50,000 will fund the purchase of a Bobcat for grounds maintenance.
$12,000 will support an off-road vehicle used for grounds maintenance projects.
Animal Care Equipment - $55,000
Our veterinary care team and facilities crew rely on donations to support their needs for equipment (including a new x-ray machine and ICU kennel much needed by the veterinary department) and enclosures that keep our lemurs safe, healthy, and happy.
General Operations Endowment
Gifts may be directed to our general operations endowment, to provide ongoing support in priority areas at the Duke Lemur Center.
Madagascar Programs special giving opportunities
Malagasy School Conservation Education Garden - $5,000
$5,000 will fund the building of vegetable gardens at local schools. School gardens will combine practices of cultivating edible food resources with discussions about ecosystem integrity, landscape modification, and sustainability. The levels of complexity in cultivation and pedagogic activities will be dependent on the age of the students. DLC-SAVA Environmental Education Specialist will monitor the progress of the gardens to ensure their continuity.
Agroforestry Plot - $12,000
$12,000 will fund an agroforestry plot. These funds will cover not only all of the resources necessary to care for a seed nursery for six months, but also all relevant training for 40 people on plot management through each successional stage. It's a big undertaking, but we are excited about the potential.
Research in Madagascar - $25,000
$25,000 will support research costs such as equipment, personnel, guides, and food.
Madagascar Staffing - $50,000
$50,000 will cover staffing costs for Madagascar programs not already funded by grants.
Division of Fossil Primates special giving opportunities
$2,500 -- DFP is often asked to provide copies of specimens for study or display – normally this is a tedious process of molding and casting of delicate specimens. However, for specimens that have been scanned in 3-D it is possible to printout a 3-D copy of the specimen using a 3-D printer – the specimen can be printed at original size or smaller depending on need. A 3-D printer would substantial reduce the amount of time DFP staff have to spend making copies in the old fashioned way.
Camera and Lenses - $2,500
$2,500 -- The DFP is in the process of building a "virtual museum" of specimens in the collections. This "museum" will be stored on Duke's 3D Digital Archive, MorphoSource – there visitors to the site can find both 3D images rendered from Micro Ct And Ct data as well as the raw X-ray data – additionally we will provide color 2D images of all specimens to complete the digital dataset associated with each specimen – a new camera and macro-lenses would speed the process and enhance the images. It would also allow us to produce photogrammetry images of specimens not conducive to X-ray imaging.
Specimen Cabinets - $3,000 Per Cabinet
$3,000 per cabinet -- The specimen cabinets at DFP are made of wood and have provided sub-adequate protection from the beginning. Wood naturally de-gases as it ages and can produce chemicals that can harm specimens. Wood also absorbs moisture, contributing to problems caused by high humidity (degradation of specimens directly but also because of sticking drawers as wood expands and contracts, specimens often are jostled together as drawers are opened and closed causing physical damage as well). DFP has started a long-term program to replace all wooden cabinets with metal ones that provide much safer storage. We have so far purchased 20 new metal cabinets and estimate that we will need an additional 25 cabinets to complete the rehousing project.
Remodeling of L-41 Specimen Storage Room - $50,000 to $60,000
$50,000-$60,000 -- One of the most difficult hurdles to overcome in North Carolina in terms of specimen conservation is the constant high humidity. Humid conditions can cause mold to grow on (and in) specimens and can lead to destructive mineral growth such as pyrite disease. The building DFP occupies is not humidity controlled and it would be prohibitively expensive (we have been told impossible given its construction) to make it so. One of the most sensitive collections we have at DFP is from a locality in Egypt known as L-41. The specimens are preserved in a greenish mudstone that is permeated with gypsum salts. The salts especially attract moisture which in turn expands the fossil matrix breaking apart both it and the fossils inside. We have isolated L-41 specimens in a separate room and have housed them in metal cabinets. We put silica beads in each drawer to absorb moisture, a process that has to be repeated weekly because the silica is exhausted and needs replacing within 7 days. We also have two small dehumidifiers running constantly to try and offset the moisture. In a word the space is too small to safely accommodate all L-41 specimens and there is need of a much more industrial strength dehumidifier than the ones we are using now.
New Field Vehicle for Work in Wyoming and Elsewhere - $50,000 to $60,000
$50,000-$60,000 (for Chevy Suburban or equivalent) - The life-blood of any fossil collection is the influx of new fossil material to expand, add to, and make the collections even more relevant for study. The DFP has many years of experience working in Wyoming where many places and rock formations produce fossils that are directly relevant to those housed at DFP now. Flying to Wyoming and renting summer field vehicles is an option that has been followed in the past but purchase of a field vehicle, devoted to DFP fossil expeditions would ensure that larger numbers of Duke students could be involved in the process of enhancing DFP collections. Many students crave field work experience and this would be a good way to teach students about the pleasure and rigors of paleontological field collecting.
Support for Additional Staffing - $65,000 Per Position
Preparator/Conservator and/or Scan Technician positions -- $65,000 per position per year (also an endowment opportunity) -- In these days, a fully staffed museum/natural history collection requires an administrator (Director), a financial manager, a collection manager, a fossil conservator/preparator, and a scanning and imagery technician. Duke provides funding for a DFP director and a combined collection/financial manager only. DFP has been able to hire both a preparator and a technician by raising outside funding (NSF grants) and by judicious use of two small endowments. However, soft money from grants is not sustainable and endowments produce varying amounts of usable income depending on the economic climate of the USA. Soft money options, while better than nothing, do make it difficult to hire and retain good people because, like everyone, they would like stability and a chance to advance like hard-money employees do. The need for staff support is an on-going issue, one that can take a lot of time away from the director and finance manager in the never-ending quest for funding.
If you have questions or would like to receive more information, please contact the DLC's development officer, Mary Paisley, at (919) 401-7252 or mary.paisley@duke.edu. Thank you so much for your support!