Welcome to the online editions of the Duke Lemur Center's annual magazine! If you've purchased or been mailed a physical copy, we hope you enjoy flipping through its glossy pages and full-color images of some of the most captivating animals in the world.
Want to receive a mailed paper copy of the annual DLC magazine? Become a member of our Giving Societies! Donors of $250+ annually (at time of the magazine's publication, generally in October or November) will be mailed a complimentary copy of that year's magazine.
Printed copies of the magazine are generally for sale for $10 in the Lemur Landing Gift Shop. Or, download a FREE low-resolution PDF by clicking the issue covers below.
Thank you for your interest and for joining us on our journey. We couldn't do it without you!
---
Exclusive online content: 2018
Supplemental information, photos, and videos are below – including two brand-new articles, "Playtime for Lemurs: The Value of Enrichment" and "My Mommy Told Me So: My Research with Agatha and Medusa."
More about Agatha and Medusa ("Welcome, Agatha!" p. 14)
Further reading - NEW ARTICLE! What do aye-ayes and prison-grade cameras have in common? Both feature prominently in David Watts's research on the DLC's most-watched mother-daughter duo! Read more in this special article written by David for the DLC about his experience studying aye-aye communication -- including how mother aye-ayes communicate with their offspring. CLICK HERE to read.
Additional resources: The DLC's aye-aye homepage is a treasure trove of aye-aye photos, video, and facts! You can even "adopt" Agatha through our Adopt a Lemur program, where you'll receive quarterly updates about our aye-ayes -- including Agatha and her latest shenanigans!
Video: Watch one-month-old Agatha during a routine weigh-in at the DLC, filmed by Sydney Dye in September 2017. It doesn't get any more adorable than this! CLICK HERE to watch.
Update on Leigh ("TLC for a 'Tough Little Cookie,'" p. 22)
Update: In mid-June, Leigh and Murphy were released to free-range in Natural Habitat Enclosure #3! They share their new space with sifakas Pia, Pontius, and infant Gabe; and ring-tailed lemurs Aristides, Lilah, and Sosiphanes. Murphy is a veteran free-ranger and immediately jumped into the trees, chasing the ring-tailed lemurs – until they turned around started chasing him! Leigh was more hesitant, and wherever Murphy went he was very respectful and kept her in sight. For the first two weeks, the pair were released only during the day, then brought inside the enclosure at night. Soon they were allowed 'round-the-clock access to the forest and Leigh grew more skilled at navigating her arboreal environment by the day! It's a big step for Leigh, moving from her life-long domain of a cozy cage to the great outdoors of a two-acre forest and huge mature hardwoods -- but she has done marvelously!
Video: CLICK HERE or on the image below to watch Leigh and Murphy free-range in the forest.
Further reading: Our blue-eyed black lemur homepage is a treasure trove of photos and facts! You can even "adopt" a blue-eyed black lemur, Presley, through our Adopt a Lemur program, where you'll receive quarterly updates about our blue-eyed black lemurs -- especially Presley and his lovely companion Kidman!
An Introduction to the DLC's Division of Fossil Primates ("In Memoriam," p. 30)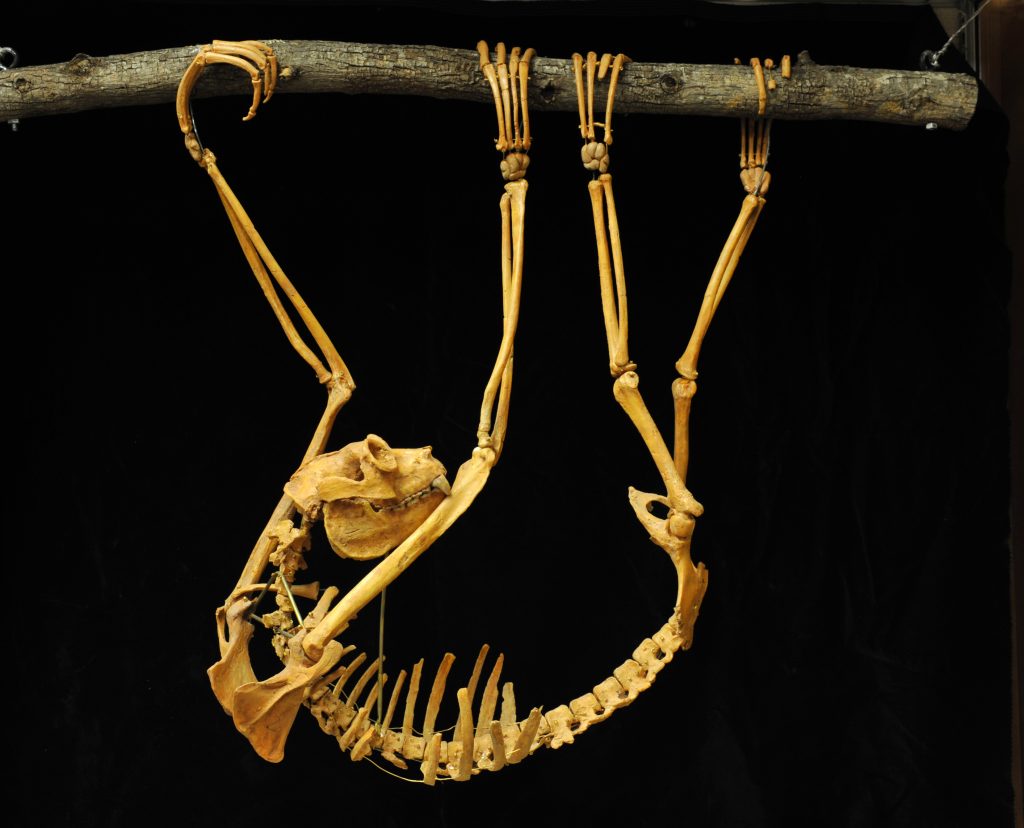 Did you know that the 30,000 fossil specimens housed at Duke Lemur Center's Division of Fossil Primates (DFP) constitute the world's largest and most important collection of early anthropoid primates in the world? It's true! Not only that, the DFP's skeletal specimens of extinct giant lemurs from Madagascar are unmatched anywhere else on Earth.
"The Duke Lemur Center combines two unique research collections under one research roof: the living lemurs that help us understand the origins of primate behavior and biology, and an extensive collection of fossils essential for understanding the evolution of lemurs and our direct primate relatives," says Matt Borths, new Curator of the DFP. "The fossils housed here are essential for helping us understand what it means to be a primate. The more researchers can utilize them, the more we'll learn about our primate roots."
To learn more about the Division of Fossil Primates, click HERE.
Pictured above: Palaeopropithecus, an extinct sloth lemur. The DFP's vast collections  provide the primary basis for understanding the origin and evolution of higher primates in Africa and the diversification of lemurs on the island of Madagascar.
The Value of Enrichment ("A Day in the Life," p. 34)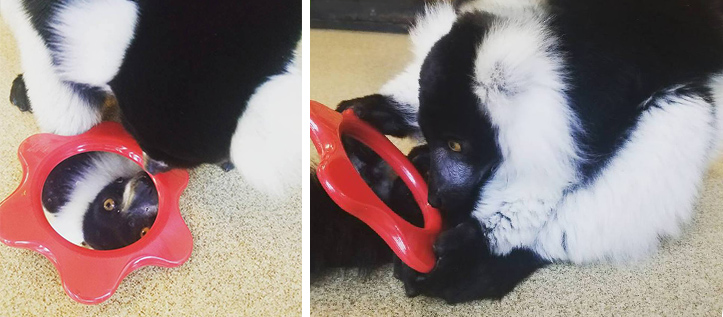 Further reading - NEW ARTICLE! As noted in "A Day in the Life," the first half of a Primate Technician's day is usually comprised of general husbandry (animal care) duties, whereas the second half includes activities like lemur training and enrichment. Learn more about the DLC's enrichment program in this excellent follow-up article "Playtime for Lemurs: The Value of Enrichment." Click HERE!