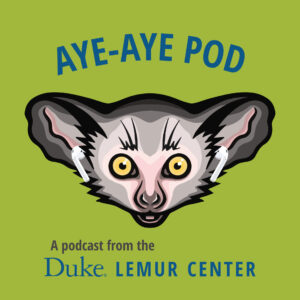 Welcome to the homepage for Aye-aye Pod—the official podcast of the Duke Lemur Center!
Join Education Programs Manager Megan McGrath and DLC Museum of Natural History Curator Matt Borths as they dive deep into all things lemur and lemur-adjacent. Every quarter, we'll release a mini-season of 4-6 episodes focused around a specific topic, and we could think of no better way to kick things off than a whole season dedicated to the podcast's namesake, and your hosts' favorite primate: the aye-aye!
This page serves as a hub to see all seasons and episodes listed in one place. To see descriptions and listen to episodes, just click on the titles below. You can also find published episodes of Aye-aye Pod ad-free on all major podcasting platforms. Be sure to subscribe so you'll be the first to know when a new season comes out!
RSS feed: lemur.duke.edu/feed/podcast/aye-aye-pod
---
Episode List
Introductory Episode – Welcome to Aye-aye Pod
Season One – Aye-ayes
Season 1 Episode 1 – What Is a Lemur?
Season 1 Episode 2 – Always the Exception
Season 1 Episode 3 – A Happy Aye-aye
Season 1 Episode 4 – Beautifully Strange
Season 1 Episode 5 – A Series of Random Accidents
Season 1 Bonus Episode – Nightmare Cupcake
---
Season Two – Ring-tailed Lemurs
Season 2 Episode 1 – The Poster Child
Season 2 Episode 2 – Poop Science
Season 2 Episode 3 – A Day in the Life
Season 2 Episode 4 – What We Have to Do
Season 2 Episode 5 – So Many Extinct Lemurs