Unique and creative gifts
The "Lemur Landing" gift shop stocks an array of unique and highly giftable merchandise, perfect for lemur lovers young and old! Products range from cuddly lemur stuffies (including a sifaka and an aye-aye made exclusively for us!) to apparel, paintings by lemurs, stationery, books, and native Malagasy products. Offerings vary by season.
All gifts "give back" to the lemurs at the DLC! All purchases fund the Education Department and help pay for lemur care, housing, veterinary supplies, and conservation initiatives. –So you can feel good about the products you buy!
The gift shop is open seven days a week from 9:00 a.m. 'til 4:00 p.m., except on rare occasions when we are closed for holidays. The gift shop is located 3705 Erwin Road in Durham, NC less than 10 minutes from Duke's West Campus. For directions, please click here.
Please note: You do NOT need a reservation to visit the gift shop. However, you DO need to have a reservation in order to see the lemurs. You will not be able to see the lemurs while you're here unless you schedule one of the many tour options we have available. Learn more about our tours via our tours homepage or by calling (919) 401-7240.
Gift certificates are available for all of our tours except the Photographer's Dream! Order in-store or by calling (919) 401-7240. Please note that certificates take at least 2 weeks to arrive at their destinations.

Shop online
While the DLC can't ship merchandise, a limited selection of items – including plushies, furry lemur tails and ears, hats, and apparel – is available via Duke University's online store! These items CAN be shipped — click the link below to place your order!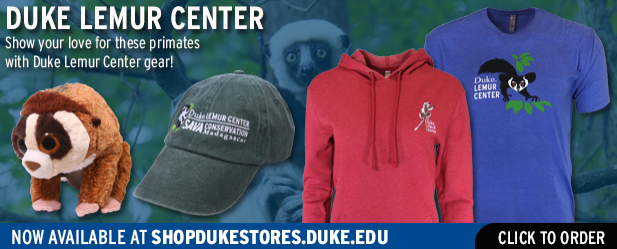 Thanks for your interest. We hope to see you soon!