Credit card or check
The most popular ways to give to the Duke Lemur Center are by credit card or check. To pay by card, please visit our DONATE NOW webpage and click on the program you'd like to support.
If you would rather not donate online, you are also welcome to mail a check. Checks should be made payable to "Duke University" with "Duke Lemur Center" written in the memo field. Please print our GIFT FORM and mail it with your check to:
Duke Lemur Center
c/o Office of Gift Records
Box 90581
Durham, NC 27708-0581
If you would like to speak with someone about your gift, please call Mary Paisley at (919) 401-7252.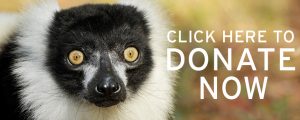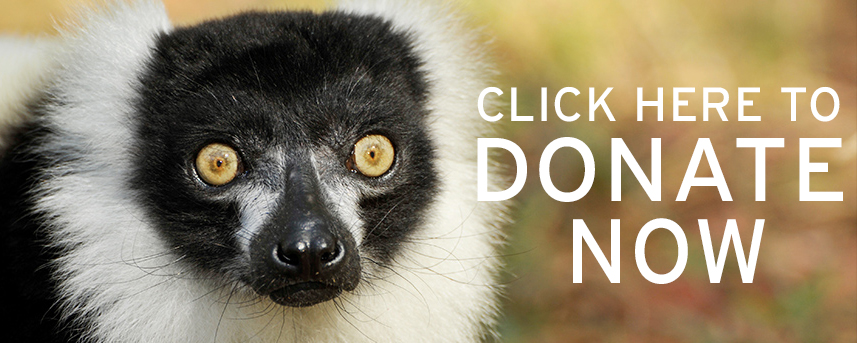 ---
Stocks, bonds, and mutual funds
Gifts of appreciated stock, bonds, or mutual funds can provide special tax advantages. Notify us of your plan to donate stocks or securities by completing Duke University's Online Stock Gift Form. Please specify Duke Lemur Center in the 'Designate my gift to the following…' section of the form. 
---
Matching gifts
Increase the impact of your donation through a matching gift!
Many companies and foundations will match the value of charitable gifts made by employees and their spouses, board members, and retirees. To find out if a particular company or foundation has a matching gift program, check our matching gift database.
Find your company and click on its name. The link includes instructions for submitting matching gift paperwork to your company.
We wish we could submit the paperwork for you, but you must submit the form through your company's HR site. We appreciate your taking a few minutes to double your donation to the lemurs!
PLEASE, it is extremely important to enter 'Duke Lemur Center' in any comments sections to ensure the matching gift is directed to the lemurs.
---
Payroll deduction
Duke employees can make one-time or recurring donations to the Lemur Center by payroll deduction through https://duke.work.edu under MyPay. In the 'Where do you want your donation to go?' field, please choose Lemur Center 3977000.
---
Deferred/planned gifts
While outright gifts provide vital resources for us today, deferred gifts help to shape and strengthen the DLC's future.
Planned giving can be as simple as including the Duke Lemur Center in your will or as a beneficiary of your IRA.
As you consider ways of giving, you may wish to make a planned gift that will honor your wish to support the Duke Lemur Center and provide you with important benefits. Planned giving can provide critical support either for a specific area or need, or unrestricted to support the Center as a whole. Including the Duke Lemur Center in your will or as a beneficiary of your IRA are wonderful and straightforward ways to do this! Life income gifts are another way to support the Lemur Center while providing a payment to you for life. If you are interested in giving a planned gift that will benefit the Duke Lemur Center, please contact Anne Morrison Bradley at 919-613-5224 or visit our gift planning website. Click here to learn how you can help secure the future of the Duke Lemur Center by starting an endowment for the DLC.
Click here to meet one of the Lemur Center's generous supporters, Jeannette Rinehart, who established two life income gifts—a charitable gift annuity and a charitable remainder trust—to fulfill some of her personal and financial needs and to ultimately provide unrestricted support for the Duke Lemur Center.
---
Personal property
If you would like to donate personal property to the Lemur Center, please contact Alumni and Development Records at (919) 684-2338. Some gifts require appraisal or advance approval in order to be accepted. Examples of gifts of property include tickets to athletic events, rare books, artwork, computer hardware and software, and laboratory equipment.
---
Real estate
A gift of real estate may be a principal residence or vacation home, a farm, a commercial building, a subdivision lot, or unimproved land. The gift may be entire property or a fractional interest in the property. Note, though, that all gifts of real estate require prior approval by the University. Duke's Office of Gift Planning will be happy walk you through the process. Click here to learn more.
---
Donor advised funds & private foundations
You may support the Duke Lemur Center through contributions from your donor advised fund or your private foundation. However, federal law prohibits use of gifts from a donor advised fund or private foundation if tangible benefits, such as Duke Lemur Center tour tickets offered through the Adopt-A-Lemur program, are received. If you would like to support the Duke Lemur Center and waive any benefits you would receive, please indicate your desire to waive such benefits in correspondence included with your contribution.
---
Corporate support
If your business or company is interested in supporting the Duke Lemur Center, please contact Mary Paisley at (919) 401-7252 or mary.paisley@duke.edu.
---
Questions?
If you have questions, please call or email our Development Officer, Mary Paisley: (919) 401-7252 or mary.paisley@duke.edu. She'll be happy to help!