by James Herrera, DLC–SAVA Conservation Program Coordinator
---
Greg Dye and Dr. Erin Ehmke Visit SAVA
While the Lemur Center is perhaps most famous for our world–renowned collection of lemurs at Duke University, we also operate research and conservation projects in Madagascar for over 30 years. In 2011, the previous DLC Director, Dr. Anne Yoder, and Conservation Coordinator Charlie Welch initiated an independent project in the northeast, known as the DLC–SAVA Conservation program. When Greg Dye became the DLC Director in 2018, he and Research Director Dr. Erin Ehmke began formulating plans to visit the Lemur Center's activities in Madagascar. The COVID–19 pandemic stalled those plans, but as we are beginning to recover, the dreams of travel to Madagascar became a reality. In June, 2023, Greg and Erin finally got their chance to see our Madagascar Programs in action!
After arriving in the capital city, and bringing one of our Bass Connections students, Greg and Erin visited the famous rainforest reserve of Andasibe, where they could get their first glimpses of wild lemurs. In fact, they saw five species in one day, including the famous indri, the largest living lemur! They continued on their journey to the east coast city of Toamasina to visit the Ivoloina Zoological Park, where active conservation breeding programs and wildlife rescue is under way. Ivoloina has been a collaborative project with DLC and the Madagascar Fauna and Flora Group for several decades. To grow our exchange, one of our lemur care–takers, Grayson Pellerito, and Curator Britt Keith are working closely with key partners at Ivoloina and elsewhere.
From Toamasina, Greg and Erin took their long–awaited flight to Sambava, where the Lemur Center has its headquarters. As soon as they landed, the DLC–SAVA Conservation staff, James Herrera and Lanto Andrianandrasana, brought them straight to one of our strongest collaborating partners: the New Generation School Garden. Led by founder and operator Evrard Benasoavina, the NGSG is an interpretive nature center, teaching and demonstrating about the value of the environment and sustainability. After a feast of a picnic lunch, Evrard gave us a tour of his center and 15+ acre property, which includes agroforestry for fruit and spice crops, aquaculture with endangered native fish, poultry and goat husbandry, native forest restoration, and more. After seeing Evrard's new classroom, bungalows, fresh–water well, and other amenities, Greg and Erin confirmed that this is an ideal space for teaching and enjoying nature. Before leaving, each planted a tree as a souvenir of their visit, and plan to come back and watch them grow!
---
Landscape Restoration
The next day started early as we traveled to join one of our key partners in our landscape restoration initiative. Though the military might seem an odd partner for reforestation, the local branch in the SAVA region has been making efforts to plant trees on their base for over a decade, but with mixed success. Since 2021, DLC has collaborated with the military to realize their goals of restoring their approximately 240–acre land, planting over 40,000 seedlings of nature and fruit trees. Anicet Ranaivoson, the Lemur Center's restoration specialist, leads planting events, annual maintenance and monitoring. Anicet led Greg and Erin to visit each parcel and explain about the varying growth and development. Then, joined by 100 soldiers and local community members, we all got our hands dirty! In total, we planted over 4,000 seedlings, and ended with a picnic and speeches, with the military and community leadership expressing their gratitude for the Lemur Center's support.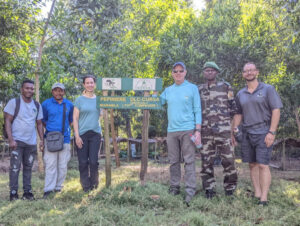 We followed our tree planting with a quick lunch in the city of Antalaha, before visiting the Macolline Botanical Park. Macolline has collaborated with DLC for many years in environmental education. We've sponsored hundreds of school children to have guided visits of the park with professional educators, like Ertice, who also lead workshops in schools with local teachers, reaching hundreds more students in their networks. Greg and Erin were enthralled with Ertice's knowledge of all the plants in the park, identifying species that are important for local culture and livelihoods. Native species that also provide medicine abound in the park, as well as introduced spices, like ylang–ylang, the entrancing aroma of which is the base for the popular perfume, Chanel #5. Climbing to the top of the Macolline hill, we got amazing views of the surrounding landscape, while we also patiently searched for the elusive bamboo lemurs that live there (unfortunately, no sightings on this trip!).
---
Visiting with Local Farmers
On our last day together in SAVA, we visited a local women's farming association in one of the communities where DLC–SAVA has operated since the beginning, Mandena, in the foothills of the Marojejy National Park. While there was no time for a trip to the park to see the rare lemurs found nowhere else, we promise to next time! Equally fulfilling, Greg and Erin got to observe the women's association in action: they meet weekly to work together on members' gardens, and we visited them while they made compost together. With the awe–inspiring mountain of Marojejy, shrouded in clouds, as our background, we witnessed how productive their members are, growing diverse and nutritious vegetables and other crops. They also explained some of the new challenges they are facing: they're producing so much, it's becoming hard to sell! They have more than enough to eat at home, and with so many members producing, the local markets are flooded. They now want to learn more about engaging in the larger value chain; for example, selling their crops in the bigger city markets, and creating value–added products like dried fruits, chips and flours made from alternative crops like cassava and giant yams, and more.
We continue to host workshops with the association to help them develop a business model and cooperative system for members to pool their resources and get their products to bigger markets. In fact, this month, they will learn to produce value–added products with which they can create new niche markets. We visited several of the participants who engage in our chicken husbandry program, seeing their newly completed chicken coops and the new chickens they received from DLC as part of our partnership. Everyone was impressed with how farmers can create so much from local products that they have all around them, like bamboo and palm fronds. It was a real pleasure to visit the community in Mandena, and they felt honored to have Greg and Erin see the fruits of their labors first hand.
Leaving Mandena, we drove the rest of the way to the city of Andapa, where DLC also operates many of our projects. The caldera–like landscape is flat with dozens of streams and rivers from the surrounding forested mountains feeding vast fields of flooded rice. Hills are green with fruit and spice trees, and zebu cattle graze lazily all around. From a vantage point on one of those hills, we could see the immense and productive lowlands, as well as the protected forest reserves all around. The surrounding mountain chain is part of a vast network of parks and reserves, like Marojejy and the COMATSA, where DLC conducts research and outreach. Seeing this complex agroecosystem for the first time with their own eyes helped to solidify for Greg and Erin just how complicated conservation and research is in this region, but also how unique and productive it can be.
---
Leaving SAVA
The visit to the SAVA was not the end of the journey for our Directors; they traveled back to the capital to briefly join the Duke Alumni Madagascar Tour, before heading to the Anjajavy Private Lodge, where they are breaking ground for a new research station. Being able to experience Madagascar first hand opened their eyes to the opportunities, as well as challenges, of our conservation and research initiatives here, and gave a new sense of meaning to our diverse projects and collaborations. We look forward to developing ideas drafted during the visit, and taking action to execute these plans. Greg and Erin's visit gave the DLC–SAVA team a boost of new energy and motivation, and with a renewed vigor we are excited to make leaps and bounds in our programs for the second half of the year!