Staff Spotlight: Grayson Pellerito, Primate Technician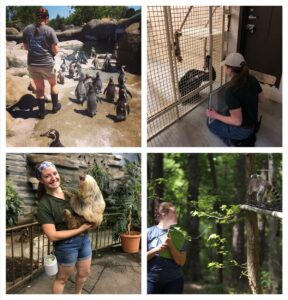 Ever since I was young, I knew I wanted to work with animals, which as a child is not super unique. Something that was unique… I was the kid that asked for a Swiffer for Christmas. So, combining my love of animals with my odd interest in cleaning, how did I not know sooner that being a zookeeper was a job that fits all of my interests?
I dreamed of working with either penguins or elephants in my career because they look like the dream animals to work with in the movies, right? Well, I thought so, and I was ready for that dream to come true when I got my first internship at the Rosamond Gifford Zoo in Syracuse, New York working with penguins! That dream quickly crumbled when I realized working with penguins was probably my least favorite thing to do. The Humboldt colony was amazing, just very skittish of almost all enrichment and training, which is my favorite part of being a keeper!
After that internship turned into a summer job, I was able to learn such incredible skills that I am so grateful for, but also confirmed after that length of time that penguins were not my forte. I was super fortunate that this opportunity led me to explore different internships/part-time positions within various departments at that zoo, including the domestic barn, big cats, nocturnal animals, and primates, among other species. All areas were beyond fascinating and I loved learning about the different animals, but the primates were my absolute favorite. It is fascinating to me to watch apes, monkeys, and prosimians all think in different ways and use their hands to manipulate different items. After all of the experiences I endured, I got a full-time position working with the primates! It was an amazing position to be in and I learned so much, not only about the animals, but about myself and where I wanted to be in my career. I knew from this job that I wanted to specialize with primates specifically.
The passion I had working with black and white ruffed lemurs and ringtail lemurs in Syracuse led me to take a pretty big risk. I stepped away from my full-time job in this competitive career and quit to be an unpaid intern at the Duke Lemur Center. It was helpful that I had my dad's insurance to piggy back onto for a few more years, but that doesn't make the risky story as exciting when I say that. The adventurous part of me was so excited to get the opportunity to add this facility to my resume and gain this experience, but the poor post-college adult part of me was anxiously worrying about my next life choice after this internship ended. I was BEYOND lucky to be at the right place at the right time because this internship led me into my first part time job here over a year ago. From there, I continued to get luckier and that strung into various positions here that has officially made me a PERMANENT full-time primate technician as of July 1, 2021!
The anxiety ridden "what ifs" that felt like a rollercoaster for the last two years were crazy, but I would not change a thing. I love working at a specialized facility, seeing all of the different species interact with each other and their surroundings, and on an unprofessional note, they are super cute to look at! As crazy of a maze that it was to get here, I am happy I experienced it, because I think it put a lot into perspective and has made me realize that I am right where I want to be instead of playing the "what if" game. I put happiness first, and I am so happy here at the Duke Lemur Center after that wild ride!