Enrichment for Humans: Wild Violet Lemonade
Flowers are a nutritious (and colorful!) part of many lemur diets, but we humans tend to prefer our flowers in a vase. There are many species of wildflower in North Carolina that are edible and good for you! In this recipe, we'll use wild purple violets to make a magical springtime color-changing lemonade!
Wild Violet Lemonade
Wild violets grow in shady places all over North Carolina. They are small flowers that are either dark purple or light purple and white, with golden centers. Always make sure you have the right flower before trying to eat it, and wash thoroughly before doing so.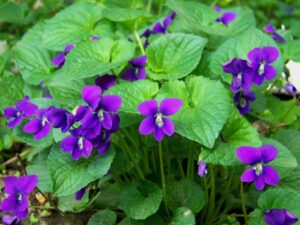 Recipe for violet syrup
1 cup purple violet petals (remove all green parts)
1 cup boiling water
1 cup sugar
Directions
1.Heat water to boil.
2.Stir in violets and remove from the heat. Then let sit, ideally overnight, or until the water is purple and the petals are clear.
3.Strain petals out of the water using a fine mesh strainer or slotted spoon –you're keeping the water for the next part!
4.Stir one cup sugar into violet water and bring water to a boil again, then turn heat down and stir until sugar is fully dissolved and syrup coats the back of a spoon.
Recipe for Violet Lemonade
2 Tablespoons violet syrup
1 Tablespoon lemon juice
Water or sparkling water
Violet ice cubes and lemon slices (optional)
Directions
1.Stir violet syrup into water or sparkling water
2.Add ice cubes (option to freeze whole violets in ice cubes for an extra floral drink!)
3.When ready, add lemon juice. The color of the syrup will change from bluish purple to bright purple-pink!
4.Enjoy!