Duke Lemur Center accepting and directing gifts to community rebuilding
By Charlie Welch, Conservation Coordinator
Massive crop loss, damage in SAVA region
On 7 March 2017, a very powerful category 4 tropical cyclone Enawo made landfall in northeastern Madagascar and swept down the entire length of the island country. There was flooding and some wind damage in much of eastern Madagascar, with the most severe damage occurring in the SAVA region where the DLC's conservation programs are based. Many houses, schools, clinics, and other critical infrastructure were damaged throughout the region. Most distressingly, there was massive crop loss, putting people's livelihoods at extreme risk. The SAVA region is heavily invested in vanilla production, and early estimates in the Antalaha area put losses at 95% of the current vanilla crop. It will be a very difficult upcoming year for the people of the SAVA.
The town of Sambava where the DLC-SAVA Conservation office is located was hard hit, but very fortunately, did not receive the strongest part of the storm. We are vastly relieved to report that DLC-SAVA personnel Dr. Marina Blanco, Lanto Andrianandrasana, and Duke graduate student Lydia Greene are safe and in good spirits. The office itself suffered no significant wind damage though it experienced some flooding from the penetrating rain. Sadly, our collaborating villages were not as fortunate. In addition to peoples' homes, many schools were severely damaged, and a key partner organization in environmental education, Macolline Botanical Reserve in Antalaha, was completely destroyed.
When Enawo made landfall on March 7, the Weather Channel noted it was "the island's strongest landfall in 13 years… with maximum sustained winds of 145 mpg, the equivalent of a Category 4 hurricane." Read Duke Ph.D. student Lydia Greene's first-hand account HERE.
How you can help
Madagascar has virtually no safety net to help people in such disasters, depending almost entirely on external aide. And with such overwhelming devastation, the challenge is enormous and urgent.
To make a gift toward cyclone aftermath needs and support in Madagascar, you can donate to the Duke Lemur Center's Madagascar Programs by clicking the 'Donate' button below. On the "Review Your Gift" page, please click on the "Is there anything you'd like to share with Duke today?" hyperlink and type CYCLONE in the comments box that will appear. This will ensure that your funds are directed to emergency relief.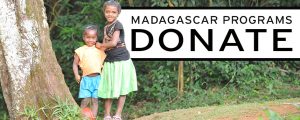 Your support will enable us to help SAVA region entities that we work closely with to get back on their feet and also to help others in the area. This will play an important role in continuing our efforts to make a broader impact in conservation and education in the region.
Thank you for your concern and interest.
If you have questions about your donations, please contact Mary Paisley at (919) 401-7252 or mary.paisley@duke.edu. She will be very happy to speak with you and can help assure that your gift reaches the places where it is most needed.