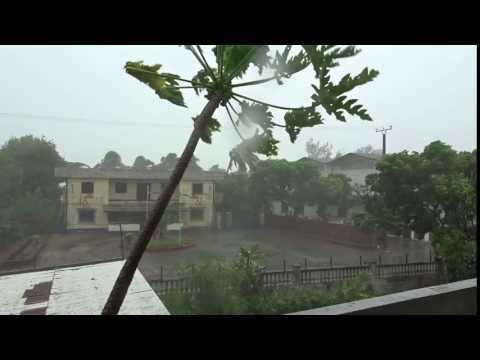 ABOVE: Category 4 tropical cyclone Enawo, as witnessed by DLC-SAVA personnel Lydia Greene and Marina Blanco from the balcony of the SAVA office. Strong winds and heavy rain for 17 hours later knocked down the papaya tree seen here in the foreground.
BELOW: A first-hand account of damage by cyclone Enawo, by Duke Ph.D. student and Duke Lemur Center volunteer Lydia Greene. For more information about cyclone Enawo or to make a donation to help the area recover from its devastation, please click HERE.
March 10, 2017: Today Marina, Lanto, and I traveled to the villages of Mandena and Manantenina. These two villages are those closest to the entrance of Marojejy National Park and the inhabitants of both communities are important collaborators, conservationists, guides, and friends. 
We traveled to both villages to see the damage from Tuesday's cyclone. Here in the city of Sambava, where our team lives, the damage was obvious, but not necessarily debilitating. Strong winds and heavy rain for 17 hours took down power lines and trees, and caused flooding in some areas. But life has almost returned to normal already. Power is restored, the karaoke place is open for business tonight, and the local pizza joint is set to reopen next week.
But in Mandena and Manantenina things are much bleaker. With no power lines to topple, Cyclone Enawo took houses instead. In Mandena, we learned that half the population lost their homes, and half the local school was destroyed. Churches are missing roofs and fences have vanished. In Manantenina, the water level got so high as to flood the local school.
I spent 4 weeks living in Mandena last summer and I was shocked at the devastation and change in the village. I still cannot fathom the amount of water that must have come from the sky that day.
On the drive home I noticed fields upon fields of banana trees, fallen and wrecked. We hear rumors of damaged rice and vanilla crops. I worry for food and economic security in the months and years to come.
We here on the SAVA team really appreciate the abundance of thoughts, wishes, and messages that have come our way this week.