From the DLC… to under your tree! 
Nine amazing lemur-y gift ideas from $5 to $250, for everyone on your list—and all gifts "give back" to the lemurs at the DLC! All purchases fund lemur care, housing, veterinary supplies, public outreach and education, and conservation initiatives. You can feel good about the products you buy!
With new virtual programs and free US shipping available this year, we have options for lemur lovers everywhere!
---
1. For your tree ($10+)
O Christmas tree, O Christmas tree, How lovely are your branches – especially when they're decked with LEMURS! Set of four includes a ruffed lemur, Coquerel's sifaka, DLC-NC, and ring-tailed lemur (ring-tailed lemur not pictured, but can be viewed on the DLC merchandise page).
The complete four-ornament set can be purchased online through Duke University Stores, or local lemur-lovers can purchase their favorite ornament(s) individually with curb-side pick-up. All are sourced from sustainably harvested wood and made in the USA.
---
2. For stuffing those stockings ($2 – $30)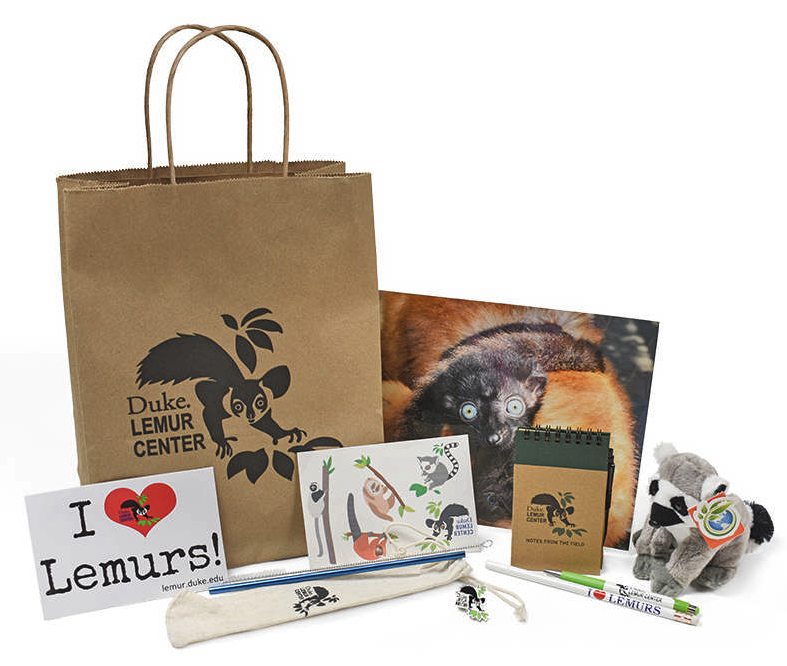 Stickers, tattoos, pencil, and plush… deciding between all of our adorable smaller stocking stuffers is hard! Let us do the work for you with our I Love Lemurs Care package! If you don't have a stocking handy, this package comes pre-wrapped in a paper DLC logo bag and includes an assortment of our favorite stocking-sized products.
This package is available with FREE shipping within the continental US! Order online via the Duke Stores secure website.* Or, each item can be purchased separately for curbside pick-up. Browse the catalogue and call (919) 401-7240 Thursday-Saturday 9:00 AM-5:00 PM when you're ready to place your order.
*12/15 UPDATE: This package has SOLD OUT on the Duke Stores website, but we're working on restocking soon! Items can be purchased through curbside pickup at our location in Durham, NC. Thanks very much for your support, and apologies for the inconvenience!
---
3. For the gift of lemurs ($50+)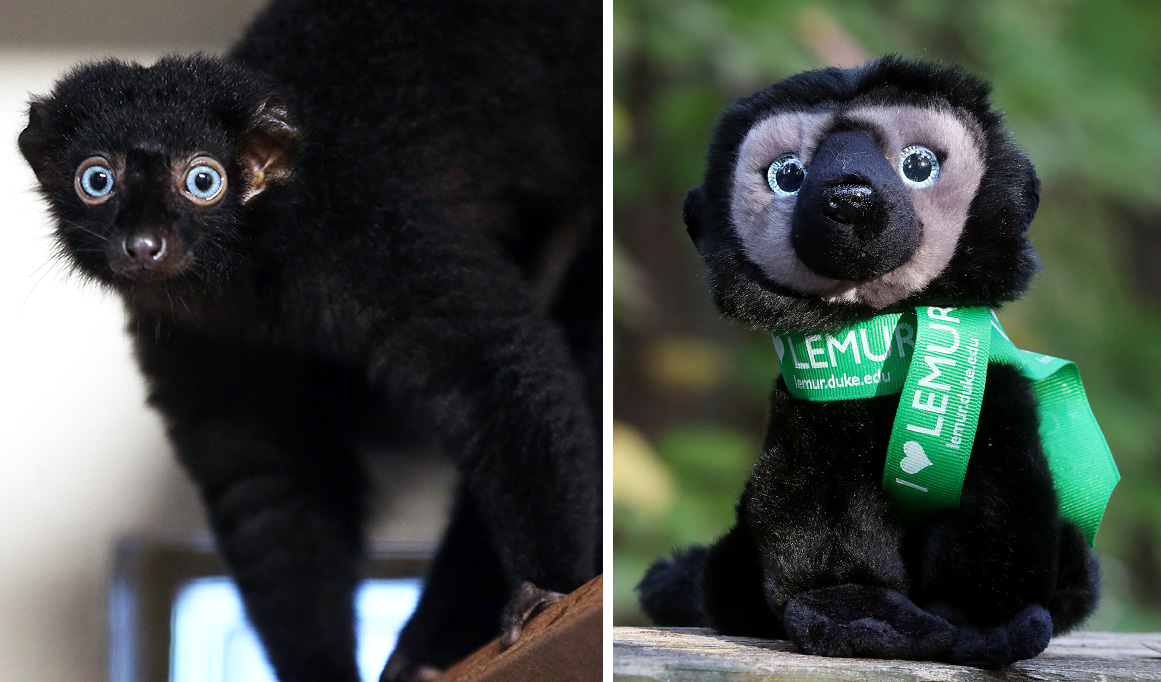 Adopt a Lemur packages make great gifts for animal lovers young and old! Regular adoption packages (no plushie) of other species from $50 and up. We'll send a welcome packet to your gift recipient and quarterly updates on the adopted lemur. This is a gift that keeps on giving!
Limited edition holiday adoption: This season, we're thrilled to offer a special Adopt a Lemur package with a plush lemur! Blue-eyed black lemur Brady is celebrating his first holiday season this year and you can celebrate with him! This special adoption gift is $75 and can be sent to your loved ones with FREE shipping anywhere within the contiguous United States.
Learn more and adopt via Adopt a Lemur homepage.
---
4. For the kids… or kids at heart ($10 – $25)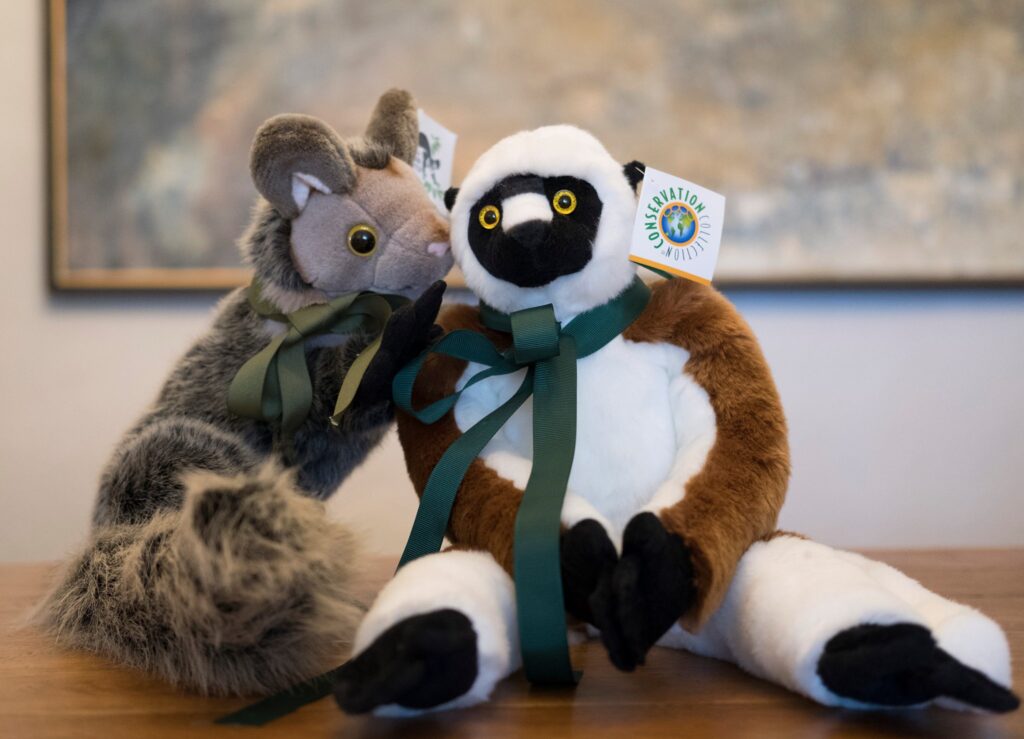 We stock what may possibly be the cutest stuffed animals on earth, including custom aye-ayes and sifakas made just for us, adorable ring-tailed lemur options, a blue-eyed black lemur, and the fuzziest ruffed lemur you've ever seen! Prices range from $10 to $25.
Call our gift shop at (919) 401-7240 Thursday-Saturday 9:00 AM-5:00 PM for curbside pick-up or order online with FREE shipping within the continental US via the Duke Stores secure website.
Gift-giving tip: These stuffies pair beautifully with our Adopt a Lemur packages (above)! Adopt a sifaka, aye-aye, ruffed lemur, or ring-tail online; pair the packet with your choice of corresponding stuffed animal from Duke Stores; drop in a gift bag; and voila!
---
5. For year 'round learning ($10/month)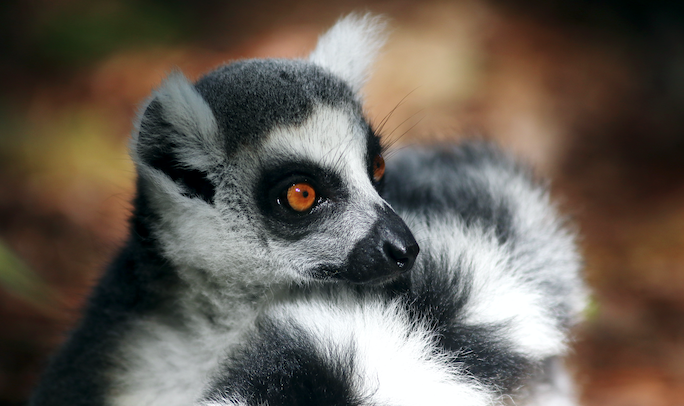 Our Learning Lemurs Education Subscription is the perfect gift for the curious lemur lovers on your list!
In addition to continuous access to our virtual tour experience (so you can "visit" any time you'd like), you or a loved one will also receive a monthly newsletter from the DLC education team with articles, activities, and video clips on fascinating topics, featuring plenty of cute lemur images to get your monthly lemur fix.
Check out a free example newsletter and register for a six- or 12-month subscription here.
---
 6. For the artist ($25 – $260)
Paintings by lemurs: Lemurs love to paint, especially when we toss tasty treats like cranberries on their canvases! Each one-of-a-kind work of lemur art comes with: a high-quality print of the artist(s), info sheets about the species and the particular artist(s), a gallery-style ID tag, and a copy of the beautiful 2019 DLC magazine. A truly unique gift that enriches our lemurs' lives as well as your recipient's! Pricing and ordering information can be found on our paintings homepage.
Commission a custom lemur painting: Order a virtual painting package, and you'll receive a custom video of our painting session with a lemur species of your choosing, using colors you've specified to create your very own works of art! Each package includes a downloadable link to your tailor-made video, access to our virtual tour videos, and a mailed package of your lemur artwork sent right to your home.
Fine art print: If your tastes are a little less abstract, our LEMURS OF THE DLC fine art print is available for curbside pick-up in Durham, NC or can be ordered online with FREE shipping within the continental US via the Duke Stores website. Created exclusively for the Duke Lemur Center in commemoration of 100 LEMURS—an international collaboration between the Duke Lemur Center, a world leader in the study, care, and conservation of lemurs, and Rachel Hudson, an award-winning wildlife illustrator—the print measures 11″ x 17″ and features all 14 species of lemurs currently housed at the DLC.
---
7. For EVERY lemur-lover in your life ($20+)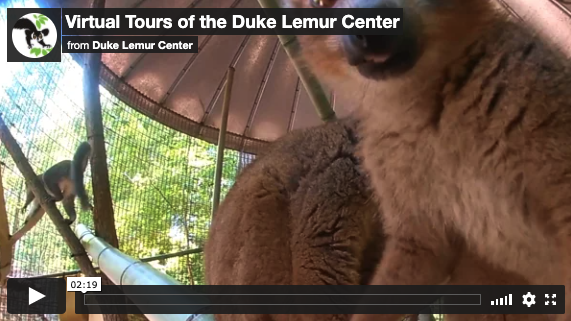 While we remain closed to the public, we are bringing the Duke Lemur Center to a screen near you — well, minus the unique lemur smells!  We're offering a suite of brand-new virtual experiences so you can learn all about the history and mission of the Duke Lemur Center and meet the lemurs who call it home!
The 75-minute online general tour is just $20 plus tax for one week of unlimited video viewing, and registration covers all of the people in your—or your gift recipients'—household. Premium tour options include live chats with our lemur experts, custom and deluxe Celebration Packages, custom painting packages, and more!
After your "visit," make sure you stop by our online gift shop!
---
8. For the lemurs ($5+)
Don't forget the NON-HUMAN primates in your life… Lemurs love presents, too! Select a fun toy, snuggly bed, or tasty treat from the DLC's amazon.com wishlist, and your present will be sent directly to the DLC. Please include your name and email address in the notes field so the lemurs can send a thank-you! (Pictured: ruffed lemurs peer into a mirror donated via our wishlist.)
You can also choose which lemurs will be treated to an enrichment extravaganza with one of our custom or deluxe Celebration Packages!
Be sure to watch our adorable thank-you video that shows how our lemurs use their new wishlist items for fun and physical and mental exercise. The items you send help us promote all aspects of the well-being of the lemurs under our care. Thank you for enriching the lives of our lemurs!
---
9. For the last-minute giver
What's the perfect last minute gift that also helps the Duke Lemur Center? A donation in any amount – and you can choose to honor someone you care about with your donation, too! Just include your loved one's name and email address in the "in honor" fields during your gift checkout (here's how), and he or she will be notified of your gift in their honor. Click here to donate now—it's quick, simple, and secure!