One of our volunteer Technician Assistants suggested recently that we add a "Staff Spotlight" to the DLC's monthly volunteer newsletter. We loved the idea so much that we've expanded it into monthly blog posts as well! Many friends of the DLC know us in passing, but may not know what led us to our careers or what we love most about working here. What a fun way for everyone to learn more about the Lemur Center's wonderful staff!
Here, the DLC's Director of Communications, Sara Sorraia (née Clark), provides the second installment in our Staff Spotlights series.
---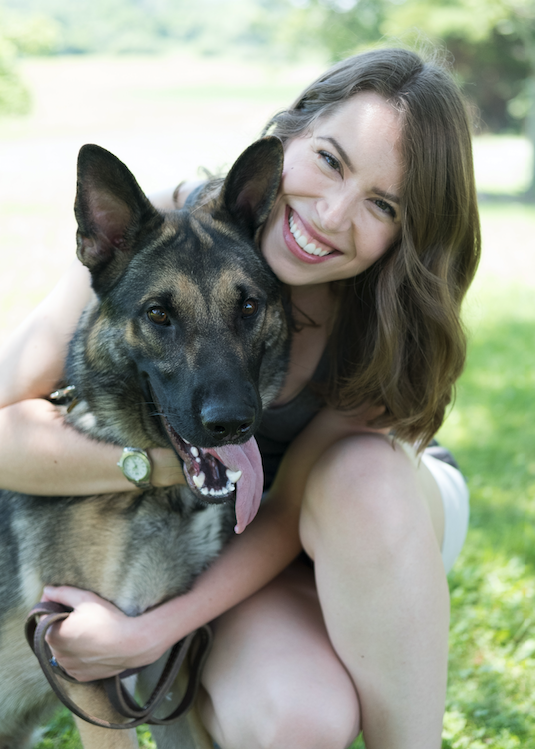 Years at Duke: 2007-present
Years at the Duke Lemur Center: 2016-present
I'm the daughter of a seventh-generation farmer, a former 4-H club president, champion sheep showman, and all-around farm kid hailing from the Appalachian foothills of southern Ohio. Our neighbors are Amish. If you'd told 12-year-old me that someday I'd be a communications director at a globally-ranked university just outside the "Silicon Valley of the East," I'm not sure I would've believed you!
I started taking college classes at Ohio University after my sophomore year of high school: they were free, thanks to an agreement with the local schools—and finances were a big factor for us. I banked all the credits I could and, later, finished my BA in a swift three years, concentrating in the eminently practical field of… classics. Ha! I couldn't help it. I like my artwork ancient and my languages dead.
At the time, I wanted to be a professor. But I was painfully shy, and I knew I couldn't lecture in front of a class. Before pursuing graduate school, I decided to look for a job that would force me to talk to strangers. I opened the classifieds and a local Nissan dealership was hiring salespeople. I applied and, lo and behold, I was hired!
I sold Nissan cars and trucks for 2.5 years, first in OH and later in Winston-Salem, NC after enrolling at Wake Forest University. That experience—sales, negotiation, customer service, even repping Nissan at auto shows—was invaluable. I didn't know it then, but it would form the foundation of my future career.
I enrolled in a master's program at Duke in 2007, where I was probably the only Blue Devil who could read in four languages, hawk a pickup truck, AND castrate a goat. Around the same time, my parents put our land in a conservation program and planted 17,000 trees in former cattle fields. My brother began transitioning to organic farming, and Dad became interested in bobwhite quail conservation. We began to understand more deeply the importance of caring for the land and the wild creatures it supports—though I admit I was sad to see the bluegrass fields suddenly devoid of cattle.
After graduating from Duke (where my thesis focused on the "language" of art in the Middle Ages), I landed a job at an arts college, spending a year managing the Guest Services department and assisting with admissions/recruitment, advertising and call campaigns, and mailings. From there I moved to Oxford University Press, where for two years as a Publisher's Representative I participated in market research, editorial development, and marketing/selling textbooks to colleges and universities across the U.S.
I loved Oxford, but Duke was in my blood. I'd worked there part-time since graduating, and I came back to campus full-time in 2012 after accepting a position at Duke University Chapel, where I'd been a work-study student during grad school. The Chapel is THE tourist destination at Duke (we welcomed 243,362 visitors in 2014), and I oversaw the tour and visitor components of the building: visitor relations staff, student front-desk workers, and tour guides as well as all non-worship special events like Baccalaureate. So my professional background became a blend of sales and marketing and interfacing with the public, which transitioned perfectly into my dual role here at the DLC (communications and education).
I joined the DLC staff in 2016, and I love it here! For the first time in my life, I'm working at a job that unifies the two worlds that I live in and love—professional and personal. Not only am I back around animals, but I get to use the skills I've developed over the past 14 years to help spread the word about lemurs. I like to say I'm a shouter, an artist, and a writer—and I shout at people to CARE. Without marketing and communication, people don't know what's going on or how they can help. You can't care about what you don't know about.
Outside of work, you're likely to find me outside riding Dovekie, my big Friesian/Percheron gelding, or with my working German Shepherds, Minka and Iris. I love training and working with dogs, and mine are so drivey and smart they keep me VERY busy! I also love long solo trips camping and hiking out West. (The badlands of South Dakota are a longtime fave.) It's a good life!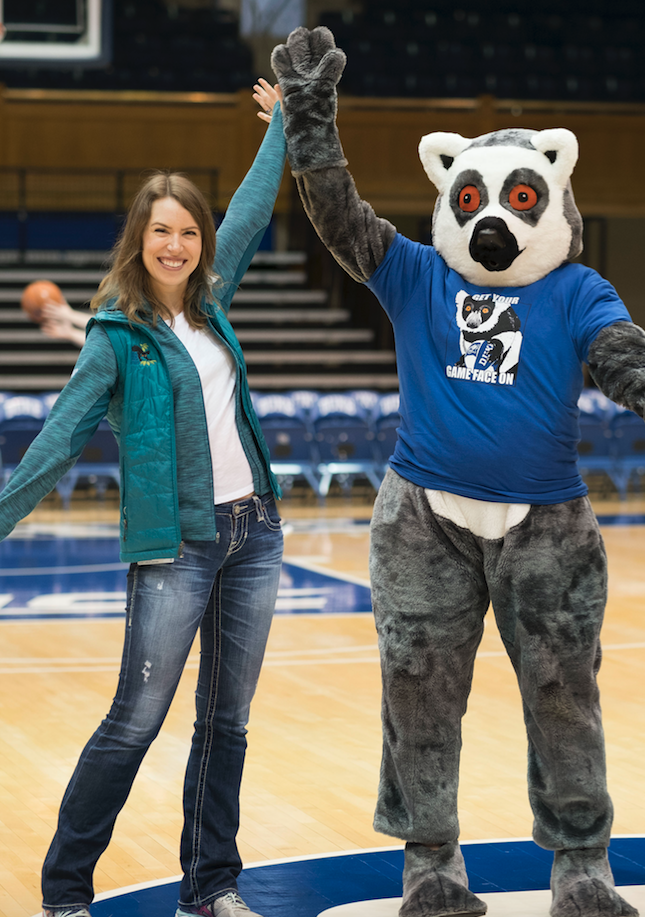 To read the first post in our Staff Spotlights series, click HERE to learn more about DLC veterinarian Laura Ellsaesser, D.V.M.