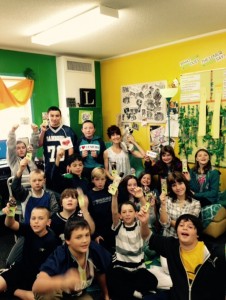 Our Jumping Journey of Learning thru Lemurs
While Integrating the Common Core Standards and Passion-Based Learning.
March 12 — How do you interest 54 sixth-grade students in a year of learning? Not sitting and having information dumped into their heads, but TRUE, enthusiastic, engaged learning?  Well, you LEMURIZE the curriculum, of course!
Impetus
Flashback to July, 2014 and a visit to my mother-in-law in Pensacola, Florida: We meandered over to the IMAX to view the latest showing, which happened to be Island of Lemurs:  Madagascar.  I did not know what to expect, having never heard of the movie, but as an educator, I was curious, nonetheless. Whew, I was in for an inspirational experience!
Coming out of the cinema, I was still in awe of the movie: content, cinematography, and most importantly, the cause– raising awareness of the lemur plight.  The students would be enthralled with these cool creatures and would be catapulted into the realm of environmental and ecological awareness by Learning thru Lemurs. The lemur theme would give the students a purpose for learning.
Integration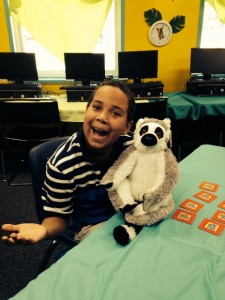 Fast forward to the school year of 2014-2015: The students enter a room thematically filled with lemur books, rainforest vines, tropical colors, lemur pictures, Madagascar movie posters, stuffed animal lemurs, and more…all LEMURIZED!  The response is excitement and curiosity. Our year of Learning thru Lemurs had just begun.
So, what have we done, incorporating lemurs this year, to motivate our minds, ignite our interest, keep our curiosity, and cultivate our creativity?  To begin with, we named our 6th grade class, Team Lemur!  We crafted slogans for our team:  Lemur Up and Lemur Strong.  These slogans represent the character traits of lemurs that we want to apply to our everyday life:  perseverance, dedication, teamwork, and playfulness.
Next, we began learning about lemurs: videos, books, articles, and TWEETS.  Thus began our next level in Learning thru Lemurs.  Team Lemur set up a Twitter @leapinglemurs2 and an Instagram @leapinglemurs account to become better informed of all things lemur and communicate our learning to the community. We began daily updates on postings of both accounts.  The students began checking the accounts, commenting, and following the diverse information presented.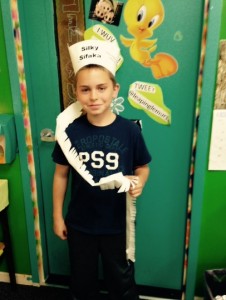 Then, one morning, we got a SHOUT OUT from Chris Smith from the Duke Lemur Center.  In addition, Chris promptly sent out lemur gifts for all the students: bookmarks, stickers, and information.  After reading his KUDOS and receiving their goodies, the students were catapulted into high gear, motivated to continue their lemur learning with more passion and vigor.
Students then organized a Lemur Awareness Week campaign. As most students did not have any prior knowledge of lemurs, they thought this campaign would help spread the word to others.  Each student created a promotional poster with a slogan, logo, mascot, lemur information, and a call to action. Every hallway, window, and door was decorated with these creative and knowledgeable posters.  There was a buzz about our K-8 school, all about lemurs!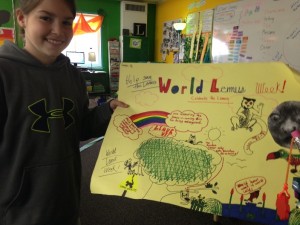 After reading about the upcoming Duke Lemur Center Lemurpalooza in October, the class decided to run their own adopt-a-lemur fundraiser. Students spent the week creating limericks, or LEMURICKS. Each limerick conveyed information about lemurs, as well as their cause.  Daily limericks were read on the morning announcements. In one week, we raised $100.00, enough to adopt our first two lemurs!
As we patiently awaited our first lemur adoption kit, students began to brainstorm the next fundraiser. After viewing a Twitter post of lemurs enjoying lollipops, we knew what the upcoming fundraiser would be, a Lollipop Fundraiser.  We sourced environmentally conscious and healthy-ish lollipops: Yum Earth Organic Lollipops. The slogans started:  Lemurs Love Lollipops; Love a Lemur; Let's Lick Extinction.  Students promoted the fundraiser with daily announcements and promotional posters, complete with slogans, product and lemur info, logos, pricing, buying logistics, and our cause. Our supportive principal even donned a lemur costume to help us sell out of our lickables on our second day. We had creatively raised an additional $50.00, enough to adopt one more lemur! And, in the meantime, we got our first round of Lemur Adoption Kits from the Duke Lemur Center!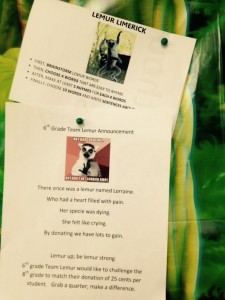 Students then took a field trip to see the opening of Penguins of Madagascar.  How could we not? After a super premiere, learners completed a movie analysis regarding theme, symbolism, character traits, and more.  Working backward, we later watched in class the original Madagascar 1.  Oh, King Julien!  Students then compared themselves to one character in Madagascar 1.  The next learning assignment was crafting a full compare and contrast essay of both movies–an intensive assignment, but how much fun it was to write about these two movies!  On a side note:  I was extremely proud of the dedication of my students. After receiving a refund from the movie theater, each student chose to donate their extra money to our adopt-a-lemur cause; thus our 4th and 5th lemur adoption.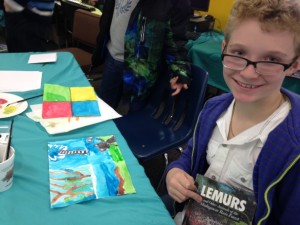 As the holidays approached, our class became extremely creative, integrating lemurs into the seasonal fray.  Classes lemurized holiday songs; on the fifth day of Christmas, my true love gave to me–five golden bamboo lemurs!  Additionally, instead of decorating gingerbread men cookies, we created them in lemur form.  After a delightful decorating session, we designed holiday labels for our cookie creations and delivered them to the local senior center.  The smiles were plentiful; the seniors had never enjoyed a gingerbread lemur before!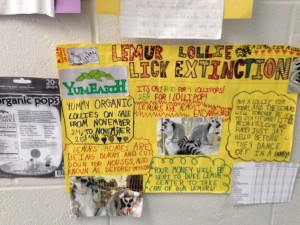 What does every sweetheart want for Valentine's Day? Lemur Haiku notecards, of course.  Coming back from the holiday break in January, 2015, students immediately began their next lemur project; lemur haiku notecards.  Each haiku focused on describing a specific lemur. Students were very descriptive and particular with word choice, as a haiku has only 17 syllables.  Additionally, they tried their hand at creating watercolors and original artwork for their notecards.  Each student completed a pack of five notecards, wrapped and tagged them, and are giving them to their parents for Valentine's Day.
Upcoming Learning Activities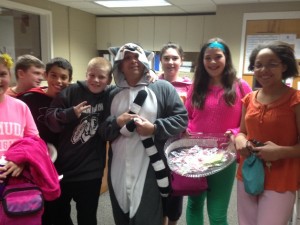 So this brings us to date, mid- February, 2015.  We have received our 5th Lemur Adoption Kit from the Duke Lemur Center. Each adoption kit we receive is an inspiration to continue Learning thru Lemurs.  Therefore, our next project will be creating our own Lemur Adoption Kits, complete with lemur bio sheet, pictures, and more.  As students are researching and compiling their Lemur Adoption Kit information, they will also be designing a lemur stuffed animal to go along with their kit. Learners will design, sew, and tag a lemur stuffed animal: naming it, giving it quality character traits, and telling its story.  Every lemur lover needs to learn to sew, and what a cool cause to do it for!
After viewing another engaging Twitter post– lemurs devouring popcorn, students began planning their next fundraiser:  Lemurs Love Popcorn— lemur-shaped popcorn balls. We will then be delving into our literary selections of rainforest reading:  The Mystery in the Amazon Rainforest, One Day in the Tropical Rainforest, and Travels with Gannon & Wyatt: Great Bear Rainforest.  After, students will put on their debate hats and craft a Rainforest Preservation Argumentative Essay, complete with proposed solutions for deforestation.  Finally, in celebration of our year of Learning thru Lemurs, 6th grade Team Lemur will host a Lemurpalooza celebration complete with lemur games, informational activities, and student-designed, lemur-themed Food Trucks. This evening event will be a wonderful way to share student learning, acknowledge our accomplishments, and increase awareness in the community of the challenges that lemurs are facing–extinction.
Reflection on Learning thru Lemurs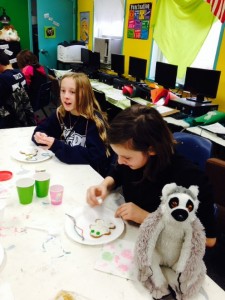 Our jumping journey of Learning thru Lemurs is far from over; the year holds several more months of immersed learning and doing.  What do the students love about Learning thru Lemurs?  It's not a bunch of static, stale worksheets: It's hands-on, project-based, problem-solving, real-world, and learning that makes a difference.
As an educator, I am thrilled with all of the above and the amazing amount of engagement that students have exhibited this year, all due to passion-based learning and LEMURS. Students have not only learned the English Language Arts Common Core Curriculum during this year of the lemur, but more importantly they have begun their journey toward becoming global citizens.  To educators who would like to LEMURIZE their curriculum; remember, it's just a simple leap away!
Robin Lee-6th Grade- ELA
Ellis School, Fremont, NH  03044
RLee@sau83.org