From the DLC… to under your tree! 
Nine amazing lemur-y gift ideas from $8-$400, for everyone on your list — and all gifts "give back" to the lemurs at the DLC! All purchases fund the Education Department and help pay for lemur care, housing, veterinary supplies, and conservation initiatives. You can feel good about the products you buy!
How to purchase
With the exception of Adopt a Lemur packages (which are purchased online), all gifts can be purchased at the Lemur Landing Gift Shop at 3705 Erwin Road in Durham, NC. Parking is easy and free! You do not need a reservation to visit the shop, but you will need to reserve ahead of time if you'd like to take a tour while you're here.
Click here for driving directions to the Gift Shop.
Click here to see our Gift Shop hours.
Don't live near Durham, NC? Our Adopt a Lemur program offers FREE SHIPPING anywhere in the contiguous United States! All Adopt a Lemur packages are purchased online via the Adopt a Lemur section of our website.
1. For stuffing those stockings ($8-$15)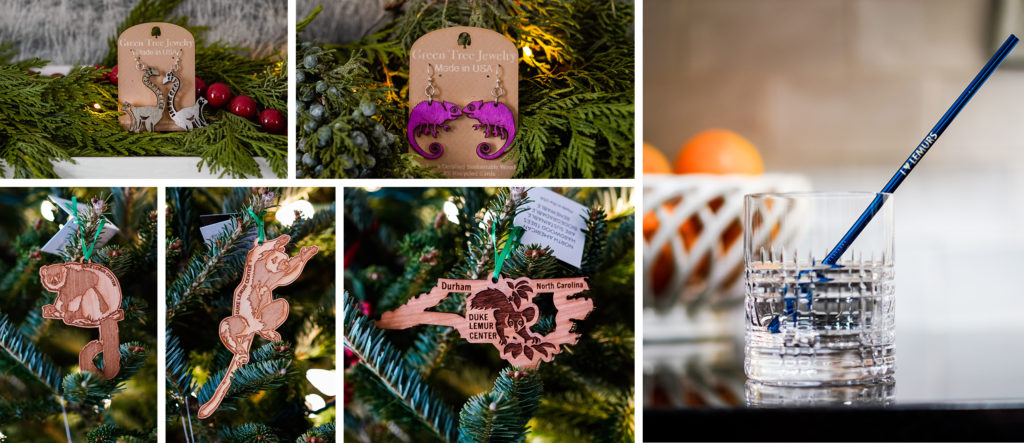 Reduce plastic pollution AND proclaim your love of lemurs by replacing your single-use plastic straws with our engraved stainless steel ones! Straws are long enough to sip a Trenta (30 oz.) drink from Starbucks — no too-short straws here. Each $8 set includes one stainless steel straw engraved with "I ❤ LEMURS," one cleaning pipette, and one canvas storage bag. Add a reusable plastic water bottle for $15.
O Christmas tree, O Christmas tree, How lovely are your branches – especially when they're decked with LEMURS! We have brand new tree ornaments in stock, as well as magnets and keychains! All are sourced from sustainably harvested wood and made in the USA. Ornaments are $10 each; prices of magnets and keychains $8-$12.
Showcase your love of Madagascar's endemic wildlife with these cute ring-tail and chameleon earrings! Proudly made in the USA using sustainably sourced wood, water-based dye, and 90% recycled display cards. $15 per pair.
2. For long-distance family and friends ($50+)
Our Adopt a Lemur program offers FREE SHIPPING anywhere in the contiguous United States! Adoption kits start at just $50, or you can send a special holiday adoption package – including an Eco Pals plush ring-tailed lemur (less plastic = fantastic!), pictured above – for just $75! Order by December 15 for delivery by December 25.
Adoption packages support the $8,400-per-year cost to care for each animal for one year at the DLC. We'll send a welcome packet to your gift recipient and quarterly updates on their adopted lemur. This is a fun, educational gift that keeps giving all year 'round! Better yet: adoption fees are tax-deductible! Learn more and adopt via the Adopt a Lemur homepage.
3. For the kids… or kids at heart ($12-$28)

We stock what may possibly be the cutest stuffed animals on earth, including custom aye-ayes and sifakas made just for us, a momma-and-baby ring-tailed lemur, a blue-eyed black lemur, and the most adorable ruffed lemur you've ever seen! For a limited time, we also have aye-aye, ring-tailed lemur, and ruffed lemur stuffies made in Madagascar – but these sell out quickly, so swing by the gift shop to get yours before they're gone! Prices range from $12 to $28.
Gift-giving tip: These stuffies pair beautifully with our Adopt a Lemur packages (above)! If you're local, adopt a blue-eyed black lemur, ruffed lemur, sifaka, or ring-tail online; pair the packet with your choice of corresponding stuffed animal from our gift shop; drop in a gift bag; and hide under your tree!
4. For EVERY lemur-lover in your life ($18-$49)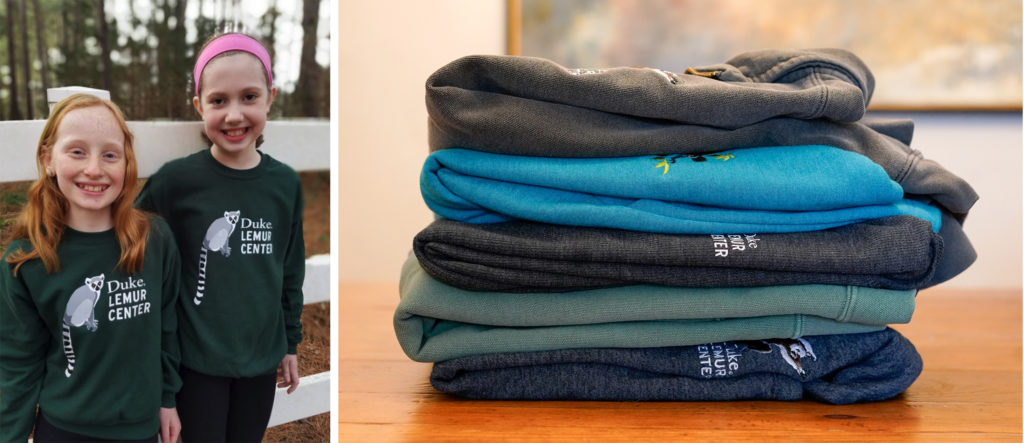 Wear your heart on your sleeve (or your lapel!)! We have BRAND NEW shirt styles and colors in stock, as well as old favorites! Choose from screen-printed or embroidered designs; henleys, zip-front hoodies, and crewnecks; thermals and fleeces; aye-ayes, ring-tails, sifakas, and more! Prices for sweatshirts and hoodies range from $32-$49; tees start at $22; youth sizes start at $18.
5. For the person who has it all ($14-$400)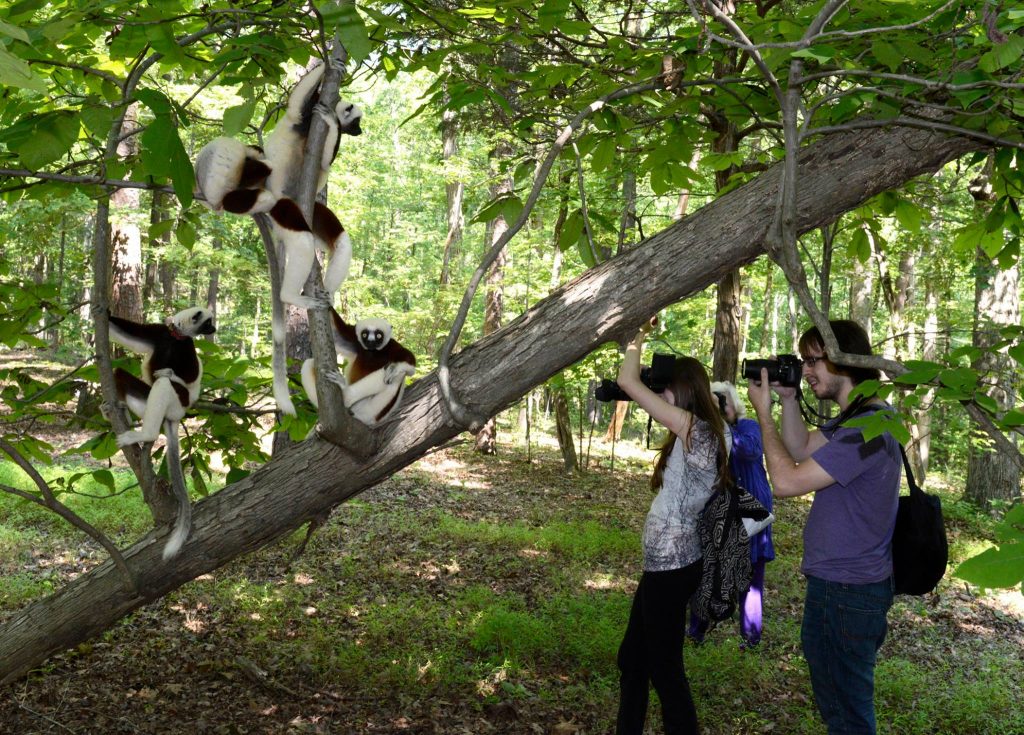 Purchase a gift certificate for a once-in-a-lifetime experience! Gift certificates are available for nearly all of the DLC's general and premium tour options! Prices range from $14 for a Lemurs Live general tour to $95 for Walking with Lemurs (pictured here), to $400 for a Lemur Keeper for a Day experience – with many options in between! Order in-store or by calling (919) 401-7240.
6. For the artist ($15-$100)


Lemurs love to paint, especially when we toss tasty treats like cranberries on their canvases! These one-of-a-kind paintings are for sale in our gift shop, in sizes ranging from 4″x6″ to 16″x20″. A truly unique gift that enriches our lemurs' lives as well as your recipient's!
7. For the hostess ($25)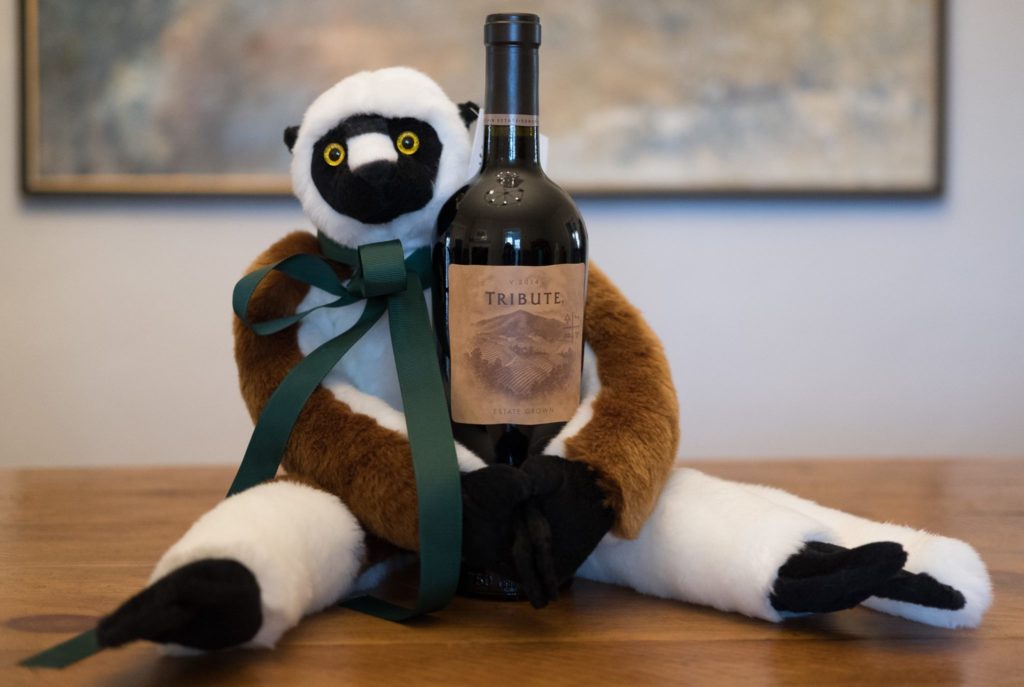 Ditch the single-use wine bag and gift something more memorable. Thanks to the velcro on the insides of his palms, this custom-made sifaka is the CUTEST way to "wrap" a bottle of wine! Round out your gift with a pair of DLC stemless wine glasses for $16/glass. (For a kid-friendly version, ditch the wine and swap in one of our reusable water bottles instead.)
8. For the lemurs ($5+)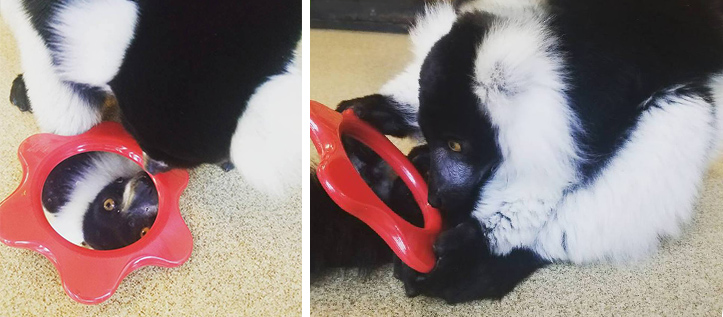 Don't forget the NON-HUMAN primates in your life… Lemurs love presents, too! Select a fun toy, snuggly bed, or tasty treat from the DLC's amazon.com wishlist, and your present will be sent directly to the DLC. Please include your name and email address in the notes field so the lemurs can send a thank-you! (Pictured: ruffed lemurs peer into a mirror donated via our wishlist.)
Be sure to watch our adorable thank-you video that shows how our lemurs use their new wishlist items for fun and physical and mental exercise. The items you send help us promote all aspects of the well-being of the lemurs under our care. Thank you for enriching the lives of our lemurs!
9. For the last-minute giver
What's the perfect last minute gift that also helps the Duke Lemur Center? A donation in any amount – and you can choose to honor someone you care about with your donation, too! Just include your loved one's name and email address in the "in honor" fields during your gift checkout, and he or she will be notified of your gift in their honor. Click here to donate now — it's quick, simple, and secure!