June 17, 2014 — Dr. Gregg Gunnell and Dr Douglas Boyer recently taught a class in primate and human evolution to a group of students from the Osher Lifelong Learning Institute (OLLI). Tour guide Scott Hennes was one of the students in this class and tells us what it was like to study fossils:
What better setting could there be for a class in primate evolution than the fossil collection room of the Division of Fossil Primates? In the large cabinets and display cases surrounding the room are 27,000 specimens collected over decades from three continents. Some are complete skeletons. Others are a just few teeth. Some are over 50 million years old, and some are newer and only partially fossilized. Fossil casts in progress and new fossils being cleaned and recorded vie for space on a crowded table. A casually placed box contains a reconstructed elephant bird egg.
Dr. Gunnell and Dr. Boyer explained the history of primates as revealed by the fossil record: a story that leads from primate ancestors to early prosimians and on to monkeys, apes and humans. It is a story of expansions and contractions. Early primates moved to higher latitudes and new continents during a warming period, and then contracted back to a smaller range when the earth later cooled. Prosimians, monkeys, and apes each had their period of primate dominance.
The story comes fully to life through the fossil specimens. As you hold the bones in your hands, you can see primate characteristics appearing: front facing eyes, expanding brain cases, the spinal cord connecting to the skull in a more central position to support a more upright posture. If you can see through the eye socket into the brain case, you know you are holding a prosimian; in a monkey or ape, your view would be blocked by a bony eye socket enclosure. You can see the change from the massive teeth of our human ancestors to the relatively tiny teeth that humans have today. There is a moment of recognition and connection across time when you ponder a cast of footprint tracks of early humans.
Spending time with this incredible fossil collection was a unique experience. The OLLI students thank Dr. Gunnell, Dr. Boyer, the Division of Fossil Primates, and Duke University for this exceptional educational opportunity. The fall 2014 OLLI catalog will be posted online and mailed mid-July. Registration for the fall term begins August 12.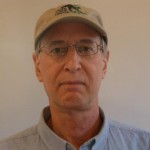 Scott started out as a biologist with a biochemistry degree from the University of California at Davis. He then took a career-long detour through software development after receiving a MS in computer science from UNC, but has now returned to biology as a volunteer tour guide at the Lemur Center.