Collections
The Division of Fossil Primates (DFP) houses rare and unique collections of vertebrates from around the world that document the complexity, diversity, and evolutionary history of life over the past 55 million years. These collections include what is probably the world's largest and most important collection of early anthropoid primates, the group that includes living monkeys, apes, and humans. In addition, its skeletal specimens of extinct giant lemurs from Madagascar are unmatched anywhere else in the world.
Over 35,000 specimens are housed at DFP and span time ranges from 55 to 48 million years (Wyoming), 37 to 19 million years (Egypt), 18 to 7 million years (India), and 10,000 to 500 years (Madagascar).
Although the DFP collections focus primarily on primates, many other mammals and vertebrates are also represented. Specimens range from nearly complete skeletons of subfossils from Madagascar to skulls, dentitions, and isolated postcranial elements from Egypt, India, and Wyoming. An extensive collection of comparative casts and recent primate skeletons is also included in the DFP collections.

MorphoSource
Duke and the Duke Lemur Center are using MorphoSource to build a "virtual ark" of the DFP's fossils, giving researchers and students — even high-schoolers! — in the U.S. and around the world free access to our fossil specimens without having to drive or fly to our facility. "By scanning them in the microCT and creating these beautiful 3-D models, we can digitize the specimens and share them online. Instead of being locked in a museum drawer, they're freely available." Our goal is to make every specimen in the DFP's vast collection digitally available as soon as possible.
DFP specimens currently available for download and study via MorphoSource can be viewed here.
Digital Data Download Agreement – DFP
MorphoSource was developed by Doug Boyer of Duke's Department of Evolutionary Anthropology. To learn how digitizing natural history collections and making them digitally available to anyone with a computer and internet access "stands to have a transformative impact on natural sciences," see "Natural history collections in the digital age" (Research Features Magazine, 2017).

Research
We encourage study of DFP collections by both Duke and outside researchers and students through visits to collections, loans, and cast exchanges. In addition, we are actively making digital 3-D images of DFP specimens available for download and research through MorphoSource.
Digital Data Download Agreement – DFP
The Division of Fossil Primates also maintains an active field and laboratory research program. Ongoing field projects include work in the Eocene and Oligocene of the Fayum region of Egypt and collection of subfossil giant lemurs in the Pleistocene and Holocene of Madagascar. Read more about projects in Egypt, Madagascar, India, and Wyoming.
Student opportunities
The DFP employs 3-4 work study students each year to help with all aspects of collection management, curation, and research. We also welcome volunteers and encourage anyone who is interested to contact us to explore possibilities. Our contact information is below.
Contact us
Division of Fossil Primates
Duke University Lemur Center
1013 Broad Street
Durham, North Carolina 27705
Phone – (919) 416-8420
Fax – (919) 416-8584
Curator: Matt Borths, Ph.D.
matthew.borths@duke.edu
(919) 684-9820
Staff Specialist: Catherine Riddle
criddle@duke.edu

Donations
Donations play a huge part in the curation and preservation of our fossil specimens and in field expeditions of our Department. If you wish to make a donation, please click the button below or feel free to contact our office directly. We would love to hear from you!
A special thanks to the following for their generous support:
Ann and Gordon Getty Foundation
Trish Kohler
Ben Freed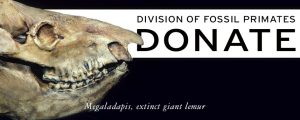 Additional resources
Welcome Matt Borths, New Curator of the Division of Fossil Primates!
September 4, 2018
Gregg Gunnell, Fossil Hunter, Dies at 63
A tribute to Gregg Gunnell, Director of the Division of Fossil Primates from 2011-2017
September 25, 2017
Duke Today
Natural History Collections in the Digital Age
An interview with DFP Director Gregg Gunnell, why natural history collections are vital for research, and the use of MorphoSource to make DFP's fossil collections more widely available
June 30, 2017
Research Features Magazine
Elwyn Simons: Opening windows into Madagascar's Past
The career of Elwyn Simons, founder of the Division of Fossil Primates
June 19, 2017
Evolutionary Anthropology
Devil's Own: The Division of Fossil Primates
"Hidden treasures" echo of the predicament of today's critically endangered lemurs
Nov 19, 2013
Duke Magazine
Fossils, Ancient Texts and … Moss?
Unique Duke collections you may not know
Aug 7, 2013
Duke Today
Gregg Gunnell: Managing the Fossils
Duke's noted fossil collection is under new management
Oct 21, 2011
Duke Today