April 25, 2014 — For the next few months, visitors will have a unique opportunity to get up close with some of the 80 lemurs and seven species that are now frolicking in the forest. In today's post, we asked Lemur Center volunteer and Duke undergraduate Faye Goodwin what to expect during the spring tour season:
Spring is here! The birds are singing, the flowers are blooming, the lemurs are leaping…and the phones are ringing!
Our spring tours are filling up fast. When the weather gets nice here at the Duke Lemur Center, a lot of things start to change. In April, many of our lemurs can start free-ranging on warm days. Though many of the animals on the tour path don't free-range until May, it's a great time to see if you can spy a lemur in the trees. Sifakas, ring-tailed lemurs and ruffed lemurs are some of the most common species you'll see outdoors this time of year. Take a look into the forest beside the parking lot — there might be a ring-tailed lemur or ruffed lemur having a snack. I always tell my guests to keep an eye out for Coquerel's sifakas bounding through the trees at the end of the Miaru building. Nothing beats the sight of a lemur bounding from tree to tree, looking perfectly at home even on the other side of the world.
In May, we switch to the summer tour path, which is when many of the lemurs you see indoors during the winter will be hanging out in our forested Natural Habitat Enclosures. That's also when our 'Walking with Lemurs' tours begin. What better way to spend an afternoon than to take a nice walk through the beautiful Duke Forest and come face to face with some of the world's coolest primates?
With all the springtime fun, our tours start filling up very fast! Everybody wants to come enjoy the beautiful weather and see what the lemurs are up to. On Sundays we often get over ten calls from people hoping to get a tour in the next few days, or with family in town just for the weekend. As a tour guide I love seeing our tours fill up with excited visitors, and I don't want to have to turn anyone away. To secure your spot, please book your tour two weeks in advance for weekday tours, and a month in advance for weekend tours. All tours are by appointment only and are conducted seven days a week. Call (919) 489-3364 ext.0 or (919) 401-7240 to make your reservation today. For more information on specialized tour options and pricing visit http://lemur.duke.edu/visit/tours/.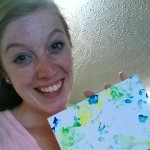 Faye is a sophomore at Duke University and a docent at Lemur Landing. She's studying environmental science and performance art, and spends her free time onstage, at the Duke Lemur Center, or baking goodies.