Here at the Duke Lemur Center, birth season has begun! Please join us in celebrating the arrival of Felix, a critically endangered Coquerel's sifaka born on December 21, 2020 to first-time parents Lupicina (Lupi) and Elagabalus (Gabe)!
In the Northern Hemisphere, Coquerel's sifakas are typically born between December and March; and Felix's birth on December 21 heralded the beginning of Duke Lemur Center's 2021 birth season. It's a distinction that runs in the family: Gabe, who was born on December 23, 2017, was the first infant of 11 births at the Center in 2018.
Lupi went into labor on December 21 around 3:45 p.m. EST. When the labor didn't progress, the DLC's veterinary team was called into action—ultimately assisting with the delivery and monitoring mother and infant in hospital overnight. Caretaker Brittany Canfield notes that Lupi did a good job mothering her new infant, sitting quietly in her basket with Felix spending most of her time in nursing position. Because she nursed often, the new mom had a strong appetite and seemed particularly fond of cucumber, carrots, celery, nuts, leaves, and coconut water.
First-time dad Gabe met Felix for the first time during a supervised introduction on December 29. Sifakas are female-dominant, and a mother sifaka controls the sire's access to the infant. Since the family was reunited full-time on January 20, Lupi has allowed Gabe to spend increasing amounts of time with Felix. The first-time father has been seen carrying, grooming, and even singing to his infant.
("Singing" is a series of soft vocalizations, such as low hums, used by sifakas while sitting next to or gently interacting with their mates or offspring.)
In Madagascar, Coquerel's sifakas are threatened by habitat loss and hunting. As a group, lemurs are the most endangered mammals on Earth, with 95% of species at high risk of extinction. Coquerel's sifakas were uplisted from Endangered to Critically Endangered in 2018 by the International Union for Conservation of Nature (IUCN). Felix's birth strengthens the genetic safety net we're building at the Duke Lemur Center to protect this critically endangered species from extinction.
---
Support and further resources
Learn more: More great info about the Coquerel's sifaka (Propithicus coquereli) is available on the species homepage on the DLC website.
Adopt a sifaka: Want to learn even more about sifakas AND help support their care, not only here but also in Madagascar? Consider symbolically adopting Pompeia, a female Coquerel's sifaka, through the DLC's Adopt a Lemur program! Adoption packages start at just $50, and every contribution helps provide the complex care that all lemurs, including Felix and his family, receive every day at the Duke Lemur Center.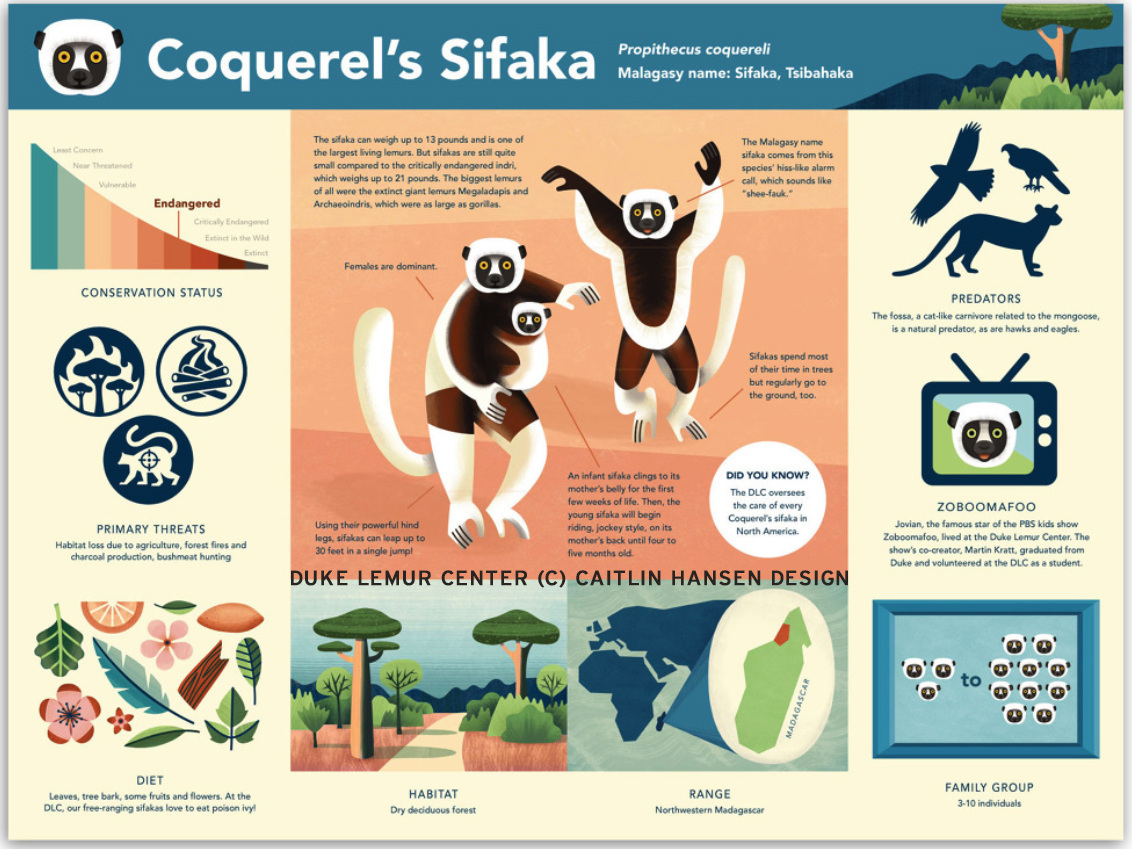 ---
Media contact
Sara Clark, Director of Communications at Duke Lemur Center
sara.clark@duke.edu
(919) 401-7251
Published February 12, 2021.