February 12, 2014 – A common question visitors to the Duke Lemur Center ask is, "Are you open year-round?" The answer is, yes! The Duke Lemur Center conducts tours throughout the entire year. During the fall and winter months the tour experience is somewhat different than in the warmer spring and summer months.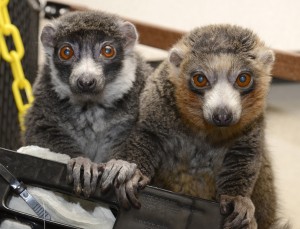 Here's what you can expect:
When temperatures dip below 41 degrees, the lemurs are housed indoors in heated environments to prevent illness and cold-related health issues, similar to zoos. Like us, lemurs tend to be less active in the winter. But because the animals are huddled indoors rather than roaming their forest enclosures, you get to see the animals more up close. Put your hand against a viewing glass and come nose to nose with the animals, all from the heated comfort of our indoor viewing areas. Listen to the lemurs' raucous chorus as the hallways amplify their calls.
An experienced tour guide will show you around the Center to four designated viewing areas. While in these areas you will learn what makes each species of lemur you are viewing so unique and what we are doing here at the Center and in Madagascar to study and protect them.
The winter is also a great time to get a more behind-the-scenes peek at what goes on at the Lemur Center, as indoors you're more likely to see staff and researchers at work studying, training, and caring for the animals.
No matter what time of year you visit you'll be able to view the same number of species. Other great options for those 10 and above are our Behind the Scenes and Painting with Lemurs tours. Every visit proves to be a fun and educational experience!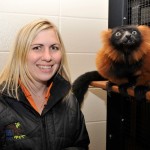 Niki Barnett serves as the Duke Lemur Center's Education Program Manager and Development Officer. She completed her undergraduate studies in Social and Behavioral Sciences at Arizona State University and has worked in the zoological field for over 13 years. When Niki is not wrangling wild animals and children at work, she is at home wrangling her three small children, three dogs, three cats, fish and husband.