Directions and reservations
For directions to the Duke Lemur Center please click here.
All tours are by reservation only, although the gift shop is open to the public from 9:00 a.m. 'til 4:00 p.m. You must have a tour reservation to see the animals. Tours often book at least 2 weeks in advance, so make your reservations early as we can't often accommodate walk-in visitors. It never hurts to call and ask us, though: (919) 401-7240.
To contact the Education Department to schedule a tour, please visit our tours homepage.
Weather
Most tours have an outdoor component. Please dress accordingly for weather.
Rainy days – Tours will go out rain or shine provided there is no lightning or thunder in the immediate area.  Umbrellas are welcome. If you would like to reschedule your visit due to weather, please call 919-401-7240. Group and specialty tours must reschedule 48 hours hours prior to the tour date or they will forfeit their deposit.
Hot days –– There are shaded areas on the tour path and we avoid standing in the direct sun for long periods of time. We now have benches along the tour path for resting. Water is welcome and encouraged on the tour.
Cold days– The lemurs are allowed outside access anytime the weather is 45 degrees or above.  This does not guarantee that the lemurs will choose to be outside, however, as they always have access to indoor heated areas of their enclosures as well.  If there is not good viewing outside, then we will bring you into two indoor viewing areas.
On cold or rainy days, some of our lemurs will choose to stay cozy in their indoor enclosures. While this is healthiest and best for the individual lemur, it does make it more difficult sometimes to see them on general tours!  As we are first and foremost an educational, not entertainment, facility we will never "force" our lemurs to come out into public view. Our guides will do their best to show you as many species as possible and will share information about each lemur even if he or she isn't visible on the tour path that day. We strive to provide a fabulous and educational experience for all visitors within the constraints of working with live animals.
Accessibility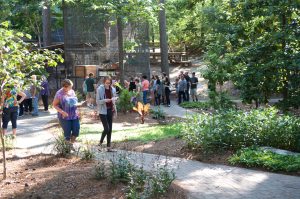 The tour path and gift shop are ADA accessible.  Please feel free to bring wheelchairs and strollers as needed. The path is concrete allowing for easy access. We do have a wheelchair on site for those who need help.  Please request this item if needed when booking your tour.
Above, guests wander the summer tour path during an open house. The summer path is gently sloped, with brick pavers. The remainder of the tour path is smooth concrete sidewalk.
We welcome Service Dogs along the tour path. If you or a family member will be bringing a Service Dog on your tour, please let the staff at Lemur Landing know when making your reservation. If you have questions, please call (919) 401-7240.
Please note that service animals are defined as dogs that are individually trained to do work or perform tasks for people with disabilities; for example, guiding people who are blind, alerting people who are deaf, pulling a wheelchair, alerting a person who is having a seizure, reminding a person with mental illness to take prescribed medications, calming a person with Post Traumatic Stress Disorder during an anxiety attack, or performing other duties. Service animals are working animals, not pets. Because the DLC houses endangered primates, we cannot allow pet dogs onsite.

Food and drink policy
You are welcome to bring water on your tour. We kindly ask that you refrain from bringing other beverages or snacks on the tour.
Lemur landing gift shop does sell cold beverages for $1.00 and light snacks for $.75-$1.50. We don't have a restaurant or cafe, but there are many restaurants within five minutes of the Center to eat before or after your tour.

Enclosures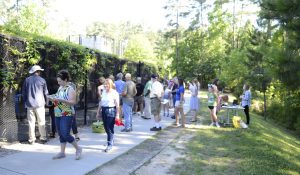 The DLC has two types of enclosures: Natural Habitat Enclosures (NHEs) and Indoor Enclosures with Outdoor Yards. On Walking with Lemurs and Photographer's Dream tours, guests will see lemurs in their NHEs. All other tours focus exclusively on the indoor/outdoor enclosures. Above, guests at Lemurpalooza watch lemurs playing and lounging in their outdoor yards.
Our indoor/outdoor housing areas are specially constructed for the physical and mental health of our lemurs. Each family group of lemurs is housed within a large set of interconnected enclosures and has multiple indoor rooms available to them (heated and cooled, depending on season), which are connected to multiple outdoor yards. For example, a family of 4 lemurs has access to at least 4 'sets' of indoor/outdoor areas, totaling 8 individual enclosures. Different doorways lead into and out of these areas, creating ample space for natural movement and play and giving the animals privacy — away from each other, or away from public view — whenever they desire it. These spaces also help facilitate lemur research (all non-invasive) and care by allowing us to temporarily close off individual rooms within each family's set of enclosures. This flexibility is brilliant for managing breeding groups and especially new moms and infants, as infant survival rates are significantly higher when mother and baby are separated from the group for a few days and gradually reintroduced when the infant is less vulnerable. Wire fencing between enclosures allows these lemurs to be separate and safe, while also maintaining visual and olfactory contact with the rest of their family.
Guests on our Lemurs Live and Little Lemurs tours – and Lemurpalooza attendees – see only the outside areas of these enclosures, whereas guests on our Behind the Scenes, Painting, Walking, and Keeper for A Day tours see the lemurs' outdoor and indoor areas.
To keep our lemurs physically and mentally engaged, the indoor/outdoor enclosures are re-branched and re-furnished often to give them new layouts to explore, and special and varied enrichment activities are provided daily. These help promote natural behavior like foraging and promote not just physical health but also mental stimulation and all other aspects of the well-being of the lemurs under our care. Learn more about the DLC's enrichment and training program on our Behind the Scenes tour.
In warmer weather, a large number of our lemurs get to free-range in large forested Natural Habitat Enclosures while also retaining access to their indoor/outdoor enclosures. Guests can see lemurs in their NHEs on the Walking with Lemurs tour.
Frequently asked questions 
Do I need to call ahead to visit the DLC? Yes, all tours are by appointment only.  Due to the nature of our Center, all visitors must be with a guide at all times.  Please call 919-401-7240 to book your tour.
What is your weather policy? Tours will go on rain or shine with the exception of threats of lighting in the forecast.  Please dress accordingly.
How long do tours last? Lengths vary by tour. Please visit our tours homepage and click on your tour type to learn more.
Do I get to touch a lemur on the tour? No. For the safety of our animals and for your safety, no guests are allowed any physical contact with the animals here at the Center.
What is your cancellation policy? We kindly request 48 hours advanced notice for cancellations.
I have a scheduled tour, but notice restricted access signs on Lemur Lane. If you have a scheduled tour or would just like to visit the gift shop during business hours, please follow Lemur Lane  past the restricted access signs until you reach our parking lot.

Other questions?  
If you have questions that aren't addressed here, please call the Lemur Landing front desk at (919) 401-7240. We'll be happy to help!