Volunteers are essential to the daily operations here at the DLC. (Click here to watch a video showing just how essential and wonderful our volunteers are!) We offer a variety of volunteer opportunities that require different time commitments and focus on different interests. Please select one or multiple volunteer opportunities and apply directly online for the positions. Our volunteer coordinators should reply to you shortly.
Thanks so much for your interest. We're excited to hear from you!
Technician Assistant
We are not currently accepting applications for the TA position. Applications will open again at the start of 2018.
The Technician Assistant (TA) program at the Duke Lemur Center was initiated in October 2008. The program is designed to give students and the public an opportunity to volunteer their time and become involved in the husbandry of lemurs. TAs assist full-time Primate Technicians with a variety of tasks, including diet preparation, cleaning of animal areas, development and distribution of enrichment, behavioral observations, and daily upkeep of the facility.
Our volunteers are an invaluable resource for the center and include high school, undergraduate, and graduate students, as well as professional members of the community. We often look to our pool of dedicated volunteers when other opportunities or needs arise at the center. Our TAs have been chosen to participate as research assistants, veterinary volunteers, and interns at the center. We also currently have three full-time Technicians that began their careers at the DLC as volunteer TAs!
Requirements to become a Technician Assistant:
Commitment to work one 4-hour shift each week for a minimum of 6 months
Results of TB test that has been administered within 90 days of starting
Proof of MMR Vaccine
Proof of current health insurance
Age 18 or above
If you have any questions, please contact Erin Shaw at erin.shaw@duke.edu.
Where in the world are our former Technician Assistants now? Check it out HERE. If you are a former TA and would like to update us on what you've been up to, contact Erin Shaw at erin.shaw@duke.edu.
Tour Guide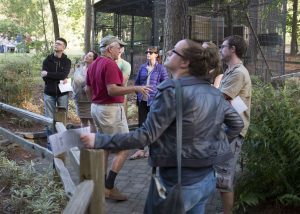 The DLC conducts public tours year-round, seven days a week and is in need of volunteers who are willing to lead guided tours of up to fifteen people.  Education volunteers must comfortable speaking in front of small, large and mixed aged audiences. Our tour guides educate the public about the DLC's mission, conservation initiatives, research, and the individual species that are on the tour path for our Lemurs Live tour.
Requirements to become a Tour Guide:
Commitment to work one 2-hour shift each week for a minimum of 6 months
Proof of current health insurance
Ages 18 and above
If you are interested in becoming tour guide, please click here to complete and submit the application.
If you have questions regarding the tour guide program, please contact Megan McGrath at megan.mcgrath@duke.edu or Alanna Marron at alanna.marron@duke.edu.
Garden Volunteer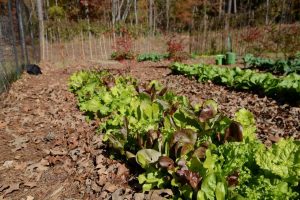 Are you looking to get your hands dirty and work outside? If so, we need you! The Duke Lemur Center is looking for volunteers to help care for the DLC vegetable garden. The garden and various fruiting plants provide a supplemental organic food source for our resident lemurs. Garden duties include planting, weeding, watering, harvesting, composting, and occasional hard labor of working the soil. No gardening experience necessary, but is always helpful. A 2-4 hour commitment per week is required. As fruits and vegetables are harvested, volunteers are welcome to extend their time at the DLC and watch the lemurs enjoy their homegrown food!
If you are interested in becoming a Garden Volunteer, please click here to complete and submit the application.We are not currently bringing on new Garden Volunteers, but you can submit an application to be considered for future openings. 
If you have questions regarding the Duke Lemur Center vegetable garden, please contact Charlie Welch at charles.welch@duke.edu.
Junior Docent
The Duke Lemur Center's junior docent program is designed to provide teens (ages 13-18) volunteer experience while learning about the natural world, conservation, and the research conducted at the DLC. Junior docents will be responsible for setting up artifact tables and engaging guests with Malagasy cultural items and bio-facts on lemurs and other unique species in Madagascar. They will gain oral communication skills and experience interacting with the public in a professional setting. After 6 months, junior docents ages 17 and above are eligible to train on leading tours, if desired.
Requirements to become a Junior Docent:
Ages 13 and above
Commitment to work two 3-hour shifts per month for a minimum of 6 months
Must submit a letter of recommendation from a non-family source in addition to the online application
If you are interested in becoming a Junior Docent, please click here to complete and submit the application.
Please contact Kay Welser at kay.welser@duke.edu with any questions regarding the Junior Docent Program.
Take Uber to the Duke Lemur Center!
Duke will cover the cost of Duke-related trips to and from the Lemur Center for students and employees through the 2017-18 academic year. Get started using the Duke Lemur Center Uber ride by visiting the Duke Parking & Transportation's Uber Rides Program homepage. Here's how to access a fare-free ride:
The ride must begin and end within boundaries on West, Central, or East campuses.
Rides must take place between 6 a.m. and 8 p.m. seven days a week, with Saturday service until 8:30 p.m.
Uber accounts must be registered with a duke.edu email address.
Visit parking.duke.edu/uber to agree to an electronic waiver and release form, which will then provide a discount code to cover the cost.
Enter the code in the "Promotions" menu of the app.