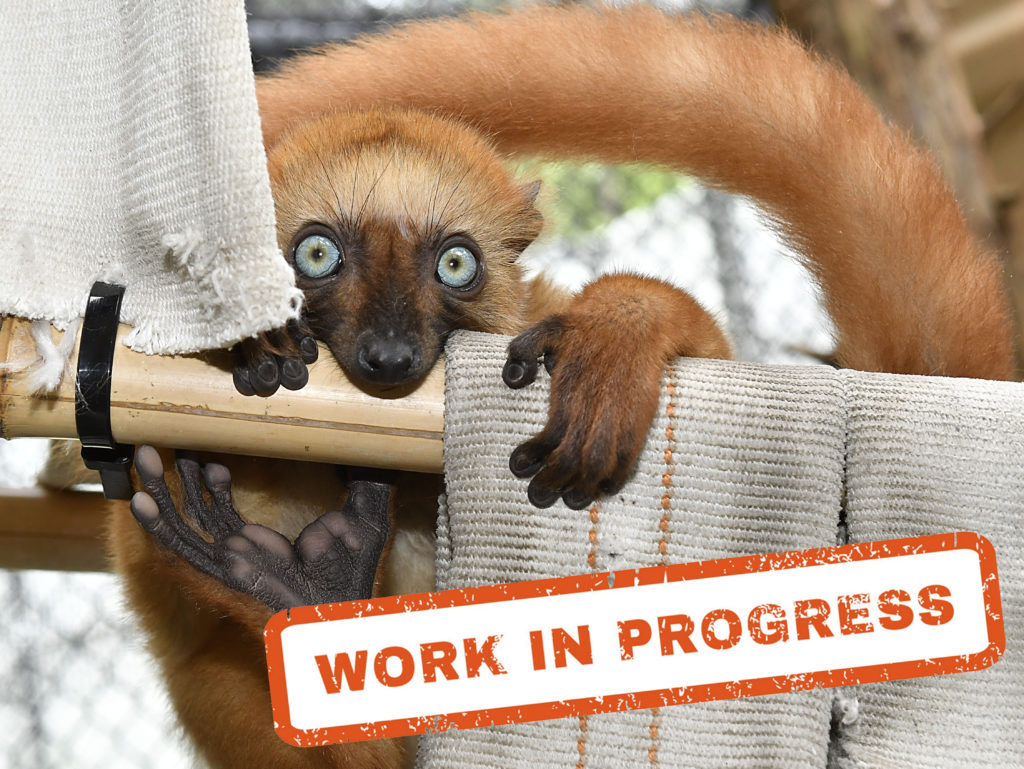 We're revising our S.C.O.U.T. program to make it even better than it was before! In the meantime, our S.C.O.U.T. program is temporarily offline and we are not accepting reservations.  Please check back later for updates!
Want to bring your group for a visit? Check out our other tour options here! 
Overview
As a Lemur S.C.O.U.T., you'll be equipped with the educational tools to protect lemurs, our earliest primate ancestors and the world's most threatened group of mammals! The Duke Lemur Center has been researching and preserving these "living fossils" since 1966. Today, roughly 230 lemurs and lorises are housed on 80 acres at the DLC. Most of these amazing animals will be extinct in the wild within the next 50 years, but that's where YOU come in! By following five steps to become a Lemur S.C.O.U.T., you can help save the world's lemurs from extinction.
Five Steps to Save the Lemurs – S.C.O.U.T.
Study the science of lemurs, including their evolution and ecology on the island of Madagascar.
Conserve lemurs by protecting their wild habitat in Madagascar and managing captive lemur populations.
Observe lemurs in captivity and in Madagascar, learning even more about  lemur science and conservation.
Understand the best ways to protect lemurs, testing what we know about lemur science and conservation.
Teach others what you have learned about lemurs, the world's most threatened group of mammals.
You should begin the first of these five steps, Study, at home with your troop or family. You will continue this step during your visit to the Duke Lemur Center, where you will also Conserve, Observe, and Understand throughout the 75-90 minute Lemur S.C.O.U.T. program. By the end of the program, you'll receive your Lemur S.C.O.U.T. patch and a certificate of completion. However, you will not have completed the program just yet! We trust that within three weeks of your visit, you will use your new knowledge of and passion for lemurs to complete the final step of the program: Teach.
Frequently asked questions
Who is eligible for the Lemur S.C.O.U.T. patch program? Although the program has been designed specifically for young Girl Scouts and Y Guides, all children ages 5+ are welcome to participate. We recommend it for homeschool groups, summer camps, and class field trips.
Does the program align with NC Essential Science Standards? Yes, the program meets several K-8 life science standards. To see how we align, please review the "Lemur S.C.O.U.T. Standards" PDF on our website.
Do I need to call or email in advance to participate in the program? **We're revising our S.C.O.U.T. program to make it even better than it was before! In the meantime, our S.C.O.U.T. program is temporarily offline and we are not accepting reservations.** Yes! All patch programs are by appointment only. To schedule, please email primate@duke.edu with "Lemur S.C.O.U.T. Program" written in the subject line. To ensure the smoothest possible scheduling process, please include details about your group (number of adults and children, age ranges, etc.) as well as a few possible dates and times.
If you need to drop off donations or art for the program's TEACH component, the Lemur Landing Gift Shop/Visitor Center is open to the general public without appointment during operating hours (9:30 AM – 4:00 PM, all year round, 7 days/week).
How far in advance do I need to make a reservation? While our team will do all we can to accommodate you, we kindly request 3 weeks' notice for Lemur S.C.O.U.T. programs.
What is your weather policy? Programs happen rain or shine, with the exception of threats of lightning in the forecast. Most of the program is outdoors, so please make sure you are dressed for the weather.
What is your cancellation policy? Due to the work that goes into preparing for a program, we require 48 hours of advanced notice for cancellations.
How long does the program last? The program at the Center will last approximately 75-90 minutes. This estimation does not include Part 1 of STUDY or the independent time spent on TEACH.
What steps should be completed by the day of the program? Once you have made your reservation, you need to complete Part I of STUDY. This includes a discussion on primates and two activities: "Stereoscopic Vision in Primates" and "If I Only Had a Thumb" (pgs. 14-15). You then have the option of completing Part II of STUDY with your troop/tribe before your visit ("Build-a-Lemur Craft Activity") or during the 75-90 minute program ("Build-a-Lemur Role-Play Activity").
How else can troop/tribe leaders prepare for the program? We encourage all leaders to print and read the program packet before embarking on the patch. Additionally, you will need to print the STUDY materials (only Part I if they plant to complete Part II at the Center). We also recommend that each S.C.O.U.T. has a personal copy of this packet. For the steps to be completed at the DLC, all printables and materials will be provided upon your arrival.
Will I get to touch a lemur at the program? No. As huggable as the animals may appear, our lemurs are wild animals. For the safety of our animals and our guests, no visitors are allowed any physical contact with the animals. However, we do welcome flash-free photography – the lemurs can be quite photogenic!
For a printable LEMUR S.C.O.U.T. packet, click HERE.
To explore various public tour options, please visit our TOUR HOMEPAGE.