Animal Welfare: 2020 Impact Report
Animal welfare is an important component of the care of our captive population of animals. It extends beyond safety and health, and considers the physical, mental, and emotional state of an animal. Our animal training and enrichment programs are foundational pillars in our animal welfare program. Both provide opportunities for cognitive challenges, voluntary participation and positive interactions with the staff.
Promoting positive animal welfare is never a stagnant process, but rather a dynamic and ever-changing mission that takes planning, time and a team approach. This has never been truer than in 2020, when normalcy came to a grinding stop. In the early months of the pandemic, our DLC frontline heroes were multi-departmental staff members: animal care, veterinary, education, research, and maintenance staff who worked onsite. Together, we remained deeply committed to continuing our high standards of animal welfare by providing quality care, complex environments, and a variety of opportunities for positive engagement with the animals, including animal training and enrichment.
We would like to share with you some of the highlights of our 2020 animal training and enrichment programs.
---
Animal Training
Providing opportunities for the lemurs to have positive experiences while voluntarily participating in husbandry activities is critical to creating an environment that promotes positive welfare. Similarly, positive experiences with voluntary participation in non-invasive research provides an engaging opportunity for the individual animals; they have no idea they are doing science! Here are a few examples of training in action:
Husbandry training:
Aye-aye, Fady (ultrasound): Voluntary ultrasound allows our veterinarians to confirm a pregnancy in the comfort of an animal's home. Five-year-old Fady has learned to hang by her feet (a natural behavior for aye-ayes) and allow technician Jenna to simulate an ultrasound exam. Instead of ultrasound gel, Jenna uses baby food. Fady's six-month-old daughter, Winifred, joins the fun by licking the baby food off of mom!
Crowned lemurs, Mosi and Seshen (syringe training): You would never know by watching this training session that this pair used to be a bit fearful of syringes. Thanks to the teaching skills of technician Liz, the pair now readily approaches the syringes and drinks the full content. The flavors in the syringe can be varied and the training prepares animals for taking medications, if ever needed in the future.
Research training:
Slow loris, Junebug (locomotion study): Junebug was an enthusiastic participant in a study on descending locomotion in primates. She was asked to move from one end of a horizontal pole to the other end. In time, the pole was incrementally raised until it was completely vertical. Junebug stayed focused and completed her task, regardless of the position of the pole. Our staff pays close attention to body language as a key to interpreting the comfort level of an animal at any particular time. Look at how fast this slow loris moves from one end to the other!
Red ruffed lemur, Mae (scent discrimination study): A benefit of teaching animals to participate in non-invasive research is that we can start to ask questions about their perception of the world. For this project the researcher is wondering how well the animals can smell. Over a series of trials, Mae is asked to choose between two tea balls: one empty and the other filled with scented paper. The amount of scent is decreased on the paper during the trials. The position (left or right) of the scented tea ball is randomized and Mae chooses a ball.
Do you want to learn more about our training program and the direct impact it has on animal welfare? Our Curator of Behavioral Management and Welfare presented a two hour seminar at ClickerExpoLIVE, an international conference focused on the application of positive reinforcement. Starting in April 2021, the presentation "Fear Not! Using Positive Reinforcement Training to Reduce Fear and Increase Animal Welfare" can be purchased at clickertraining.com. 50% of the sale of each video will be provided to the DLC to support our animal training and enrichment programs.
---
Animal Enrichment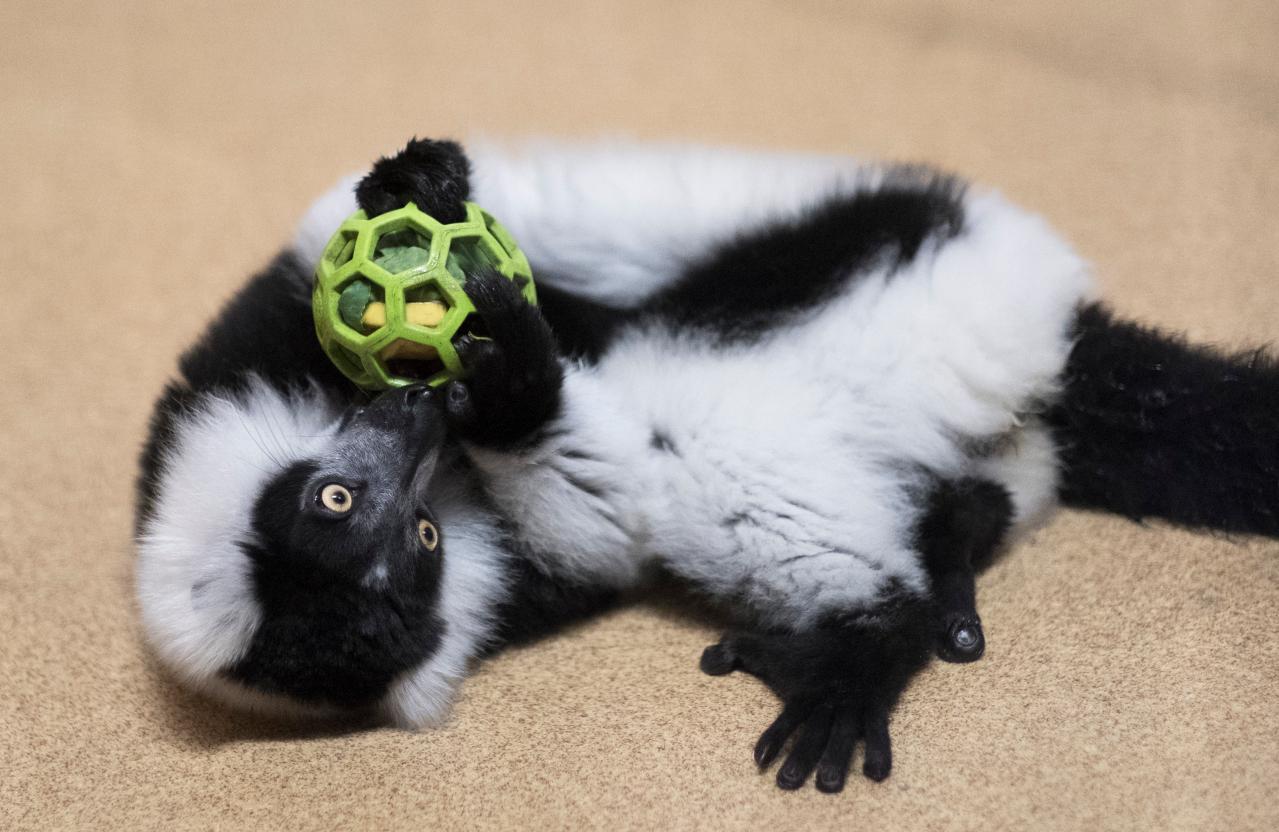 Providing novel opportunities and creating complex environments to encourage natural behaviors involves lots of creativity, time, and people! The DLC has a strong commitment to a holistic approach to enrichment by creating multiple opportunities for engagement. These include exploring novel enrichment devices, participating in training sessions, painting art canvases, exploring a made-over enclosure, or introducing a new member of the family. Here are some of the 2020 enrichment program highlights:
Enrichment Technician: In September 2020, we initiated a pilot program for a position in animal care. This new position, an Enrichment Technician, allowed an experienced DLC Primate Technician to split the work week between providing husbandry care for the lemurs and expanding our animal enrichment program. Primate Technician Kate Byrnes, a six-year veteran of the DLC husbandry department with a passion and talent for enrichment, moved into the new position.
In a short amount of time, Kate has accomplished multiple goals that have advanced our program, including revamping a previously underused space into an enrichment workshop for the staff to use to build new devices, updating our enrichment approval procedures to an efficient online process, organizing enrichment items in multiple locations for easier access by the animal care staff, and rotating her time among all of the primate technicians to provide an extra set of hands for special projects.
An unforeseen benefit to having a position with time dedicated to animal enrichment was the contributions made to our critically important social media content. While the contributions are many, Kate's creation of Valentine's Day-themed enrichment and videos assisted in a social media campaign to enlist donations for Valentine's Day, and ultimately raised $8,175.
Animal enrichment supplies: Thank you to Martha Seeligson, Trinity '87, for her Targeted Impact Gift to support the animal enrichment program! Martha's contribution will allow us to purchase needed materials and tools to create in-house enrichment items and complex environments for the animals—a wonderful complement to the new enrichment workshop! We look forward to sharing enrichment pictures and videos that highlight the impact of Martha's donation.
Amazon Wishlist: We continue to be in awe of the many items we receive from the DLC's Amazon Wishlist, and the support of our followers who often comment about how much fun they have choosing fun gifts and essential items for our lemurs! This list is vital not only for obtaining diverse enrichment items, but also for providing items such as animal bedding, nut butters and jams, and severe weather items such as flashlights, batteries and rain ponchos. We particularly would like to thank Jane Barthelme, Ellen Joseph, and Sally Kleberg for their generous gifts of supplies throughout the year at the DLC.
---
Animal Welfare Institute Grant
Last October, we received word that our grant proposal to the Animal Welfare Institute had been funded for $10,000. The grant funding will be used to support the DLC's efforts to create a novel animal enrichment tracking system. We are thrilled to have this opportunity to create a documentation system that reflects the best practice of a holistic approach to animal enrichment not only at the DLC, but for animals under human care in other research and zoological facilities.