Thank you for your interest in the Duke Lemur Center. Please call (919) 489-3364 ext.0 or (919) 401-7240 to make your reservation today! You must schedule a tour in order to visit, i.e., we do not allow self-guided visits. You must be a tour guide at all times. All tours are by appointment only. Tours are conducted seven days a week.  Tours are paid for the day of by cash, check or any major credit card. We look forward to hosting your visit. Tours tend to book up 2-3 weeks in advance, longer for weekends during the spring and summer months. If you leave a voice message, please give our staff up to 48 hours to return your call.
2014 DLC HOLIDAY CLOSURES:  Nov 27,28; Dec 24,25,26,31; Jan 1 2015
* Please note: As of January 1, 2014 all tours are subject to the NC State Entertainment tax at 7.5%).  This tax is not included in the price of the tour.
Lemurs Live!
An ideal tour for families and friends, learn about the similarities and differences between lemur species and what makes lemurs some of the most fascinating animals in the world. Visitors will typically observe about 10 different species of lemurs. Bring your camera, as you will be amazed by these wonderful creatures!  The Lemurs Live! tour is a guided experience. The content of the tour is designed for ages 7 and up, however all ages are welcome to participate and our guides make every effort to help everyone enjoy their lemur experience. If you would like to schedule a large group, please inform our associate of the age range of the group and we will strive to tailor the tour to meet your needs.
Duration: appx. 60-90 Minutes
Offered: All year
Fees
Adults – $12
Children (3-12), Seniors (65+), Military w/ ID and College and University students w/ ID, Duke Employee w/ID – $9
Children – (2 and under) FREE
Group Rate (10+ participants) – $8 (chaperones count as participants with school groups)
Tour times:  9:30 , 11:00, 1:00 and 2:30
Group Leaders/Teachers: Your group can help the lemurs! We're always looking for fun toys for the lemurs. If your group is interested in donating enrichment items to the lemurs, see the Enrichment Drive Wishlist for acceptable items. Please let the associate know you plan to donate when you schedule your tour.
Walking with Lemurs
Enter the world of the lemur as your guide escorts you where there are no barriers between you and the animals. Be sure to bring your camera as this experience offers views of the animals unlike any other.
Duration: 60 Minutes
Offered: May 1 -Oct 15th
Fees: $95.00 per participant
Age Requirement: 10 years and older
Maximum group size: Eight Participants
Tour Time: 10:30
Learning with Lemurs
Join us for a lemur training and research session to see how we teach the animals behaviors that allow us to give them the very best of care. Guests on this exclusive tour participate in the training session and assist animal care staff as they demonstrate the benefits of positive reinforcement in when it comes to animal care and research.
Duration: 60-90 minutes
Offered: All year
Fees: $150 per participant
Age Requirement: 12 years and older
Maximum group size: 2
Tour time: 1:30 (can be flexible)
Lemur keeper for a day
Have you ever wondered what it would be like to be a Lemur Keeper? Well, find out! Join one of our amazing lemur caretakers for a day and experience the life of a keeper first-hand. You will be involved in all aspects of the daily husbandry of our endangered prosimian primates here at the DLC. Help us prepare diets, clean, feed, enrich, and whatever else happens that day (lemurs ALWAYS keep you on your toes)! You will have a behind the scenes experience that only staff members ever do. So put on your cleaning boots, grab a hose AND your camera, and romp through the forest for a day with the lemurs! This will be an experience you will never forget!
Fee: $350 per participant
Duration: 12:00pm-4:00pm
Offered: All year
Age Requirement: 13 years and older
This experience is by appointment ONLY! Please call 919.401.7240 to schedule your day with the lemurs!
Tour time: 12-4
Painting with Lemurs
Lemur Van Gogh? No, but close. We here at the DLC consider it abstract art! Experience the Lemur Center through a different medium. Join us on this exclusive tour and learn more about the Duke Lemur Center's behavioral enrichment program. This tour will not only take you behind the scenes into one of our new lemur housing areas, but also highlight some of the activities the staff here at the Center can do to improve the daily lives of our lemurs. Painting is an activity the lemurs enjoy, and something different added to their normal routine. Participants on this tour will get to choose up to three different colors of paint (all non-toxic, water based tempura) and observe the lemurs making their masterpiece first hand! The best part of the whole experience is that you get to bring the canvas home with you!
Duration: 60 minutes
Offered: year-round (afternoons @ 1:30)
Fee: $95 per person
Age Requirement: 10 and above
Maximum Participants: 2
Tour time: 1:30 (can be flexible)
A Photographer's Dream
View the Duke Lemur Center through the eyes (or lens) of our resident staff photographer, David Haring. Enjoy a morning traveling through our natural habitat enclosures photographing multiple species of lemurs with David and five other fellow photographers. This leisurely paced experienced is geared towards photographers who are interested capturing the lemurs exhibit natural behaviors such as foraging, climbing, resting, and grooming. You will have the time to set up the perfect shot and enjoy the company of fellow photographers of all experience levels. Spaces are very limited so call 919-401-7240 soon!
Price: $150/person
Next Date: September 12, 2014, 9:00am
Behind the Scenes
Closed for the season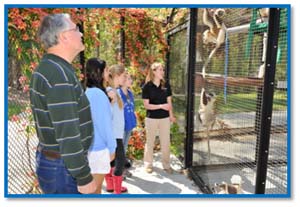 Would you like a close up view of the lemurs and to experience the Center as only staff members do? Then join us on a tour of our updated facility and see how the Center functions on a daily basis. This is a perfect tour for the cooler weather!
Duration: 60 minutes
Offered: Oct 17th-April 30th
Fees: $65 per participant
Age Requirement: 10 years and older
Maximum Group Size: Eight participants
Tour time: 10:30
Age Restrictions: 12 and above
Offered: Friday, May 23rd at 9:00am
Maximum Participants: 6
Educational Outreach (offsite programming)
Here at the Duke Lemur Center we understand that not everyone can make it out to see the lemurs. The Duke Lemur Center will visit your school, club or place of business for an hour long, age appropriate presentation about lemurs and/or any lemur related topic you choose (e.g. lemur 101, research, conservation, and husbandry).  We will bring along educational literature, bio facts and Malagasy cultural items to show.  The DLC also will set up educational displays at nature festivals, local museums and other special events as requested.
Fee: $100