Holiday adoption package
This season, give the gift of lemurs! For a limited time, we're offering a special edition holiday adoption package with a cute and huggable plush lemur! Adopt a ring-tailed lemur for $75, and you'll receive not just the "standard" adoption package but also a 7″ plush ring-tail with a bow and a box perfect for gift-giving!
Quantities are limited, so order early for best availability. This package ships to the contiguous 48 states only. Order by December 15 to ensure delivery before December 25. Package includes 7″ plush ring-tail in box; a welcome packet with certificate of recognition, animal fact sheet and bio, 5″x7″ photo, and sticker; and quarterly updates and photos of your ring-tail lemur and other members of his species here at the DLC. $55 of this gift is tax deductible.
Adopt a Lemur program
Adopt a Lemur packages make great gifts and allow recipients to learn about different animals here at the Center. Adopt a lemur for yourself, your class, your office, or for the lemur lover in your life!  These packages are available at a variety of giving levels starting at just $50.00. Choose below to order online, or call Susan Fitzgerald at (919) 401-7226.
With each adoption, you or your chosen recipient will receive a welcome packet and quarterly updates and photos of the lemur of your choice. Your adoption donation goes toward the $8,400 per year cost it takes to care for each animal at the DLC, as well as aiding our conservation efforts in Madagascar. The lemurs themselves stay here at the Center, so we do the dirty work and you don't have to scoop the poop!
Species for adoption
Which lemur will you choose? Below, see which species are available for adoption. Click on each photo to learn more about your favorites to help make your decision, then click the DONATE button to adopt your favorite!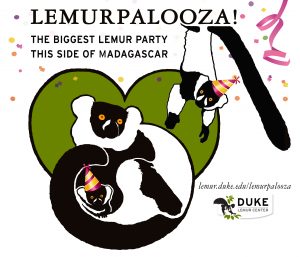 Can't decide which species to adopt? Or have you adopted but want to learn even more about your new adoptee? Come visit the DLC for Lemurpalooza, our biannual open house sponsored by the Adopt A Lemur program! This family-friendly event invites attendees to stroll along the summer tour path and view the animals at their own pace. Keepers, educators, researchers, and more will be on hand to talk about the adoptable lemurs and to answer your questions, and food trucks and other vendors will be onsite as well. The $50-per-car fee includes parking and admission for one vehicle and its occupants AND the symbolic adoption of a lemur through the Adopt A Lemur program! To learn more, CLICK HERE.
Questions?
If you have questions, please call Susan Fitzgerald at (919) 401-7226 or email susan.fitzgerald1@duke.edu. She'll be happy to help!