Adopt a Lemur program
Adopt a Lemur packages make great gifts and allow recipients to learn about different animals here at the Center. Adopt a lemur for yourself, your child's classroom, your office, or for the lemur lover in your life!  These packages are available at a variety of giving levels starting at just $50.00. Choose a species below to order online, or call Susan Fitzgerald at (919) 401-7226.
With each adoption, you or your chosen recipient will receive a welcome packet and quarterly updates and photos of the lemur of your choice. Your adoption donation goes toward the $8,400 per year cost it takes to care for each animal at the DLC, as well as aiding our conservation efforts in Madagascar. The lemurs themselves stay here at the Center, so we do the dirty work and you don't have to scoop the poop!
Click HERE to read a sample update about Teres, our adoptable ring-tailed lemur! Because adopters receive updates every quarter, Adopt a Lemur packages are fun, educational gifts that keep giving all year 'round!
Species for adoption
Below, click on the species you'd like to adopt! You'll be taken to each species' homepage where you can learn more about each one. Click the red "make gift" buttons at the bottom of the each page to adopt your favorite species! Every adoption is a gift to our lemurs, because your generosity supports their care — we couldn't do it without you!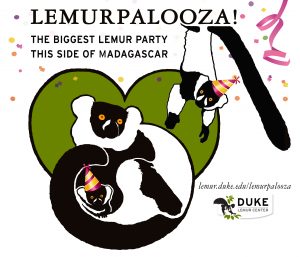 Can't decide which species to adopt? Or have you adopted but want to learn even more about your new adoptee? Come visit the DLC for Lemurpalooza, our biannual open house sponsored by the Adopt A Lemur program! This family-friendly event invites attendees to stroll along the summer tour path and view the animals at their own pace. Keepers, educators, researchers, and more will be on hand to talk about the adoptable lemurs and to answer your questions, and food trucks and other vendors will be onsite as well. The $50-per-car fee includes parking and admission for one vehicle and its occupants AND the symbolic adoption of a lemur through the Adopt A Lemur program! To learn more, CLICK HERE.
Questions?
If you have questions, please call Susan Fitzgerald at (919) 401-7226 or email susan.fitzgerald1@duke.edu. She'll be happy to help!