Encourage local awareness and action by educating students at all levels about environmental protection
Building an environmental ethic: Training the trainers, training the teachers
Conservation of Madagascar's unique natural resources requires a long-term strategy that includes local people and empowers communities to care for their environment. Building a generation of environmental stewards begins in the school classroom with Madagascar's youth. Incorporating the environment into daily classroom instruction builds a generation of Malagasy people interested and equipped to protect their natural heritage. The Duke Lemur Center-SAVA project introduced a 64-page environmental education training manual originally developed by the Madagascar Flora and Fauna Group to the regions's school board in 2012 – training the teacher trainers. Using skilled Malagasy educators, the DLC introduced and trained school officials on the implementation of the educational curriculum. These officials take the information to their teacher trainers, who under the guidance of DLC-sponsored EE instructors, teach community leaders and school teachers how to implement the guide and incorporate the environment into daily lesson plans. This top-down training approach ensures that the EE guide receives wide adoption from all levels of the education system so that the information is presented in a culturally sensitive manner and therefore more readily adopted by the teachers on a daily basis.
One man's private reserve to save an island, Desire Rabary's Antanetiambo Reserve
Desiré Rabary owns and manages his own nature preserve in northeast Madagascar, situated between Marojejy National Park and Anjanaharibe-Sud Special Reserve: Antanetiambo Reserve. This 35-acre reserve of secondary forest is a mini-conservation hub offering guided tours to visitors, researching and protecting a population of bamboo lemurs, and boasts a model fish farming pond, reforestation tree nurseries, and a community library. Mr. Rabary uses his private funds to continually upgrade and expand the reserve – a model for other Malagasy nationals interested in local environmental conservation. Rabary won the Seacology prize in 2010 for his tireless efforts in Madagascar, the cash prize from which he invested back into Antanetiambo.
With support from the DLC-SC, Antanetiambo has grown over 40% in recent years, including a new land acquisition in 2014 connecting two pieces of the reserve together. Sponsored by DLC-SC and led by the skilled guides at Antanetiambo, students in local schools take field trips to see and learn about biodiversity and environmental protection. Duke University students through the Duke ENGAGE volunteer program will spend their summer break tracking lemurs for research and counting fish from the ponds.
Sustainable agriculture and training reduces forest loss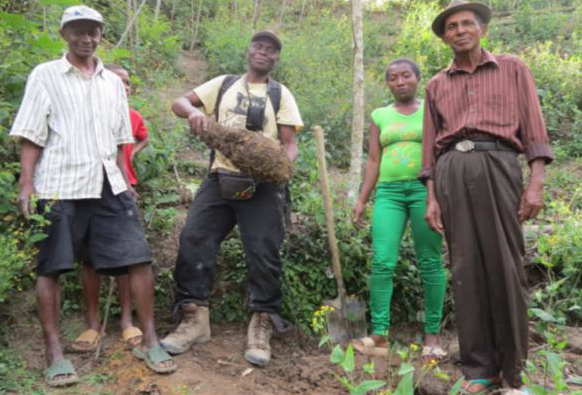 Slash-and-burn agriculture, known as tavy, for rice is the dominant occupation in Madagascar and dominant crop for consumption. This method of farming relies on seasonal burning and clearing, often destroying forest habitat. Coupled with rapid population growth, the need for land and the destruction caused from tavy has outpaced the amount of forest resources. To slow or stop deforestation, people need an alternative to rice agriculture. The DLC-SC partners with CARE International in training and promoting the cultivation of large yams, called ovybe, sweet potato and taro. DLC-SC recently (2014) harvested the first yams from a demonstration plot at Ambodivohitra, and more training and planting is planned for villages around Marojejy National Park.
Tavy cultivation of rice on an overcrowded landscape is the single most important contributor to forest destruction and degradation throughout eastern Madagascar. Offering a reasonable alternative will hopefully help to reduce tavy in the SAVA region, and at the same time provide local people with a nutritious substitute for the ubiquitous rice and manioc.
Family planning, education for women supports improved health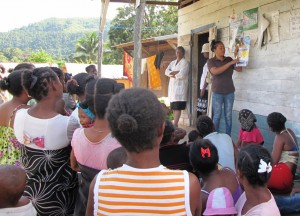 Madagascar's population growth rate is among the highest in the developing world, growing at the disturbing rate of 2.9%, with an average fertility rate of 4.5 births per woman. In some regions, the population is predicted to double within 15 years. With the majority of the population relying on subsistence agriculture for survival, more people means more pressure on the remaining forests of the region as well as posing more challenges for children's wellbeing. Nearly 50% of the population is already below the age of 15, and the incidence of childhood poverty in Madagascar is known to be strongly positively correlated with the number of children per household.
SAVA Conservation offers support to the women's health non-profit organization, Marie Stopes, to offer local women in the Marojejy National Park periphery the choice of contraception. By choosing Marie Stopes as a partner, we are collaborating with an organization which has much expertise and experience working in family planning in Madagascar. Marie Stopes has been working in Madagascar for 20+ years, providing women with reproductive options, and their "Ladies" (nurses) are already working in the SAVA region. We are giving them the means to expand their services into an area that they would not have otherwise been able to reach.