October 1, 2015 — This is a repost of a blog hosted on the Lenovo Blog. Over two days, team members from Lenovo's Triangle office volunteered at the Lemur Center. Lenovo was even generous enough to donate 10 YOGA 2 tablets to the Lemur Center for staff to use. DLC volunteer and Lenovo employee Sandra Strenka organized their visit and the donation. Thank you to everyone!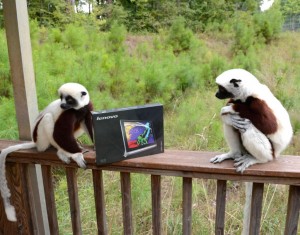 Lenovo not only helps students, teachers and tech users worldwide – we can now add animals to the list. The Duke Lemur Center in Durham, North Carolina is the world's largest collection of lemurs, the most threatened mammals on the planet, outside of their native Madagascar. Even though it is a world-class research facility specializing in understanding and studying these primates through non-invasive techniques, Lenovo recently improved their technology operations to help better understand the lemurs' complex social worlds.
Lenovo's global product manager, Sandra Strenka, has volunteered at the Duke Lemur Center since January 2015 as a technician assistant and tour guide. After logging more than 113 volunteer hours, Strenka applied for a Lenovo Doers for Youth technology grant available to nonprofits where a Lenovo employee volunteers 40+ hours. Sandra recognized that the center's researchers, technicians and education staff needed updated technology to help them accomplish daily tasks. Believe it or not, all data at the center had been collected by hand with pen and paper for the past 50 years.
Lenovo donated 10 Yoga 2 10" tablets for research teams to use for logging health and research data, tracking progress, entering training and enrichment materials, sharing photos and videos of animal activities, injuries, behaviors and more. Digitally recording this data will ease communication between departments and create a more efficient process for all. Eventually, it is possible that the lemurs themselves will also use the tablets to learn and play.
The Duke Lemur Center hosted its annual community Lemurpalooza event on Saturday, Sept. 26 from 5-8 p.m. During the event, Lenovo presented the donated tablets and keyboards. This event gave community members of all ages the opportunity to meet the lemurs, have fun and learn ways they can support the center's important conservation work around the world.
In addition, Strenka's volunteer efforts have encouraged her coworkers to also get involved. Two teams from Lenovo recently volunteered at the center on Sept. 23 and 24 to support and learn about the facility and enjoy the Lemurs. The two teams each spent an afternoon weeding and cutting brush within the animal habitat enclosures.