May 22, 2014 – Duke students Faye Goodwin and Kyle Smith, both rising juniors, will spend the next two months studying bamboo lemurs in Madagascar as part of a service learning project funded by Duke Engage. Read Faye's first accounts of their adventures in the following posts: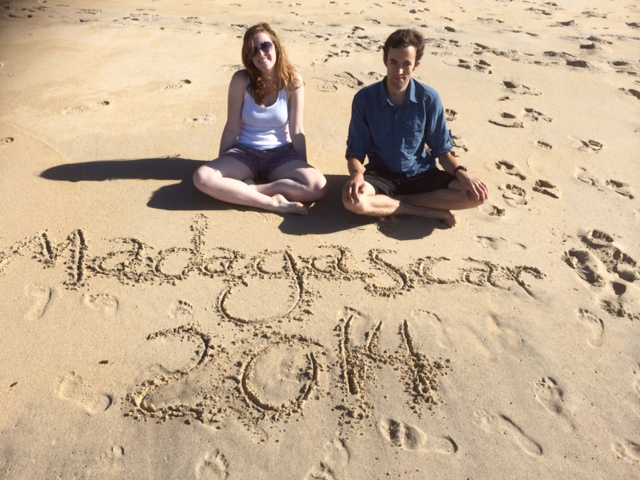 Week 0
May 16, Departure Day: I'm writing this from the airport. Sitting next to a backpack full of notebooks and granola bars, in my hiking boots, on my way to the best adventure of my life. Today I will fly from Durham to Ontario, then to Paris and finally to Antananarivo, the capital of Madagascar, where I will live until August.
Thanks to Charlie Welch, conservation coordinator for the Duke Lemur Center, and project director Erik Patel, my colleague Kyle Smith and I are on our way to spend three months in Antanetiambo forest.
Together with leaders from Duke Engage, we designed a project to spend the summer helping Erik and his crew with a population of bamboo lemurs in the forest, and the tourists they bring in. We will be working in the field scanning locations, behaviors and plant use of the lemurs to help tourists know how to find them and to help the team understand what plant species are most important to their lemur residents. Hopefully we can do our best to make sure both the lemurs and the visitors are happy, as well as help out with some awesome new projects like promoting native fish farming as an alternative to bushmeat.
This is an incredible opportunity for undergraduates and it is all thanks to the Duke Lemur Center. Kyle and I have been working with the great people there for two years, and have been given the incredible gift of the trust, encouragement and support. We can't wait to come back and tell you about our experiences!
***
Week 1
May 22: Salama/Greetings from the city of Sambava in northeastern Madagascar! After the inevitable hurdles of delayed flights and delayed bags, Kyle and I are almost at our research site in the rural town of Andapa. Though living out of a carry-on bag was sometimes inconvenient, getting stuck in Antananarivo, the capital of Madagascar, for three days while waiting for my bag was a perfect way to begin my time in Madagascar. Tana, as the locals call it, is home to about 10% of the country's population, a quickly-growing 22 million people. Erik Patel, the project director for SAVA conservation and our mentor, was kind enough to show me around the city and even let me tag along to some of his meetings with a few of the most prominent conservation biologists in Madagascar, including Dr. Steve Goodman, Dr. Julia Jones, and Dr. Marnie Lafleur! People whose names I recognize from my "Works Cited" in countless evolutionary anthropology papers at Duke discussed their projects, argued methods and threw around new ideas across tables of delicious Malagasy food. Soaking up the enthusiasm and experience of these incredible scientists was an invaluable experience. I learned a ton about what was going on — not only at our project site but all over Madagascar — and what challenges, controversies and inconsistencies researchers are having to face.
Kyle was also able to make it to Sambava where he met Lanto, another member of the SAVA conservation team. There he toured our site in Andapa and helped Lanto stock up on three months' worth of supplies. Having the extra few days to shop for precious items like toilet paper and peanut butter was really helpful. We both got a few days to take in a little bit of the Malagasy culture before starting our projects, which was valuable for learning things like how to communicate and what conditions we could expect. Otherwise we may have been a bit overwhelmed, even with the hospitality of our team.
While in Tana, Erik and I visited a couple of animal attractions: Lemur Parc and Parc Botanique Zoologique Tsimbazaza (PBTZ). It's helpful for lemur researchers to go to these attractions to see how their lemurs are doing in captivity and also how the problems with lemur conservation are represented, if the information is presented at all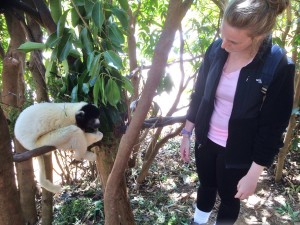 . At Lemur Parc we saw a rare Propithecus coronatus or crowned sifaka, one of only two in the park (see photo). Our tour guide at Lemur Parc was wonderful, and especially exciting for me — she was a college student about my age studying the environment, and she wants to be a conservation botanist! We talked a lot about lemurs and studying conservation, and we were both so excited to meet someone so like ourselves from so far away! She talked a great deal about problems with deforestation and lemur hunting, so it is good to know that her guests will be given some great information on the lemurs.
At the PBTZ, there were many lemurs, but not as many as there used to be due to a loss of aid from other countries. After the 2009 governmental crisis, a lot of financial support was withdrawn from Madagascar, and the zoo has suffered. For example, a group of Verreaux's Sifakas that was relatively new to the zoo has dropped from eight to four in just four months. Sifakas are always the most challenging lemur to keep in captivity, so keeping them at all was a risky endeavor for the zoo. Hopefully something can be done to help those lemurs stay healthy and happy.
After a restful and exciting 3 days in Tana and Sambava (where I saw my first panther chameleon!), Kyle and I will be heading to Andapa this afternoon to start our projects, the first of which will be some basic trail flagging. We are both very excited to get out into the forest and see what we can do for the bamboo lemurs!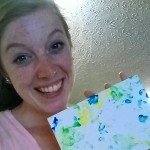 Faye is a junior at Duke University and a docent at Lemur Landing. She's studying environmental science and performance art, and spends her free time onstage, at the Duke Lemur Center, or baking goodies.