June 12, 2014 – It's been nearly a month since Duke students Faye Goodwin and Kyle Smith departed for Madagascar as part of a two-month service learning project with Duke Engage. Their most recent adventures brought them to the mountainous rainforests of Marojejy National Park, where, as Faye will tell you, they met some unusual creatures:

Week 3: It's 8:15 a.m. on a Wednesday in early June, and I'm seeing angels.
They glide almost silently or land with a crash in the trees, haloed in the softest white, their dark faces peering down at us between mouthfuls of wet rainforest leaves. That day we saw three groups of silky sifakas, or Propithecus candidus, sometimes less than five meters away (once barely a meter above our heads!) and heard their alarm calls "Zzus! Zzus!" sneezing through the canopy—these angels that were once thought to be legends. It's enough to give hope to any young conservationist.  Dr. Erik Patel's 12 years of hard work on the silky sifakas of Marojejy National Park in the SAVA region in northeastern Madagascar has led to their protection and habituation in the park, allowing more and more visitors and school groups to see them in the wild. For a species that has long held a place on the World's top 25 Endangered Primates list and has an estimated global population of 2000 maximum, this is an amazing achievement.
But Marojejy isn't only home to the angels. On our five-day, up-and-down-again expedition, we managed to catch glimpses of four other lemur species: Mittermeier's mouse lemur, white fronted brown lemurs, red bellied lemurs, and our focal species Hapalemur occidentalis, the northern bamboo lemur.
Down from the treetops were even more amazing species—giant, crocodilian leaf tailed geckoes, net-throwing spiders, scorpions, chameleons of all sizes, and even the smallest chameleon in the world, Brookesia minima! It was a breathtaking few days, toe-heel walking quietly on the slippery, mossy rocks of the humid rainforest, eating huge meals by candlelight and spending afternoons glued to our binoculars. Kyle and the rest of the group left at 2 a.m. on Wednesday night to see the sunrise at the summit and were rewarded by the misty peaks and fiery skies above the clouds. Unfortunately my obligatory traveler's sickness hit mid-hike the previous afternoon and the push to camp 3 left me feverish and useless for the next few days. Talk about bad timing!
But summit or no, our time in Marojejy was a fantastic look at the progress the park has made and exactly what goes into the protection of a national park and its animals. Understanding the park's history and working personally with the guides who started there like Jackson and Desire Rabary, we obtained a big-picture project plan that included all facets from animal surveys to guest accommodations down to bridges and stoves. The animal sightings were also a fantastic opportunity to compare our group of bamboo lemurs in Antanetiambo with the bamboo lemurs in Marojejy in terms of diet and group composition. We haven't done much tracking or observation in Antanetiambo where the bamboo lemurs are less habituated, so being able to follow and observe these groups gave us an idea of how to track and look for things like feces and sex identifiers with a simpler group. Its also helpful for SAVA conservation to get updates on group size, dynamics and locations, even without formal observation. I've also been practicing getting footage of the animals on a video camera, which can be very helpful for behavioral studies and also is a personal interest of mine.
Dirty and happy, we made it back to Matsobe in time for the fish harvest. And what a harvest! SAVA Conservation has been working to promote the creation of personal or community fish ponds that can be used to increase protein availability while simultaneously replenishing the native Paratilapia polleni population, a fast-breeding, locally endemic species once thought to be extinct. The ponds are dug and stocked with juveniles, and 6 months or a year later we see the results. This harvest brought forth 3,808 fish, most of which could be sold and eaten while 25% were released into a local river and the juveniles were replaced in the pond. On the rainy Friday morning our team of local fish-catchers stood at attention while the pond was drained. In they charged, and in a surprisingly short amount of time had managed to scoop every little fish out of the muddy, rocky bottom to be sorted in net-pens in the river by size. The fish were then weighed and counted, and divided for selling. Desire Rabary sold his whole stock the first day! It turns out that people in Andapa get very excited about fresh fish, as they usually eat dried ones from the ocean a few hours away. It was a very successful harvest, and great to see the process and progress of SAVA's work! The following day there was a ceremony in Marovato, a nearby commune, to celebrate the festival of the Environment that was occurring. Close to a hundred or more people turned out and watched us return the designated fish to the river behind Rabary's house. We got to meet the mayor!
It's been a whirlwind week and we've seen a lot of the inner workings of SAVA Conservation's projects. Armed with a better understanding of all of the facets of community conservation movements and inspired by the progress SAVA has made, this week will continue our bamboo lemur observations. This project will last the duration of the rest of our time here—days of tracking, observing, collecting fecal samples for parasite testing, and creating maps of distribution. In the meantime our plots of bamboo (Valiha diffusa) will grow, a nursery for more Valiha diffusa is being started, and the visiting botanist will help us with identifying plant species. We're excited to see what there is to learn about this species, and how to help them flourish in Rabary's reserve.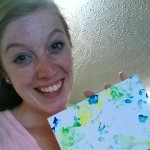 Faye is a junior at Duke University and a docent at Lemur Landing. She's studying environmental science and performance art, and spends her free time onstage, at the Duke Lemur Center, or baking goodies.

You can help: The majority of SAVA Conservation's project support comes from people like you! If you'd like to help the multi-faceted conservation work the Duke Lemur Center is doing on the ground in Madagascar, please visit our donate page and designate your donation to "SAVA Conservation."