Fall and Spring Internships
We are currently accepting applications for our Spring 2020 Husbandry Internship. Applications will close on December 15th, 2019.
Husbandry Internship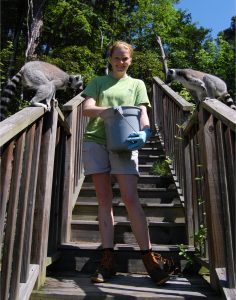 The Duke Lemur Center is looking for participants for our Husbandry Internship program that are interested in gaining animal care experience at the world's largest sanctuary for rare and endangered prosimians. Nestled on 80 acres in Duke Forest, the Lemur Center houses 200+ lemurs, across 14 species. Interns will be responsible for assisting in the daily care and maintenance of the Centers' colony.
Duties include:
-Assisting the Technician staff with the daily care of lemurs
-Daily cleaning of animal areas, kitchen and service areas
-Daily diet preparations
-Daily enrichment and behavioral observations
-Data entry, filing and updating animal records
-Performs other duties relating to the Center's goals and mission statement as required
The spring husbandry internship requires a commitment of 30 hours per week for ten weeks from January 27th to April 3rd, 2020. The internship schedule will be for five consecutive days each week with at least one of the days being a weekend day.
This is an unpaid position. Housing and transportation are not provided.
REQUIREMENTS: Applicants must be at least 18 years of age. Applicants must have the ability to understand and follow written and oral instruction and have effective communication skills. Applicants must be able to lift 50 pounds. Applicants must possess the ability to adapt to an ever-changing work environment and be available to work weekends and holidays. Public speaking skills are highly encouraged. Proof of a current negative TB test, documentation of two doses of the measles vaccine (or MMR), and health insurance is required. Interns will be working in the Center's outdoor Natural Habitat Enclosures and will be exposed to ticks, chiggers and rash producing plants.
Accepted interns are required to provide proof of a current negative TB test, documentation of two doses of the measles vaccine (or MMR), and health insurance.
To apply to the Husbandry Internship, please complete and submit the application below. Applications will be accepted until December 15th, 2019. Applications received after the deadline will not be considered. A current resume and two letters of recommendation must be received by the deadline for an application to be complete. The application allows you to list the contact information for two references. The listed contacts should send letters of reference directly to the Student Projects/Research Technician, Erin Hecht (erin.hecht@duke.edu). The applicant should also send their resume to erin.hecht@duke.edu.
Spring 2020 Husbandry Internship Application
Application Deadline: December 15th, 2019
Application requirements include:
Completed online application
Two letters of recommendation, sent directly from the author
Current resume