Fall and Spring Internships
We are no longer accepting applications for the Spring 2022 Fossil Lab Internship.
We are not hosting spring 2022 research or husbandry interns, with the exception of Davidson-Davie Community College Zoo & Aquarium Science students. If you have any questions, email Erin Hecht (erin.hecht@duke.edu).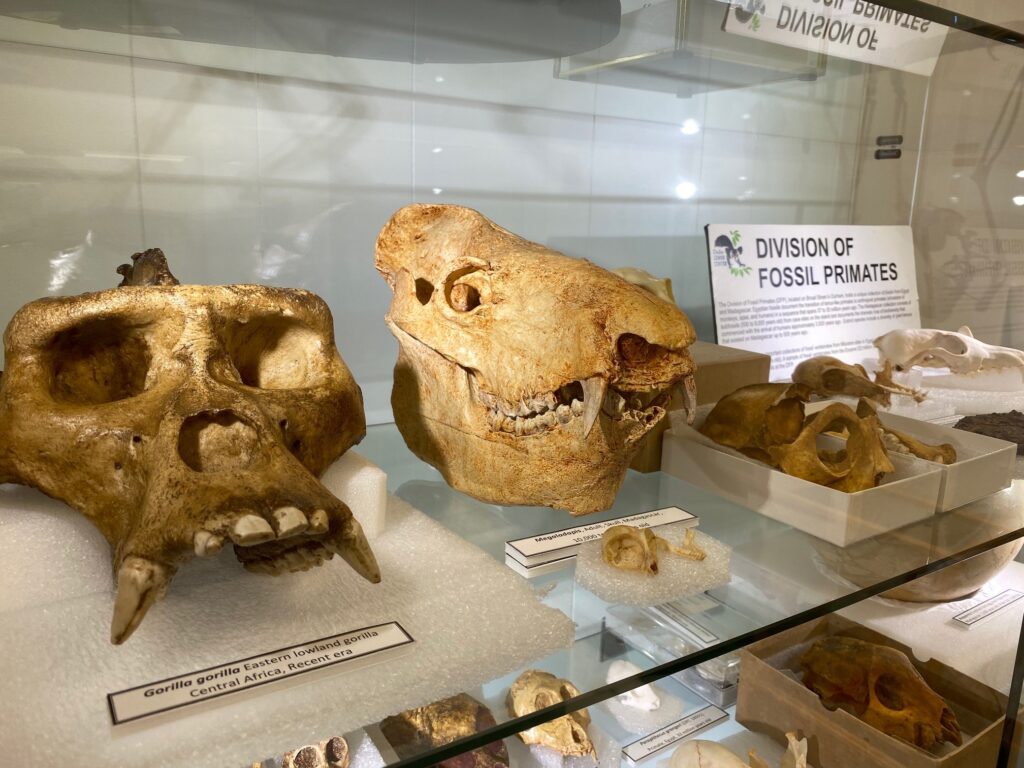 Fossil Lab Internship
The Division of Fossil Primates at the Duke Lemur Center is looking for aspiring paleontologists to participate in our Spring 2022 Fossil Lab Internship Program. The Internship is an opportunity to work in an active paleontological research lab that maintains over 30,000 specimens, including the largest collection of primate fossils in North America. The internship provides opportunities for independent research as well as collaborative research in the collection.
Interns will be introduced to curatorial methods, fossil preparation and conservation, molding and casting techniques, digital fossil preparation, surface model generation, photogrammetry, and archival research. Interns can also collaborate on exhibit design and fossil-based community outreach. The Division of Fossil Primates maintains an extensive digital museum on the website MorphoSource, and there are multiple, on-going projects that utilize fossil scans to explore the ecological context of our earliest primate relatives. Interns would be encouraged to develop projects that build and explore these datasets. Interns can also assist in research and identification of fossil material from our extensive subfossil lemur collection from Madagascar, and the generation of digital dissections of microCT scanned comparative specimens.
This program is intended for students with a strong interest in the inner-workings of museums, and that have an interest in developing research questions based on biological collections, with a special focus on students that have limited access to biological and fossil collections at their home institutions. Technical skills in fossil and digital preparation are not required, though a comfort learning new skills and software programs is necessary. Interns should be prepared to lift up to 30 pounds and should be aware that some work may require handling noxious chemicals in controlled settings.
The spring internship program requires a 10-week commitment starting Monday, January 17th and ending Friday, March 25th, 2022. Weekly schedules can be flexible. The lab is open 9-5PM Monday-Friday with an expected 20 hours of on-site curation and research.
REQUIREMENTS: Applicants must be at least 18 years of age and either be currently attending college or graduated within the last three years. Applicants must have the ability to understand and follow written and oral instruction, have effective communication skills, and have the ability to adapt to an ever-changing work environment.
This is an unpaid position. Housing and transportation are not provided. Interns must have their own transportation to the DFP.  Proof of COVID-19 vaccination and health insurance is required.
To apply to the Fossil Lab Internship, please complete and submit the application requirements below. The deadline for all application requirements is Monday, December 6th, 2021. Applications received after the deadline or that are incomplete will not be considered. The online application allows you to list the contact information for two references. The listed contacts should send letters of reference directly to the Student Program Coordinator, Erin Hecht (erin.hecht@duke.edu). Applications are now closed for the spring internship program.
Application requirements:
Completed online application
Two letters of recommendation, sent directly from the author to erin.hecht@duke.edu
Current resume, sent by applicant to erin.hecht@duke.edu