"Lemur Parent" feat. John Cleese
John Cleese for World Lemur Day 2019
In honor of the 80th birthday of legendary British comedian and lemur supporter John Cleese, the Duke Lemur Center is releasing a brand-new commercial starring John and the lemurs of the DLC! This new spot is premiering for World Lemur Day on October 25, to spread awareness for the plight of lemurs everywhere and to inform people how they can help by symbolically adopting their very own lemur through the DLC's Adopt a Lemur program.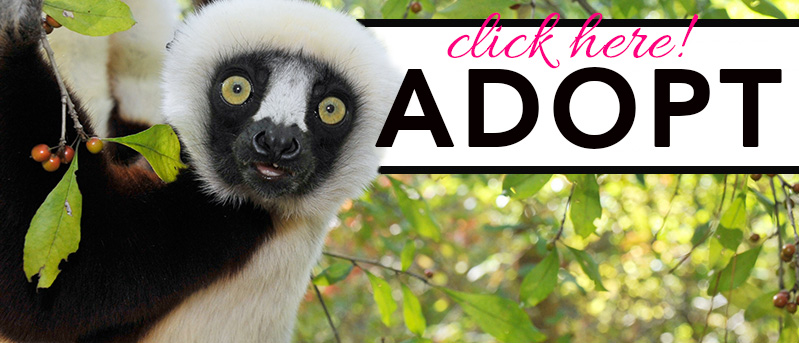 NYC director & producer Joe Whelski has partnered with the Duke Lemur Center to create a commercial encouraging viewers to participate in the DLC's Adopt a Lemur program. John Cleese has graciously lent his voice to the spot. The commercial features the work of top-notch NYC creators, including Alan J. Carmona as Director of Photography, sound work by BtOven Music, editing by Matt Hartman, co-producing by Mila Milosevic, and Nick Goodey and Alyssa Briddes sharing writing duties with Whelski.
John Cleese, Joe Whelski, and all others involved in the project have lent their time and talent to the commercial pro bono, without charge to the DLC. We are so incredibly grateful, and we're thrilled with the final result!
---
With gratitude
Voiceover: John Cleese
Director and Producer: Joe Whelski of Secret Station Films
Writers: Alyssa Briddes, Nick Goodey, and Joe Whelski
Director of Photography: Alan J. Carmona
Associate Producers: Mila Milosevic and Alan J. Carmona
Sound recording, music, design, and mix: BtOven Music, NYC
Editing: Matt Hartman
Colorist: Kevin Ratigan
Special thanks to: Sara Clark and the DLC team, and Steve Gal of Du-All Camera
---
Adopt a Lemur program
The Adopt a Lemur program helps fund the $8,400 per year cost to care for one lemur at the DLC, as well as aiding our conservation efforts in Madagascar.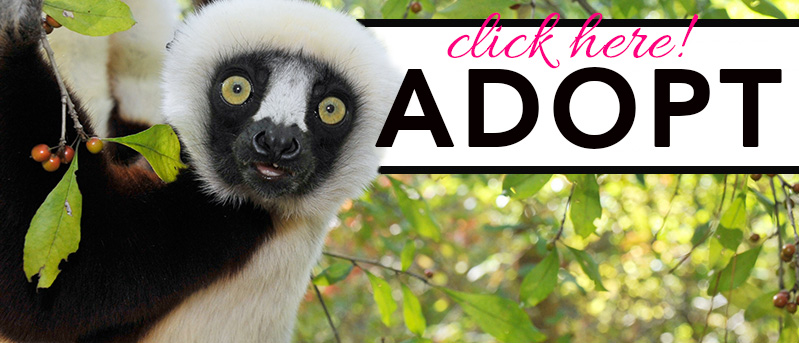 ---
Lemurs + John Cleese
According to his bio, "John Cleese is a tall person who loves lemurs, coffee, and wine." 
The legendary British comedian has a long history of lemur love.
In 1998, he filmed "In the Wild" – a documentary film about the black and white lemur reintroduction project – with DLC staff members Charlie Welch and Andrea Katz in Madagascar. Before being reintroduced into Betampona Reserve in northeastern Madagascar, the American-born lemurs had attended "lemur boot camp" in the DLC's forested enclosures to prepare them for life in the wild.
In an interview in 2014, Cleese described the film as his favorite thing he'd ever done: "I made a little documentary about lemurs in Madagascar once, and there was something about that I thought was very warm and mellow, and I liked that, I liked that a lot. And it enabled me to make a few sort of jokes that I hadn't made before, and it was something really fresh."
Funds from the U.K. premiere of the movie Fierce Creatures, a follow-up film to Cleese's A Fish Called Wanda, provided critical support for the reintroduction project. "Without that core project funding, which was directed by John Cleese and colleagues in the U.K., the reintroduction would never have happened," recalls Welch. "In addition to being a brilliant and funny man, he is a genuinely caring person and passionate about lemurs and conservation. We owe him so much."
He even has a species of lemur named after him: Avahi cleesei, also known as Cleese's woolly lemur.
In November 2017, Cleese dropped by the Duke Lemur Center to visit Aemilia the sifaka, Medusa and Agatha the aye-ayes, and members of several other species – including mouse lemurs, the first he'd ever seen.
"Spent a lovely afternoon at the Duke University Lemur Centre and saw my very first Mouse Lemur," Cleese tweeted that evening. "Two of their Blue-Eyed Lemurs were born there in 1984! They're beginning to move around at my speed…"
The Monty Python star first visited the Duke Lemur Center in 2015. Staff and lemurs alike look forward to his next trip to Duke, when perhaps we can all dance with the sifaka like "Edwardian waiters on benzodrene"!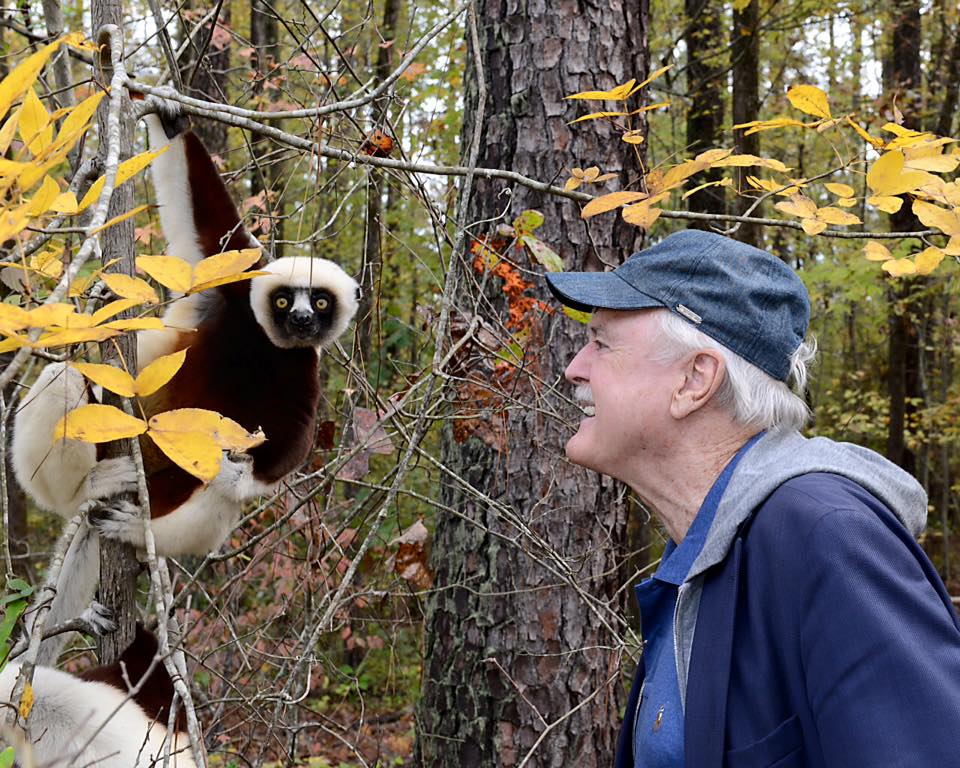 Above: John Cleese with Romulus, a Coquerel's sifaka, at the Duke Lemur Center in 2015. Photo by David Haring.
---
Media contact
Sara Clark, Director of Communications
sara.clark@duke.edu