This season, give the gift of lemurs! The DLC's popular Adopt a Lemur program is thrilled to announce a special holiday adoption package featuring black and white ruffed lemur Halley! This special adoption gift is $75 and can be sent to your loved ones anywhere within the United States.
We've also redesigned our adoption materials specifically for this species, so order Halley's Holiday Adoption with Plushie package for the holidays and check out our brand-new fact sheets and bio! You or your chosen recipient will also receive an adoption certificate, a sticker, a photo of Halley and one of her brand-new twins, and quarterly email updates about Halley and her family, making this a fun, educational gift that keeps giving all year 'round!
Your adoption donation goes toward the $8,400 per year cost it takes to care for each lemur at the DLC, as well as aiding our conservation efforts in Madagascar. And, because your symbolically adopted lemur stays here at the Duke Lemur Center, we do the dirty work and you don't have to scoop the poop!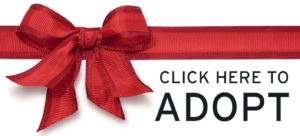 ADOPT ONLINE: Learn more about our Adopt a Lemur program and make your adoption via Adopt a Lemur homepage. In the dropdown menu, select "$75 Holiday Adoption Package with Plushie," as shown below. Orders must be received by Dec. 15th to guarantee delivery by Dec. 25.
ADOPT IN-STORE: You can also purchase Halley's Holiday Adoption with Plushie package in-person at the Lemur Landing Gift Shop, located at 3705 Lemur Lane in Durham, NC. For hours and directions, please click here.
QUESTIONS? Please email Susan Fitzgerald at adoptalemur@duke.edu. She'll be happy to help!