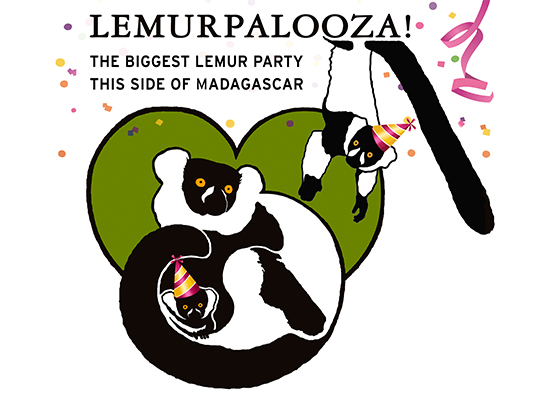 Wow – Lemurpalooza 2022 is sold out! If you'd still like to come see the lemurs this summer, check out our onsite tours and make your reservation online by clicking HERE.
Lemurpalooza is back! After a two-year hiatus, we're thrilled to be planning this popular event again! Register soon as reservations are limited and we expect this event to sell out.
May 21, 2022 from 4:30 PM to 6:30 PM
$100 per vehicle, includes parking and entrance for up to five people
Also includes a symbolic adoption of a lemur from the DLC for one year (a $50 value)
Reservations must be made in advance—scroll down for the link!
Join us to celebrate and support the amazing animals of the Duke Lemur Center! Enjoy your evening of lemurs with the knowledge that your entrance fee supports the DLC's animals as well as our education, research, and conservation programs. Our tour path will open at 4:30 PM and close promptly at 6:30 PM, but you are welcome to arrive anywhere in that timeframe. The gift shop will be open until 7:00 PM.
Your $100 registration fee includes one parking space, admission for up to five occupants of the vehicle, and one adoption of a lemur for a year! You can choose the species when you register, and your packet will be ready for you to pick up at the event.
---
Overview
What: Lemurpalooza open house to benefit our Adopt a Lemur program—fun for all ages!
When: May 21, 2022 from 4:30 PM to 6:30 PM
Why: To generate adoptions through the Adopt a Lemur program, which helps fund the $8,400 per year cost it takes to care for each of the DLC's lemurs. Lemurpalooza also offers families the opportunity to visit lemur species in the program, and to ask technicians and education staff about each animal!
Where: Duke Lemur Center, 3705 Erwin Road in Durham, NC. Directions are available here.
This event is sold out.
---
Commonly asked questions
How does my registration help lemurs? In 2012, lemurs were named the most endangered mammals on the planet. The Duke Lemur Center has been caring for and learning from lemurs for over 50 years. More lemurs live at the DLC than anywhere in the world outside of their native Madagascar. When you adopt a lemur, you not only help fund the $8,400 per year cost it takes to care for each animal, but also support our work in the U.S., Madagascar, and around the world to study and save these endangered animals.
What's included in my $100 entrance fee? Each $100 registration includes parking and admission for one vehicle and up to five occupants of the vehicle at Lemurpalooza, as well as the symbolic adoption of the species of your choice in the DLC's Adopt A Lemur program. When you register, you will select your lemur species, and your packet of information on your lemur will be ready at the event. It will be made out to the name and email of the person who makes the reservation. You'll receive regular updates and photos on an individual lemur from your chosen species, and you don't have to scoop the poop! The lemur stays at the DLC, and we do the dirty work.
Can I bring my kids? Yes, absolutely!
I don't have kids. Can I come anyway? Of course! Lemurpalooza is a fun, educational evening for lemur lovers young and old.
Do I need to wear a mask? Yes, masks are required for all visitors to the Duke Lemur Center when entering any buildings (including the gift shop and bathroom areas). This policy is subject to change as we interpret current information to keep our lemurs and staff healthy and happy, and all guests will be required to adhere to the current masking policy at the time of their visit.
What if it rains? Pack your umbrella and pull on your wellies! Lemurpalooza is rain or shine, provided there is no thunder or lightning in the area.
Will I get to touch a lemur? Nope. For the safety of our animals and for your safety, no guests are allowed any physical contact with the animals here at the Center.
I have more questions. Who can I contact? If you have questions, please email Susan Fitzgerald at adoptalemur@duke.edu.