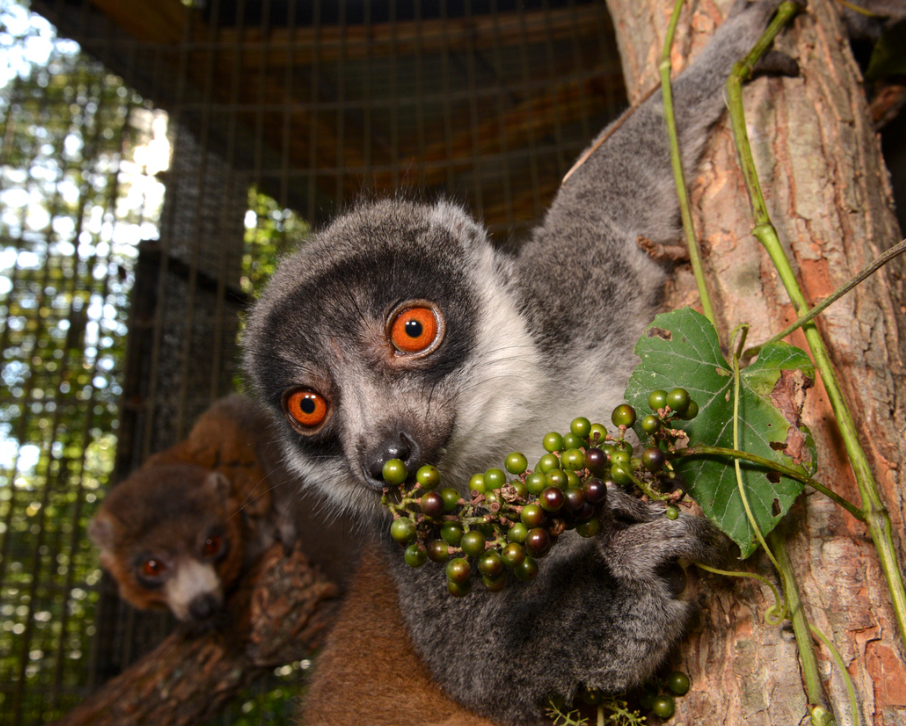 This summer, join the DLC for our special limited-time Twilight Tours! During the steamy summer months, our lemurs take it easy during the heat of the day; but, as the sun sets and the temperatures cool, they become increasingly lively and their energy levels tend to peak.
On these guided public tours, you'll enjoy the spectacle of our prosimian friends foraging for food, performing their evening vocalizations and, finally, preparing to hunker down for the night. Our dedicated staff and volunteers love spending their evenings introducing visitors to the amazing lemurs of the DLC, so make sure you keep this in mind for your summer plans!
Like our standard Lemurs Live tour, our Twilight Tour is a broad introduction to the DLC, its mission, and its residents. The experience is perfect for a wide audience.
Days and times: Twilight tours are seasonal offerings and can be booked during the summer months only. For 2019, our twilight tours will be offered on Saturday and Sunday evenings from May 18 – August 18. Please call (919) 401-7240 to make your reservation today!
Reservations  needed? Yes, reservations are required.
ADA accessible? Yes, this tour is fully ADA accessible. To  learn more about accessibility and use of wheelchairs, canes, etc., please see our Visitor Information Guide.
Lovable, not touchable: As on all of our tours, for your safety and for the well-being of our lemurs, there will not be any opportunities to touch the animals at any time.
How to schedule
Please call (919) 401-7240 to make your reservation today!
Please note: We may not be able to answer the phone immediately when you call, as we're often busy leading tours, responding to messages, and assisting guests in-store. Please leave us a voicemail message with your callback number and we'll return your call as soon as we can. Thanks so much for understanding!
Pricing
Adults (ages 13 and up) – $18 per person plus tax
Children (3-12), Seniors (65+), Military w/ ID, University Students w/ ID, Duke Employees w/ ID, Duke Alumni w/ ID – $16 per person plus tax
Young Children (ages 2 and under) – FREE
Group rate (10+ paying participants) – $15 per person plus tax (chaperones count as participants)
Additional info
Do you have lemur lovers under the age of 8 in your party? The Lemurs Live tour caters to a wide age range, but may not be suitable for very young or boisterous kiddos. If this applies to your party, don't worry! We've specially designed our Little Lemurs tour to cater to young, enthusiastic visitors under the age of 8. See more info HERE or call (919) 401-7240.
Want to visit with a scout troop or classroom? Check out our Lemur S.C.O.U.T. program! We also have great options for classroom field trips!
Planning your visit
Our Visitor Information Guide is the best resource for planning your trip! That said, no resource is exhaustive; so if you have any questions that aren't addressed in the information below, please call us at (919) 401-7240. We'll be happy to help!