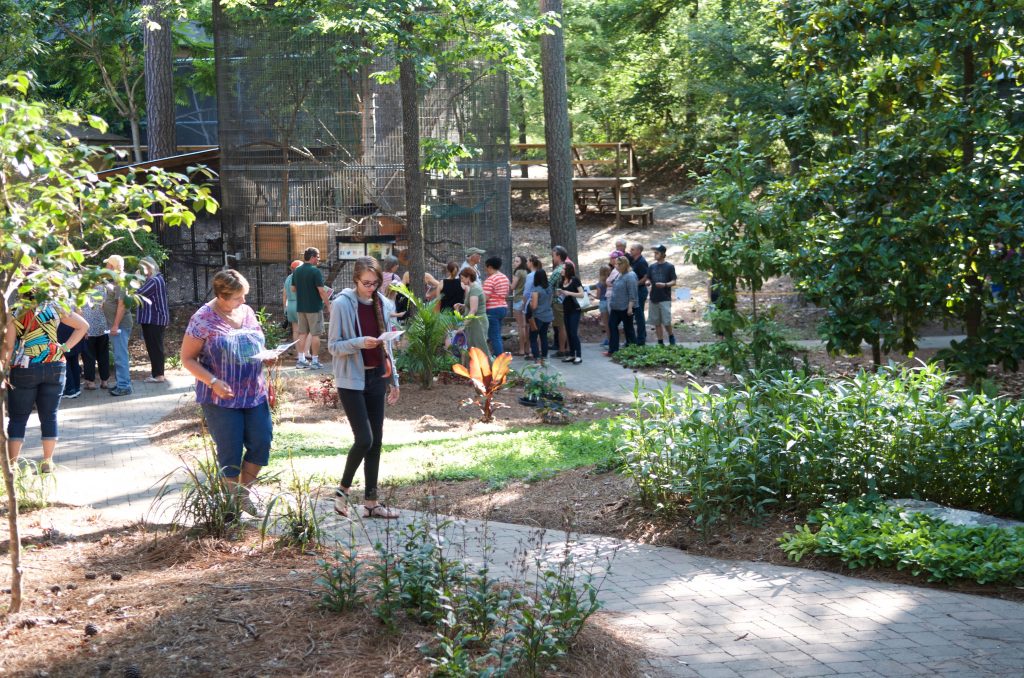 COVID-19 update
The DLC will be temporarily closed effective Friday, March 13, 2020. All tours have been cancelled and the Lemur Center is closed to visitors. To learn more, please visit our coronavirus response FAQ.
Tour details
Self-Guided General Tours are weekend open house-style experiences that utilize the same tour path as our General Tours and Little Lemurs tours, and guests see the same lemurs and hear the same great info from staffers and volunteers stationed near the enclosures. But, instead of following a designated guide from station to station, visitors are encouraged to wander the path at their own pace and according to their own interests. This means that if a lemur is being especially cute you can linger by its enclosure and watch for as long as you'd like; or, if a lemur is sleeping, you'll have the freedom to pass by it and return later!
Days and times: Self-Guided General Tours are offered on Fridays, Saturdays, Sundays from 9:30 a.m. – 12:30 p.m. These tours are seasonal and are offered only during the summer months (May – August).
Once you've purchased your tickets, you may arrive any time between 9:30 a.m. and 12:00 p.m., and stay for as little or as long as you'd like.
Please note that the tour path closes at 12:30, and that guests who arrive after 12:00 will not have time to see the lemurs and thus will not be permitted onto the tour path. Please factor this into your arrival time.
Reservations  needed? Yes, reservations are required. CLICK HERE to purchase tickets.
ADA accessible? Yes, this tour is fully ADA accessible. To  learn more about accessibility and use of wheelchairs, canes, etc., please see our Visitor Information Guide.
Lovable, not touchable: As on all of our tours, for your safety and for the well-being of our lemurs, there will not be any opportunities to touch the animals at any time.
How to purchase tickets
Tickets must be purchased in advance from the Duke Box Office website.*
CLICK HERE to view Self-Guided General Tours ONLY
CLICK HERE to view availability for all General Tours (Guided, Self-Guided, and Little Lemurs Children's Tour) available from May 1, 2020 onward.
Guests may purchase up to 20 tickets at a time. If you have a large group (more than 20 participants), you are welcome to email primate@duke.edu and we'll reserve your tickets for you.
*Please note that all online ticket sales for tours from May 1, 2020 onward are non-refundable, but tickets may be exchanged for an alternate date up to 48 hours prior to your scheduled reservation.
Pricing
Adult (ages 13 – 64): $14
Children (ages 3 – 12): $12
Children (ages 2 and under): free
Seniors (ages 65 and up), non-Duke students, military: $12 (must present valid ID at check-in)
Duke rate (Duke employees, Duke alumni, and Duke students): $12 rate for you and one additional guest (must present valid ID at check-in)
Please note that once purchased, tickets are non-refundable but may be exchanged for an alternate date up to 48 hours prior to your reservation date.
Planning your visit
Our Visitor Information Guide is the best resource for planning your trip! That said, no resource is exhaustive; so if you have any questions that aren't addressed in the information below, please call us at (919) 401-7240. We'll be happy to help!