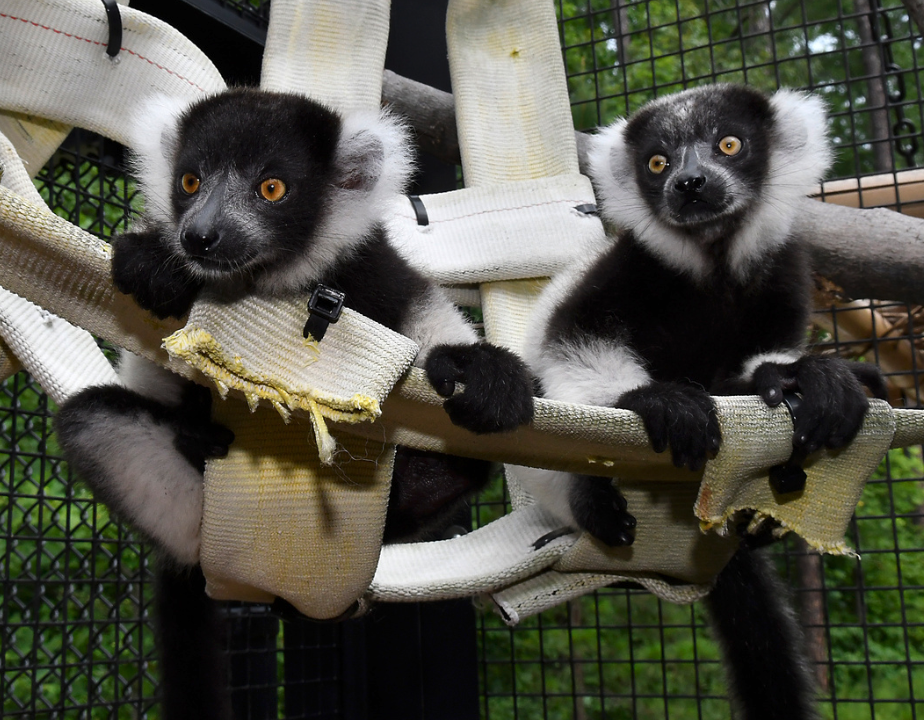 COVID-19 update
The DLC is temporarily closed to all visitors due to COVID-19. We have recently launched virtual (online) educational content and invite you to please explore these options instead. Virtual tours are a wonderful way to learn about lemurs AND to support the DLC while our tour path is closed and we can't rely on our usual tour income, which supplies almost 21% of our annual operating budget.
To learn more about the DLC's response to COVID-19 and the most up-to-date information on our reopening, please visit our coronavirus response FAQ.
---
Archived information (below)
Please note that the tour details and scheduling information below do not apply during the Center's closure due to COVID-19. Until further notice, we regret that we are closed to all visitors and are unable to host onsite tours and events.
---
Tour details
This general tour is perfect for a wide audience! Whether you're a longtime supporter of the DLC who's bringing new friends and family along, or if you're just learning about lemurs for the first time, our knowledgeable and engaging guides will provide the best possible educational experience. This general tour introduces visitors to an average of about 9 species of the amazing prosimians living at the Center.
Days and times: This guided tour lasts approximately 1 hour and 15 minutes and is offered year-round every day of the week except Tuesdays.
Reservations  needed? Yes, reservations are required. CLICK HERE to purchase tickets for tours.*
NOTE: Online ticket purchases are non-refundable, but tickets may be exchanged for an alternate date up to 48 hours prior to your scheduled reservation.
ADA accessible? Yes, this tour is fully ADA accessible. To  learn more about accessibility and use of wheelchairs, canes, etc., please see our Visitor Information Guide.
Lovable, not touchable: As on all of our tours, for your safety and for the well-being of our lemurs, there will not be any opportunities to touch the animals at any time.
---
How to schedule
General Tours are offered every day of the week except for Tuesdays, at times ranging as early as 9-9:30am and as late as 2-2:30pm. This tour usually fills up about 1-2 weeks in advance on a typical weekday, and about 3-4 weeks in advance around holidays and on weekends.
To check availability and to purchase tickets online, click the links below: 
CLICK HERE to view availability for all General Tours (Guided, Self-Guided, and Little Lemurs Children's Tour)
CLICK HERE to view Guided General Tours ONLY
---
Pricing
Adults (ages 13 and up) – $14 per person plus tax
Children (3-12), Seniors (65+), Military w/ ID, college students w/ ID, Duke Employee w/ ID, and Duke Alumni w/ ID – $12 per person plus tax
Young Children (ages 2 and under) – FREE
---
Additional info
Do you have lemur lovers under the age of 8 in your party? Our General Tour caters to a wide age range, but may not be suitable for very young or boisterous kiddos. If this applies to your party, don't worry! Our Little Lemurs Tour (October–April) and Self-Guided General Tour (May–September) are wonderful options young, enthusiastic visitors under the age of 8.
Want to visit with a scout troop or classroom? Check out our Lemur S.C.O.U.T. program! We also have great options for classroom field trips!
---
Planning your visit
Our Visitor Information Guide is the best resource for planning your trip! That said, no resource is exhaustive; so if you have any questions that aren't addressed in the information below, please call us at (919) 401-7240. We'll be happy to help!