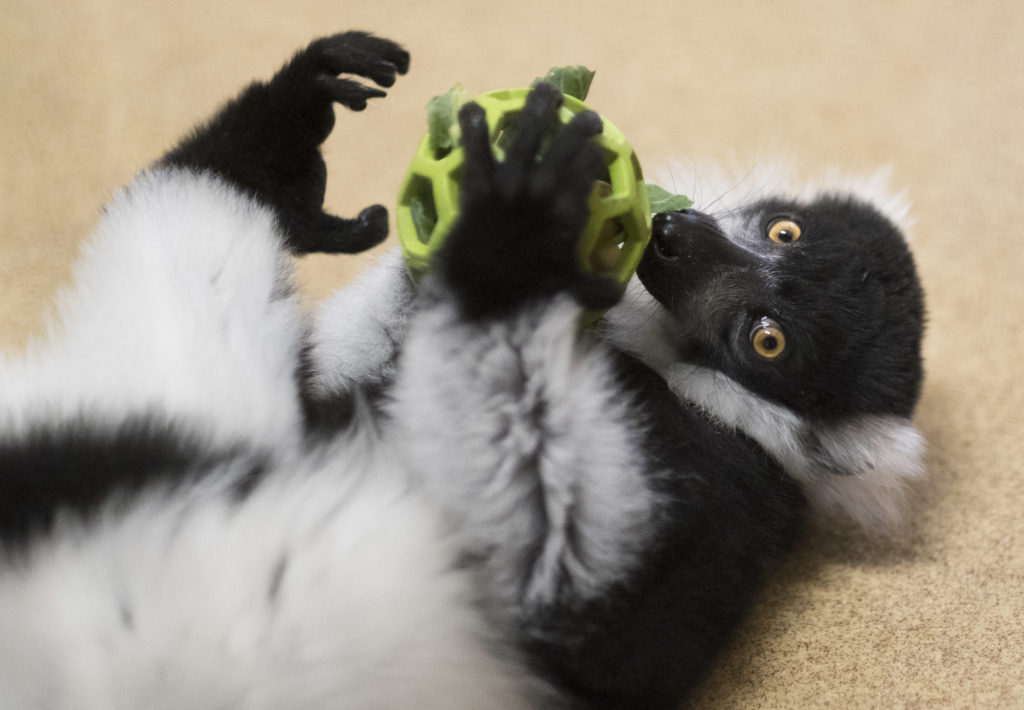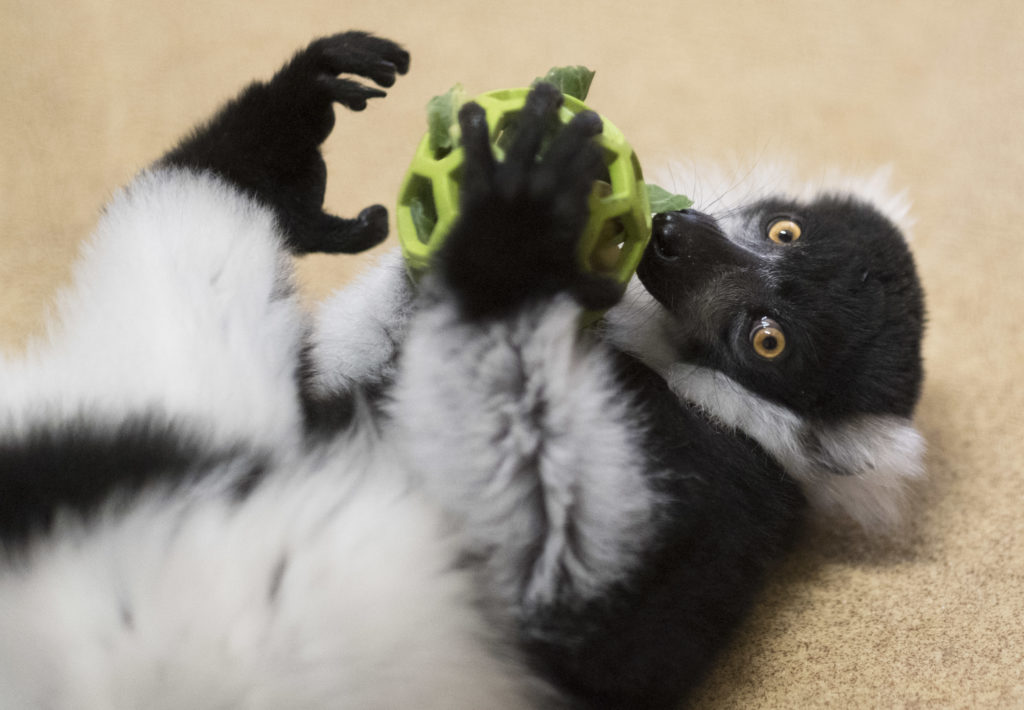 Join us this summer for our newest tour offering – Enrichment: More than Just a Toy! Did you know that the lemurs here at the DLC can live over 10 years longer than their average life expectancy in the wild? Of course, receiving tailored diets from our dedicated animal care team and world-class veterinary care has a little something to do with it, but one of the most important parts of our lemur care is enrichment. Whether it's weaving the perfect hammock out of fire hose, creating a puzzle feeder from cardboard boxes, or simply spraying a funny new smell in their habitat, we know our lemur enrichment! While we share the knowledge we've gained over more than 50 years of caring for lemurs, we'll be handing out treats and toys to some of the lemurs along the way.
This tour will focus on our lemur care and will not include as many specifics about the DLC's history or lemur species, so it is recommended for guests who have already visited us on a Lemurs Live tour or other introductory experience. Recommended for guests ages 8 and older. (If your party includes many children under the age of 8, you might also consider a Little Lemurs tour.)
Want to learn more? Read our enrichment blog post HERE, as well as the article "Playtime for Lemurs: The Value of Enrichment" — a featured article in the online version of the DLC's annual magazine!
Days and times: This tour lasts approximately 1.5 hours and is offered on Mondays and Fridays at 1:00 p.m. during the summertime (May 13 through August 16).
Reservations  needed? Yes, reservations are required.
ADA accessible? Yes, this tour is fully ADA accessible. To  learn more about accessibility and use of wheelchairs, canes, etc., please see our Visitor Information Guide.
Lovable, not touchable: As on all of our tours, for your safety and for the well-being of our lemurs, there will not be any opportunities to touch the animals at any time.
How to schedule
Please call (919) 401-7240 to make your reservation today!
Please note: We may not be able to answer the phone immediately when you call, as we're often busy leading tours, responding to messages, and assisting guests in-store. Please leave us a voicemail message with your callback number and we'll return your call as soon as we can. Thanks so much for understanding!
Pricing
Adults (ages 13 and up) – $35 per person plus tax
Children (3-12), seniors (65+), military w/ ID, college students w/ ID, Duke employee w/ ID, Duke alumni w/ ID – $32 per person plus tax
Young children (ages 2 and under) – FREE, but not recommended due to the length of this tour
A group rate is not available for this tour due to the already smaller group size; however, anyone interested in a private version of this tour for a class, scout group, staff outing, etc. can inquire about pricing and availability by emailing primate@duke.edu.
Enrichment drive wishlist
You can help the lemurs! We're always looking for fun toys and treats for our residents. If your group is interested in donating enrichment items to the DLC's playful prosimians, please visit our amazon wishlist to purchase fun gifts for our lemurs! Or, visit our enrichment drive webpage to learn how to make homemade enrichment toys and to download a printable flyer! Please let the associate know you plan to donate when you schedule your tour. Thanks so much for your support!
Below: Bertha, a Coquerel's sifaka, eyes herself in a mirror donated via the DLC's amazon wishlist. Read more about our wishlist HERE.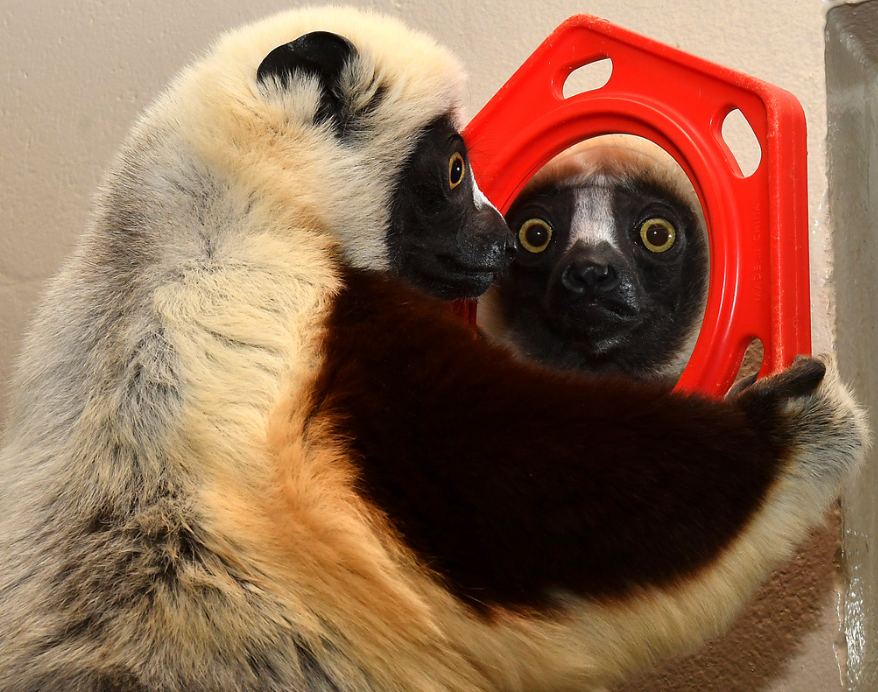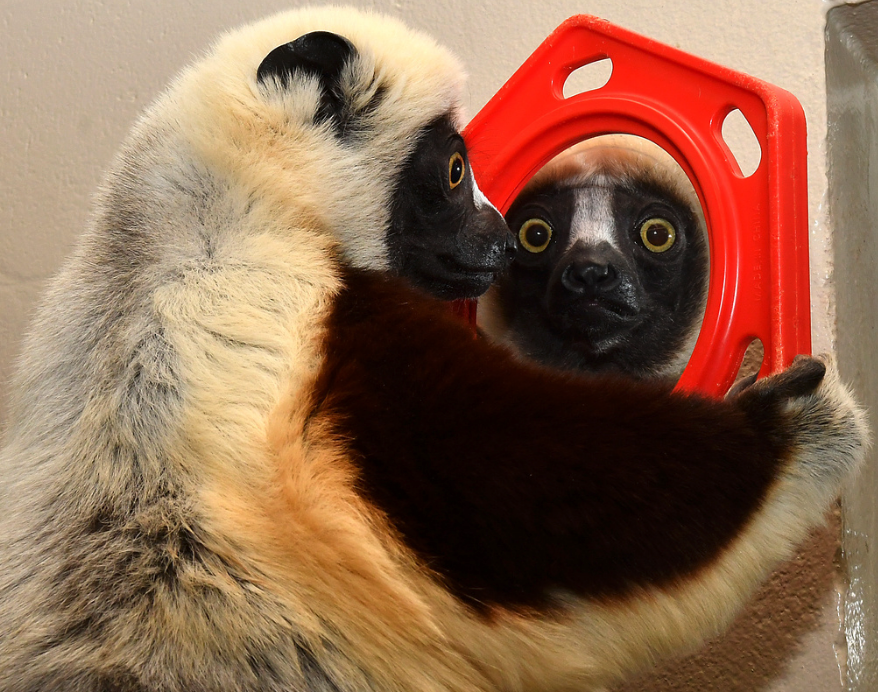 Planning your visit
Our Visitor Information Guide is the best resource for planning your trip! That said, no resource is exhaustive; so if you have any questions that aren't addressed in the information below, please call us at (919) 401-7240. We'll be happy to help!