1. Give the gift of lemurs ($50+)
Adopt a Lemur packages make great gifts for animal lovers young and old! Adoption packages start at just $50 and support the $8,400-per-year cost to care for each animal for one year at the DLC. We'll send a welcome packet to your gift recipient and quarterly updates on the adopted lemur. This is a fun, educational gift that keeps giving all year 'round! Better yet: adoption fees are tax-deductible! Learn more and adopt via the Adopt a Lemur homepage.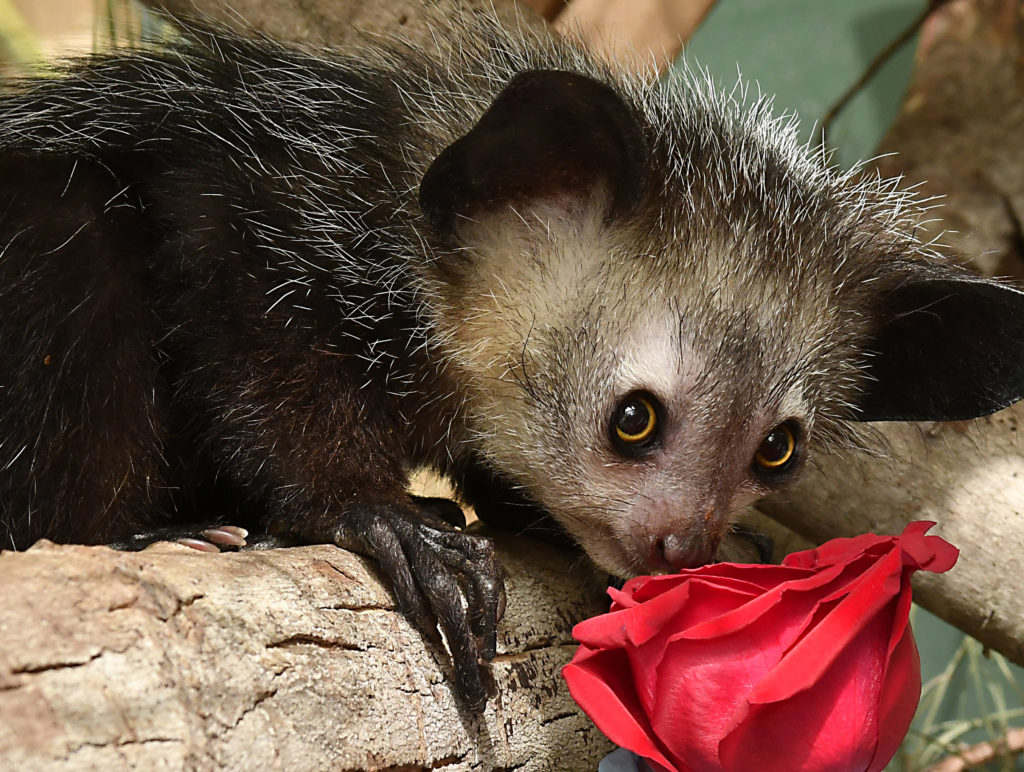 2. Send a LEMURS + ROSES valentine ($25)! 
Looking for a heartwarming Valentine's Day gift for someone special? For a $25 tax-deductible donation, the Duke Lemur Center will send your own personal message in a special LEMURS & ROSES Valentine's Day email — including a link to a video featuring lemurs with gorgeous red roses! To learn more and to place order, visit our LEMURS + ROSES homepage.

3. Give the gifts of comfort and joy ($20+)
The Lemur Landing Gift Shop stocks an array of unique and highly giftable merchandise. Products range from cuddly lemur stuffies (including a sifaka and an aye-aye made exclusively for us!) to apparel, paintings by lemurs, stationery, books, and native Malagasy products. All purchases fund the Education Department and help pay for lemur care, housing, veterinary supplies, and conservation initiatives. –So you can feel good about the products you buy!
Visit our public Facebook album to see even more merchandise available, including ornaments, books, paintings by lemurs, and more!
To purchase, please stop by 3705 Erwin Road in Durham, NC seven days a week from 9:00 a.m. 'til 4:00 p.m. You don't need a reservation to visit the shop, but you will need to reserve ahead of time if you'd like to take a tour while you're here. Visit our tour webpage for more info.
A limited selection of items is also available online via Duke University's online store.
4. Send a Love Lemurs! e-card ($25)
With this $25 donation option, we'll send your chosen recipient a special email with lots of cute pictures of lemurs here at the DLC, and a message letting them know that a gift to help care for our lemurs was made in their honor. All Love Lemurs! donations go toward the $8,400 per year cost it takes to care for each animal at the DLC, as well as aiding our conservation efforts in Madagascar. To order, visit our Adopt a Lemur homepage and select "Donation Only/Love Lemurs!" in the species dropdown. 
5. Purchase a gift certificate for a once-in-a-lifetime experience ($12-$400)
Gift certificates are available for all of our tours except the Photographer's Dream! Prices range from $12 for a Lemurs Live general tour to $400 for a Lemur Keeper for a Day experience, with many options in between! Order in-store or by calling (919) 401-7240.

6. Send a lemur a present ($6-$35)
Did you know you can send toys and treats to the DLC's playful prosimians? Select an item from the Lemur Center's amazon.com wishlist, and your present will be sent directly to the DLC. Please include your name and email address in the notes field so the lemurs can send a thank-you!
Be sure to watch our adorable thank-you video that shows how our lemurs use their new wishlist items for fun and physical and mental exercise. The items you send help us promote all aspects of the well-being of the lemurs under our care. Thank you for enriching the lives of our lemurs!