Lemur Week: March 28-April 4, 2015
Your mission: Make a short video – no more than 30 seconds – telling us why you love lemurs.
How: The video should convince us that you really love lemurs AND you want everyone to know it.
Using your video camera, digital camera, or cell phone, make a video (no more than 30 seconds)
Submit your work by (1) uploading your video to YouTube and (2) filling out the contest submission form
See the official rules for more details.
Be creative, inspirational, fun, motivational or goofy! Do not be mean, harassing, vulgar or degrading — because that ain't cool and we will disqualify those videos. Also, do not use images, music or other audio that you do not have the right to use.
Click here for details and prizes!
Lemur Quest Scavenger Hunt
Triangle-Wide Scavenger Hunt for Lemurs begins March 29th!  Print your Lemur Quest form here or pick one at the Duke Lemur Center!
Print your form or pick it up from the Duke Lemur Center (available 3/21/15)
Visit and enjoy the local supporters and get your Field Guide stamped OR
Take a picture and hashtag #lemurweek through your Twitter account or Instagram, or send an image of your quest to primate@duke.edu by the end of lemurweek.
Win great prizes!
Schedule of Events
Saturday March 28th – Join Maky and the Duke Lemur Center bright and early at 8am at the Great Human Race at Northgate Mall to kick off Lemur Week!  Cheer Maky as he races other Triangle Mascots, Dance with Maky and learn all about our festivities for the upcoming week!
Sunday March 29th – Join the Duke Lemur Center crew and Maky for the official Lemurweek kick off at NOSH.  Eat, drink and be merry with all the fun and festivities.  NOSH will be donating 10% of sales to the Duke Lemur Center.  There will be lemur themed activities from 11-2 as well as the DLC's mascot, Maky!
Sunday March 29th—Join us for the fifth annual TEDxDuke event on Sunday March 29th at 1pm in Baldwin Theater on Duke University's campus! We have an exciting lineup of nine speakers, all addressing the theme of "Building Energy".  DLC's Charlie Welch will be leading the line up discussing the conservation work in Madagascar. Tickets are $20 and include dinner and a t-shirt.
Monday March 30th -Are you up for a trial of wit and strength? Test your stamina and moves against the most agile of primates – the lemur! Take the Xbox Kinect Challenge! Compete against Maky the lemur at the Microsoft store at the Streets of Southpoint, Monday, March 30th, 6:30-8:00 pm. Go up against Maky the lemur, but be warned, there will only be one winner!
Tuesday March 31st –  Dr. Mireya Mayor is best known for her primatology research on the lemurs of Madagascar and her work a field correspondent for National Geographic. She is a strong advocate for conservation of the endangered species of Madagascar. Please join us for Dr. Mayor's discussion about her most recent book, Pink Boots and a Machete, which follows her inspiring journey from NFL cheerleader to Fulbright scholar to field scientist to Ph.D. (Event in conjunction with Duke's Roots and Shoots Primate Palooza week).  6:00 pm Duke University's Griffith Film theater (Bryan Center) -Book signing to follow the event. Open to the public.  No reservation required.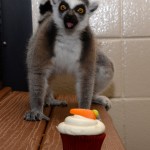 Wednesday April 1st – Lemur love all shades of blue and cupcakes too!  Join us at Sugarland in Chapel Hill and enjoy a sweet treat to help save lemurs! Part of the proceeds from each cupcake sold will come back to the DLC to help support the lemurs!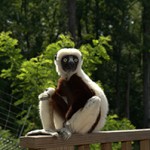 Friday April 3rd – Jovian's Jubilee – 6:30pm at the Duke Lemur Center.   $75 per person, reservations are required. Jovian was the lemur star of the PBS show Zoboomafoo.  He passed away several months ago at a ripe old age of 20.  His role on the children's show served as an amazing conservation icon for children.  When he passed away we were humbled by the outpouring of support and sadness. The April 3rd event will be dedicated to his memory and will raise funds to ensure that we can continue in our mission to inspire the next generation of environmental stewards.  Our theme for the evening will be 'A little bit of Madagascar right here in Durham', and, 'Eat Local, Save Global!'. All of the food will be generously donated by our favorite local and sustainable restaurants such as Juju, Dos Perros, piedmont, Monuts, Scratch, Fullsteam Brewery and Natty Greene's. If you would like to enjoy an evening under the stars to celebrate Jovian and to support his conservation legacy, please contact Janice Kalin at 919-401-7252 to purchase your tickets.  If you cannot attend and would still like to gift a gift in Jovian's honor, please contact Janice Kalin.
Saturday April 4th – Lemurweek Egg-stravaganza.  The lemurs will host their very own egg hunt on the lawns of the Duke Lemur Center from 3-5pm. Maky the Lemur-Rabbit will be hopping about available for fun egg hunt photos. There will be a egg hunt for little ones and a lemur egg-Quest for older kids who need a challenge.  Enjoy art, jumping, dancing and lemurs for an afternoon.  American Meltdown Food Truck and The Parlour bus will be on-site to fill your bellies. $25 per family, reservations are required. Contact Janice Kalin at 919-401-7252.